We discovered this recipe just a week ago and have made it three times since. It do believe it would be a perfect side to accompany your Thanksgiving Day turkey.
Not a fan of brussels sprouts? This variation will change your mind. It tastes like I candy. I promise.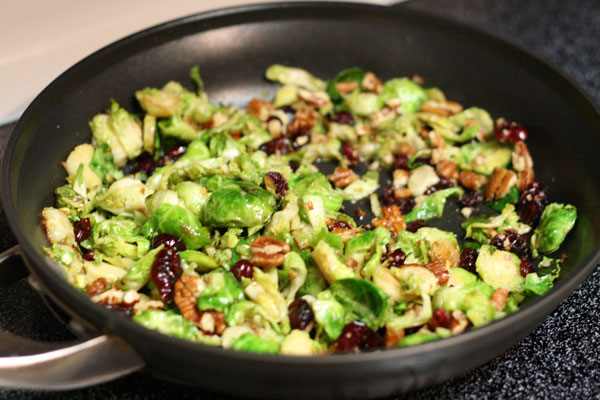 More seasonal sides:
Apple Harvest Quinoa
Butternut Squash, Apple, Gorgonzola Gratin
Glazed Carrots with Orange and Ginger
Maple and Sage Roasted Root Vegetables
Caramelized Brussels Sprouts
Servings: 6
Ingredients
12-14 large brussels sprouts, peeled and thinly sliced
1 Tbsp olive oil
1 clove garlic, minced
pinch salt
2 Tbsp brown sugar
1/4 cup roughly chopped pecans, toasted
1/4 cup dried cranberries
Directions
Heat olive oil in a large skillet over medium-high heat. Saute garlic for 30 seconds. Add brussels sprouts and continue sauteing for another 4-5 minutes, until bright green and tender. Add salt and brown sugar and toss together. Finish with toasted pecans and dried cranberries.
(Adapted from Eat, Live, Run)