Have you cooked with quinoa? If not, you should. Yes, it's packed with protein and essential amino acids, but it's also light and fluffy and mildly nutty. It provides the perfect canvas for a variety of fall flavor combinations: honey and berries, chicken stock and leafy greens, carrots and tart apples, even vegetarian meatballs.
We turned our first batch of quinoa into a slightly sweet and spicy side dish to serve alongside salmon. I liked it, Nick liked it, and his mother liked it. Success!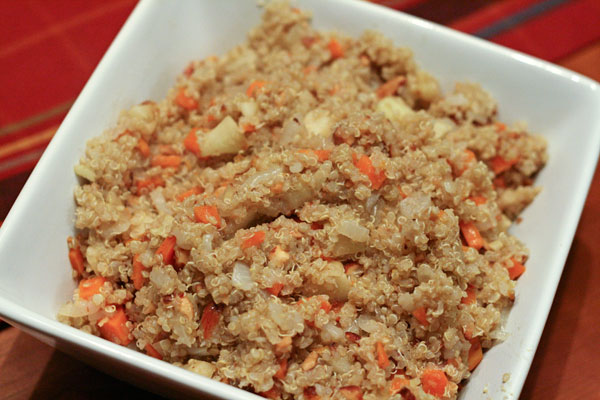 Apple Harvest Quinoa
Servings: 4
Ingredients
1 cup uncooked quinoa, rinsed
2 teaspoons olive oil, divided
3/4 cup onion, chopped
3/4 cup carrot, finely diced
1 garlic clove, minced
2 cups vegetable broth
1/4 teaspoon salt
1/2 teaspoon ground cinnamon
1 Granny Smith apple, peeled and finely chopped
3 tablespoons slivered almonds, toasted
1/8 teaspoon freshly ground black pepper
Directions
Heat 1 teaspoon oil in saucepan over medium-high heat. Add onion, carrot, and garlic to pan. Sauté 5 minutes or until onion is tender and carrot begins to brown. Stir in broth, quinoa, salt, and cinnamon; bring to a boil. Cover, reduce heat, and simmer 20 minutes or until liquid is absorbed. Remove from heat. Fluff with a fork; keep warm.
Heat remaining 1 teaspoon oil in a nonstick skillet over medium-high heat. Add apple to pan, and sauté 7 minutes or until apple begins to brown.
Add apple, almonds, and pepper to quinoa; toss to combine. Serve warm.
(adapted from Cooking Light)