Here's a new recipe to add to your autumn rotation. We served ours with slow-cooked pork, broccoli, and pumpkin ale. Next time we'll add more nutmeg, because you really can't have enough of that spice during this time of year!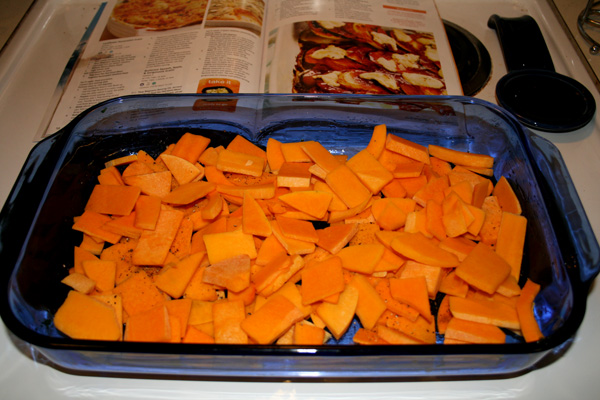 Ingredients
2 1/2 Tbsp Wegmans basting oil, divided (if you don't have basting oil, use EVOO with a few sprinkles of garlic and your favorite herbs)
1 pkg (20 oz) butternut squash, sliced into 1/8-inch thick pieces
salt and pepper to taste
1/8 tsp ground nutmeg, divided
1 1/2 cups heavy cream (substitute half and half for a lighter version)
2 medium Granny Smith apples, cored, peeled, thinly sliced (about 2 1/2 cups)
3 oz Gorgonzola cheese
Directions
Preheat oven to 350 degrees.
Rub 2-quart shallow casserole dish with 1 1/2 Tbsp basting oil. Place casserole dish on baking sheet.
Cover bottom of dish with layer of squash. Season with salt and pepper and half of the nutmeg. Repeat with remaining squash, and season with salt and pepper and remaining nutmeg. Pour heavy cream over all.
Bake 30 minutes and remove from oven. Press squash/cream mixture down using spatula, and return to oven. Bake 10 minutes, then remove.
Toss apples with 1 Tbsp basting oil in a small bowl. Cover top of squash mixture with single layer of apple slices, overlapping slightly and pressing apple slices gently into creamy mixture with a spatula.
Return casserole to oven. Bake 45-50 minutes, or until squash and apples are tender. Remove from oven.
Top with dollops of Gorgonzola, and let cheese melt before serving.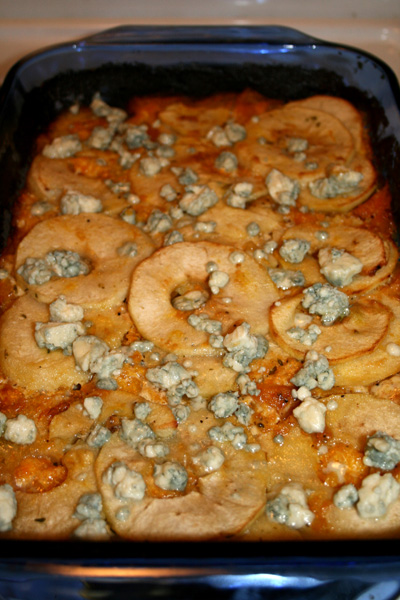 (recipe adapted from Wegmans magazine)