Last time we went into the wild, Nick spotted a bear and wanted to photograph it. It was just a cub, but where there's an innocent cub, there's a protective mama. So before we packed the car for last weekend's camping trip, I made him promise not to pretend like he has a telephoto lens and works for National Geographic.
We arrived at Greenwood Furnace State Park just after 5pm on Saturday. We were surprised by how many campsites were already claimed, but it was a home football weekend and almost all of the RVs were adorned with PSU paraphernalia. Beats paying $400 for two nights in a hotel, I suppose.
We settled into campsite 18B, and Nick assumed his role as fire starter. It was the first time I really saw his Eagle Scouts skills in action (aside from that time he rigged tarps to the bed of a pick up truck). He must have also learned to be persistent during his time in the Scouts because he hovered over that fire pit for almost an hour — shaving (damp) logs and tossing in lit pieces of paper towels — hoping something would catch.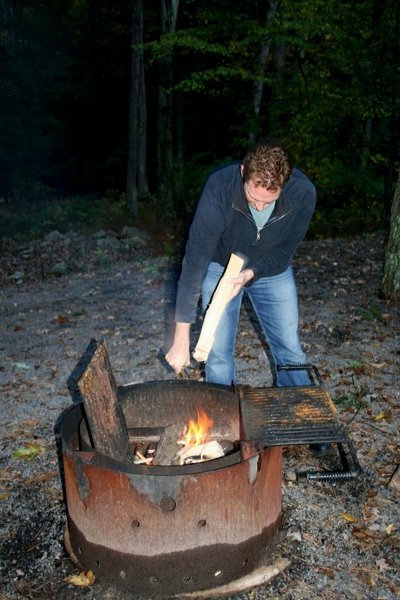 Finally we had a steady flame! Thank you, husband, for building a fire to warm us and to feed us. We proceeded to roast hot dogs and marshmallows for s'mores because it's really not a camping trip without both of those goodies.
We climbed into our tent around 10pm, but we didn't fall asleep until much later. The ground was hard under my hips, and — even with thick hiking socks, a hoodie, and my head buried inside my sleeping bag — I couldn't warm my toes or my nose. Nick — who I fondly refer to as my "human heater" — couldn't get warm, either. It was a restless night sleep, to say the least, and we were anxious to get out and into the sun the next morning.
And, oh, what a beautiful autumn day we woke up to! The fall foliage was almost as impressive as what we saw last October, just one day before Nick proposed.
We set off on the Fire Tower Loop, a seven-mile hike classified as "most difficult." That it was. But only for about one mile while climbing Broad Mountain. We then crossed Seeger Road before reaching the Fire Tower, which was erected in the 1930s, and is still used by forest rangers today.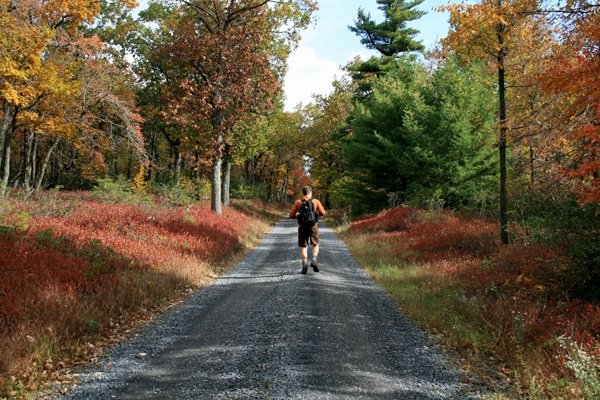 Last time I hiked to the Fire Tower (circa 2004), I climbed to the top, and I was anxious to share the awesome view with Nick. Unfortunately, due to vandalism (probably caused by drunk college kids), the tower is no longer accessible. That didn't stop my acrobatic husband, however.
Nick found a heavy log and leaned it against the lowest rung of the tower. He then shimmied up the log, scaled the narrow rails, and pulled himself onto the platform. I was pretty impressed. Needless to say, I could not replicate his maneuvers and so was forced to remain on the ground. (If you could see my face in this photo, you would see a big frown.)
And this is the view I missed! I love Pennsylvania in October.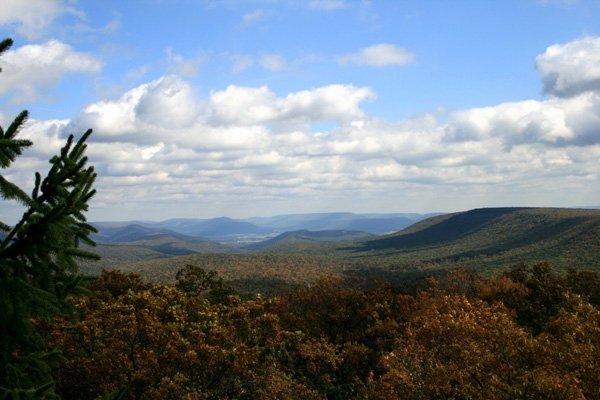 Good thing we planned our outdoor excursion for last weekend and not this weekend … because there is snow in the forecast! Did I really just say I love Pennsylvania in October? Let me rephrase. I love Pennsylvania in October as long as there is no snow on the ground.