We're still at the point in our lives that we travel for the holidays. To Bethlehem for Thanksgiving Day, to Dover for Christmas Eve, and to Huntsville for Christmas Day. Now that we have Sam, though, we're looking forward to celebrating the holidays at home and creating our own family traditions. Next year, perhaps?
While we wait for that day, I can't help but envision the Thanksgiving meal that we would prepare. Can you believe we've never even roasted our own turkey? And we call ourselves The Culinary Couple. Yikes.
Check back each day this week for some recipes that would help to make any table — big or small — a more festive one.
First up: Sweet Potato and Apple Soup that we first made in 2007 for Battle Apples.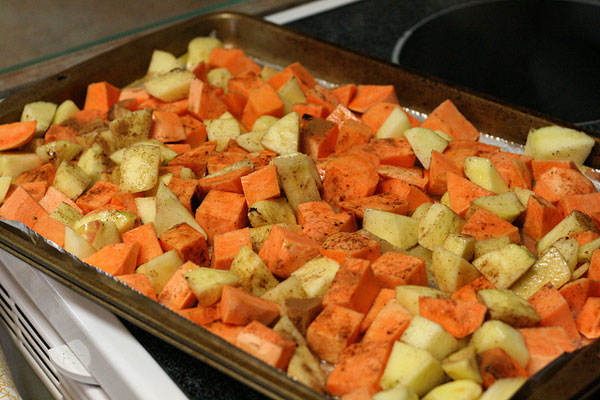 The list of ingredients is short: sweet potatoes and tart apples; onion, celery, and carrot; chicken broth and cream; lemon, cinnamon, and parsley.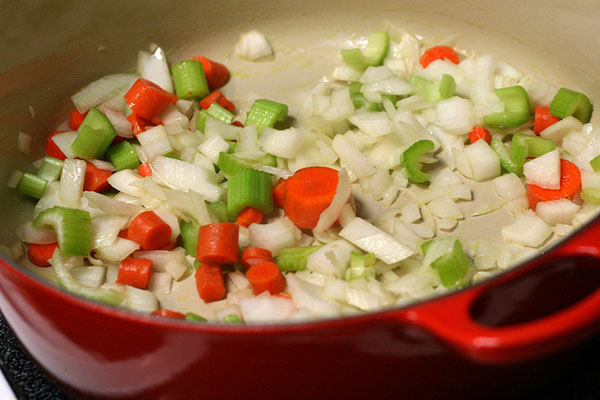 And it was the perfect dish to help break in our new Vitamix. (Happy early Christmas to us!)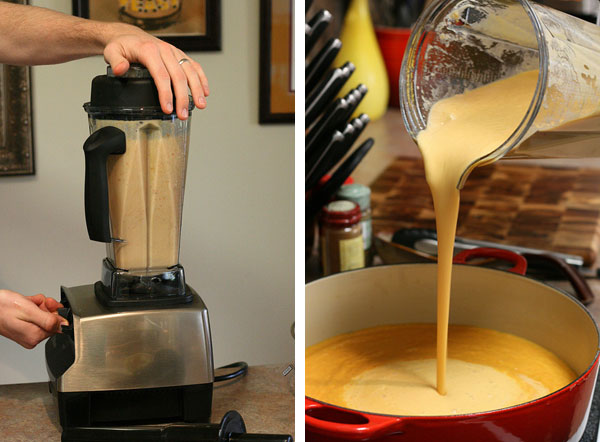 After roasting, sautéeing, blending, and stirring, you're left with a thick and creamy soup full of some of the season's best flavors.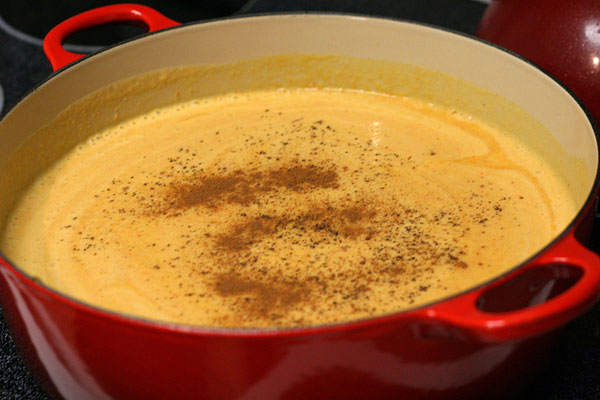 Garnish with parsley, serve hot, and watch your guests (or spouse) enjoy!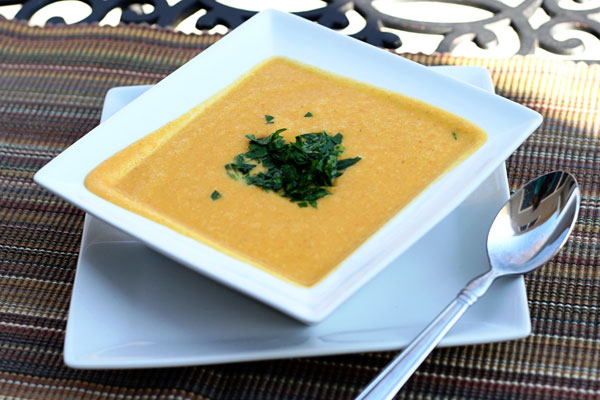 More seasonal soup and salad suggestions:
Autumn Salad with Pears, Grapes, and Pomegranate Seeds
Roasted Butternut Squash Soup
Sweet Potato and Apple Soup
Servings: 6
Ingredients
2 large sweet potatoes, peeled and chopped
2 large tart apples (like Ginger Gold), peeled and chopped
2 Tbsp extra-virgin olive oil
1 onion, chopped
2 stalks celery, chopped
1 large carrot, chopped
1 bay leaf
5 cups chicken broth
1 cup cream
1 lemon, zested and juiced
salt and pepper to taste
cinnamon to taste
handful of parsley
Directions
Preheat oven to 400°F. Place sweet potatoes and apples on a baking sheet lined with foil. Sprinkle with cinnamon and roast for about 30 minutes, or until tender.
Heat olive oil in a large pot over medium heat. Add onion, celery, carrot, and bay leaf. Sauté until tender. Remove bay leaf and discard. Pour in chicken broth and add sweet potatoes and apples. Puree in batches using a blender, or use an immersible blender to puree in pot.
Return soup to pot. Add cream, lemon zest, and lemon juice. Taste and season with salt, pepper, and cinnamon. Heat through, but do not boil. Ladle into serving bowls and garnish with parsley.
(Adapted from AllRecipes.com)