HER PERSPECTIVES
Best Moment: We were thrilled to be guests at the grand re-opening of the Carnegie Inn & Spa this week. We stuffed ourselves with roasted mushrooms filled with diced pears and Gorgonzola cheese, butternut squash ravioli, and crab cakes topped with cucumber-melon-corn relish. We stayed in one of the Inn's 20 cozy rooms — it was so cozy, in fact, that we were fast asleep before 10pm. And the next morning we were pampered with manicures and pedicures and, for the momma-to-be, an incredibly relaxing prenatal massage. I only wonder why I didn't indulge earlier?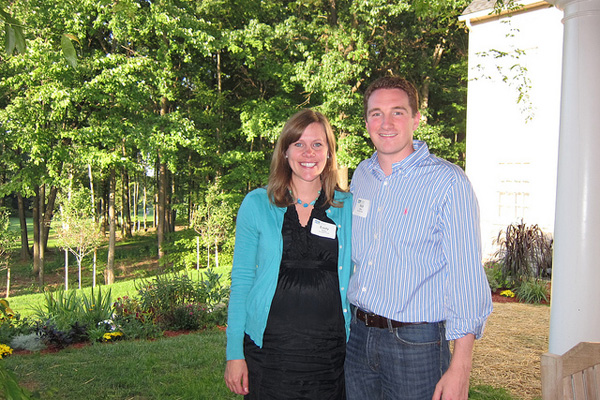 Symptoms: Mood swings. The first one came on Friday night and was probably the result of that afternoon's doctor's appointment. Let's just say the doc said I'm showing signs of progression — which is, of course, exciting (!!!), but is also anxiety-inducing. But we haven't packed our hospital bag! We haven't chosen a pediatrician! The freezer has not been stocked, and the labor ball has not been inflated! I know. Chill out, Emily. Yet when Nick tried to talk me down, I just started to cry. And I cried again on Saturday morning on our way to Panera. Nick is not used to this emotional lady. And neither am I. Thank you, hormones.
Cravings: Bahlsen Almond Spekulatius, or crispy German cookies with almonds. My mother-in-law brought them for us a few weeks ago, but I only just re-discovered them in our cupboard this week. And now they're almost gone. They taste especially amazing when crumbled and sprinkled on top of vanilla bean ice cream with fresh sliced peaches.
What I Miss: Sometimes I miss the nights of leisure dinners and hours on the couch with a good book. (I can barely find time these days to get through an entire issue of Bon Appetit before the next one arrives in our mailbox.) As busy as we are, though, there's no place I'd rather be. Except, perhaps, with a sweet newborn baby snuggled in my arms.
What I Can't Wait For: We toured the hospital this week. Hard to believe that next time we board the elevator bound for the 9th floor, we will be patients and not visitors. I can't wait!
Milestones: Peanut is gaining about an ounce a day and is up to just about 6 lbs this week. He/she is shedding the soft hair that has covered him/her for the past nine months and is making final preparations to exit the womb. Baby will be considered full term by the end of this week!
HIS PERSPECTIVES
Best Moment: I never really understood manicures or pedicures before. I thought it was only getting your nails done; oh boy, was I wrong. Just look how comfy I am in that oversized leather recliner with my feet soaking in a nice aromatic sudsy bath. And that was just the beginning.
Symptoms: Patience, patience, patience. I decided to give Emily the "You are special today" plate to placate her hormones for the morning, and it worked, although it might have just been the yummy French toast with fresh peaches on top … mmmm.

Cravings: Another mani-pedi please.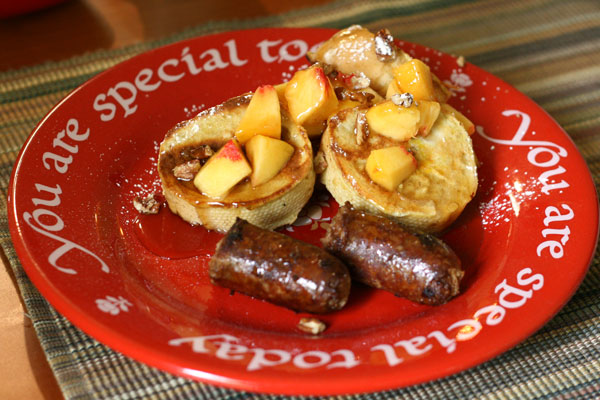 What I Miss: I have been looking around all week for the German cookies that my mother brought … I think Emily hid them from me.

What I Can't Wait For: We decided to hire professional cleaners to do a deep clean of our house in preparation for the baby. I think this may have been one of the best decisions we've made lately.
Milestones: Peanut is closing in on being "full term," and is still active as ever. Lately, our little belly buster has had hiccups, which has been so crazy to feel.