The Carnegie Inn & Spa in State College, formerly the Carnegie House, recently re-opened with redesigned guest rooms, an award-winning chef, and a brand new organic spa. And Nick and I were thrilled to be invited as guests to the opening celebration. It was perfect timing, too — just three days before our second anniversary and three weeks before Peanut is due to arrive.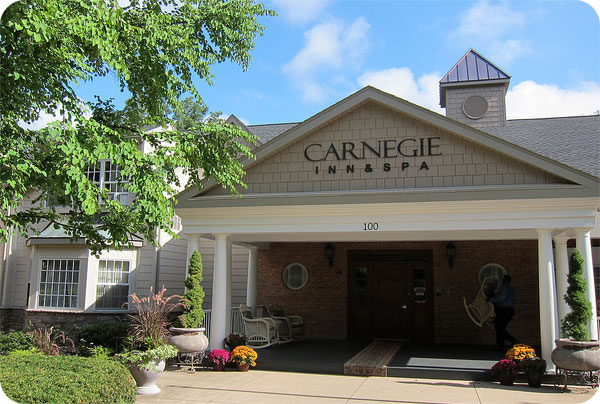 We arrived at the Inn, which is tucked neatly into the woods of the Toftrees Golf Resort, last Thursday evening along with dozens of members from the local Chamber of Commerce (where they were meeting for their monthly happy hour). We were greeted by a friendly staff and buffet tables filled with hot and cold appetizers: cured meats and olives, shrimp wrapped around slices of chorizo, melon balls in lime yogurt dipping sauce, mushrooms stuffed with diced pears and Gorgonzola cheese, butternut squash ravioli, summer figs soaked in Grand Marnier, crab cakes topped with cucumber-corn relish, and more. Each small bite was expertly prepared and full of flavor.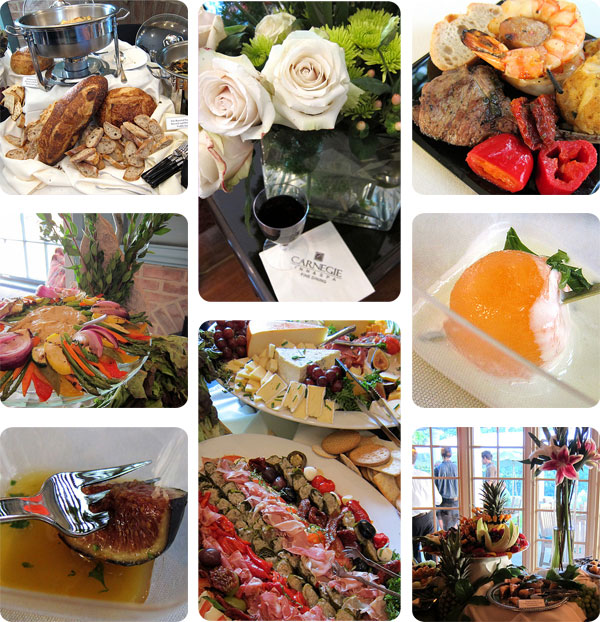 We mingled with the group of young professionals and wished for the umpteenth time that we lived in State College and not 50 miles south. I think some of them were equally intrigued by The Culinary Couple — which is how we were identified on our name tags. I can't tell you how many people asked for "our cards." So funny.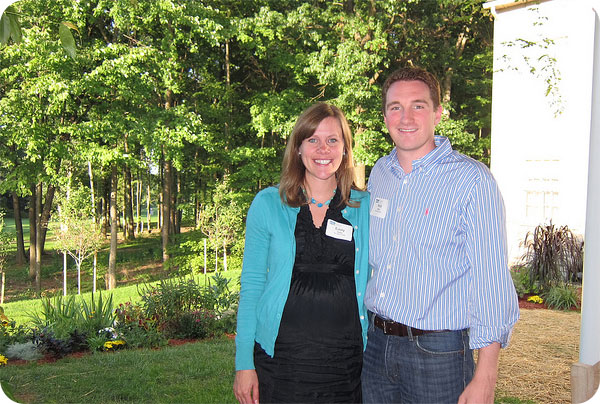 After filling our bellies and watching dusk fall over the 17th green, we retreated to our room. We were one of just three couples staying in the Inn that night — with at least 20 rooms still vacant and still preparing for the first big weekend of the year: the season opener of Penn State football.
Our room was on the first floor at the end of a dimly lit hallway. And by dimly lit, I mean in a very Victorian and romantic way. Our room was much the same. Ornate wallpaper covered the walls and thick drapes framed our bed. There was a cozy sitting area at one end of the room, and the television was behind closed doors, which made it easy to simply sink into the couch with our magazines — something neither of us had done in weeks. We were both so grateful to spend a quiet night together, out of our house and away from our to-do list.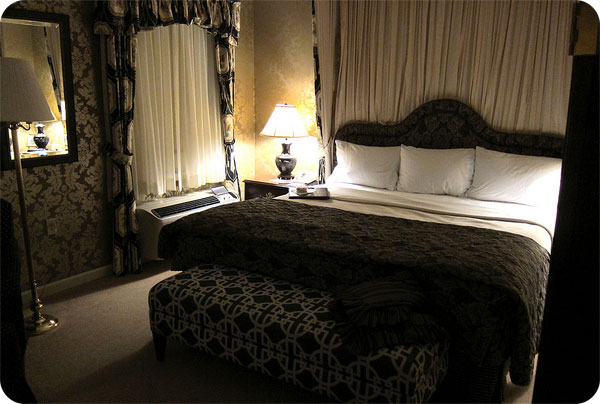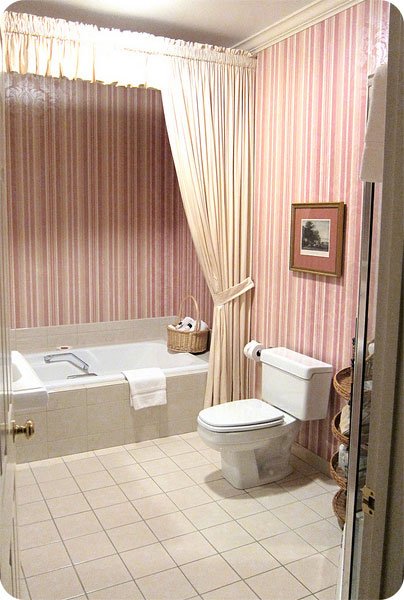 The next morning we found a table on the porch and enjoyed the crisp breeze while sipping our coffees. The Carnegie Inn offers a small breakfast menu for its guests and is open to all for lunch and dinner. In addition to patio seating, there is a formal dining room indoors, adjacent to an elegant library where cocktails and conversation are encouraged.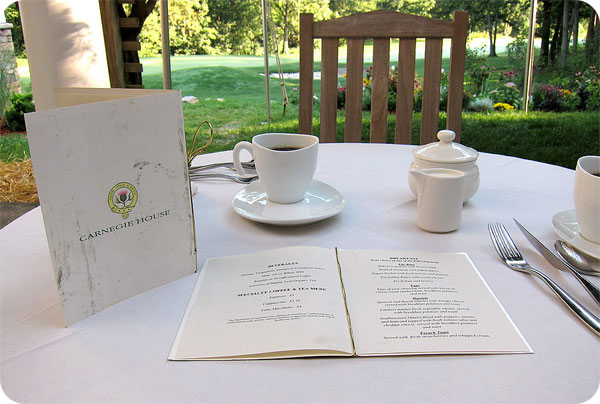 For breakfast, Nick ordered French toast with strawberries and the most delicious dollop of whipped cream. It was light and slightly sweet and perfectly complimented his dish. I may have been a bit jealous. My breakfast was also tasty — a farm fresh veggie omelet with a side of potatoes — though I highly recommend the French toast. Or, perhaps just a bowl of whipped cream.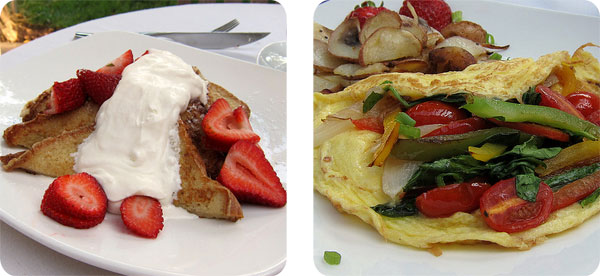 Executive Chef Lisa Palermo returned to her State College roots earlier this spring after several decades away. After attending The Culinary Institute in New York City, she worked at the Ritz-Carlton in Chicago and Fontainebleau in Miami. She went on to serve as Sonny Bono's chef in Palm Springs and later co-opened a restaurant in San Diego.
Chef Lisa says the clientèle in central Pennsylvania tend to gravitate towards more conservative dishes, though they seem to have taken to the contemporary European cuisine that she serves at the Carnegie Inn. Dinner specials include: wild salmon in an orange and soy sauce glaze with a ginger butter sauce, seared sea scallops with pea puree, and Filet Mignon served with wild mushroom risotto and whiskey barbeque sauce. Yes, I think we shall have to return for dinner.
After our leisurely breakfast, we walked down the hallway to check in to ESSpa. The new spa is owned and operated by Hungarian skin care expert, Eva Kerschbaumer, with its main location in Pittsburgh. The well-trained staff offers organic facials, massages, wraps, scrubs, manicures, and pedicures.
We started with side-by-side Hungarian pedicures, which include: a softening foot soak, a moisturizing foot massage, nail filing and callous removal, and a rejuvenating paraffin bath. The paraffin bath was something I'd never done before, and it was amazing. For Nick, though, everything was new. And I believe he plans to do a separate post about his first "man"icure and pedicure, so I'll let him share more details later.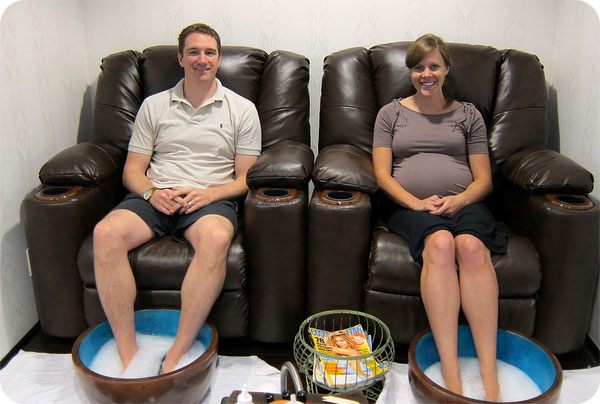 After our tootsies were soft and smooth, we moved on to our Hungarian manicures. They trimmed, shaped, and buffed our nails, gave tension-releasing massages, then dipped our hands into paraffin baths and slipped them into fuzzy mittens. The hot wax mixed with essential oils was was so soothing.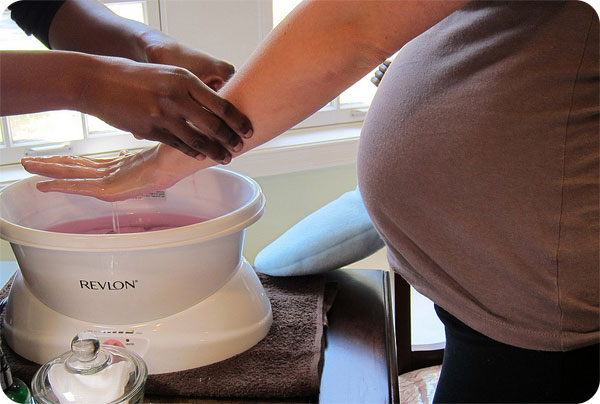 Following our treatments, Nick had to leave for work. I, however, took the rest of the day off. I spent an hour on a rocking chair on the front porch, and then returned inside for my prenatal massage.
Now I have had massages in the past — at the Hershey Spa and in a hut set over the Caribbean — and, of course, I loved them. But I was really looking forward to this one. What 9-month pregnant woman doesn't want someone to tend to her stiff neck and achy back and sore joints? And, oh, it exceeded my expectations. I did not want to move from that bed after my hour was up. The masseuse informed me, though, that postnatal massages are just as wonderful.
Nick and I want to thank the extremely attentive staff at the Carnegie Inn & Spa for making our stay so enjoyable. We highly recommend it to couples who are looking for a quick and quiet getaway. We will definitely be back!