HER PERSPECTIVE
Best Moment: The Wiley clan invaded Altoona! My father-in-law and his five siblings were born here, and they returned this weekend with their kids and their kids' kids for a fun-filled family reunion. We visited the Rail Roaders Memorial Museum and the Horseshoe Curve in honor of Nick's grandfather who was a train engineer. We spent hours chatting and reminiscing with family members on a perfect summer evening while the littlest kids played games and ran relay races. We indulged in local favorites: Texas Hot Dogs (Barack Obama has even eaten here) and The Meadows. Oh, and we figured out that Peanut will be the 41st great-grandchild! And the only one born right here in Altoona.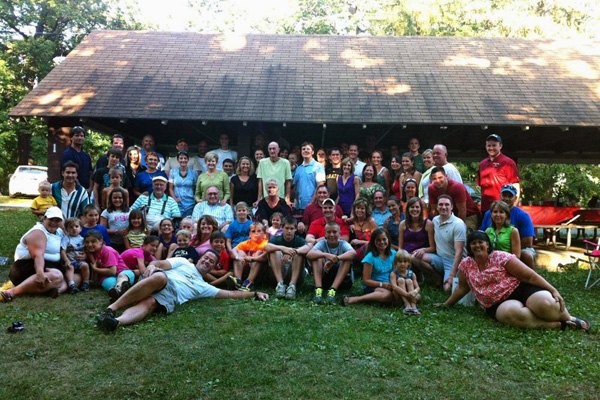 We were thrilled to host Nick's parents and sister for the reunion weekend. Aunt Kiwi even spoiled Peanut with a few gifts including Sophie the Giraffe, a set of owl bookends, Steelers t-shirts, and the most perfect bib I have ever seen.
Symptoms: Heartburn. I thought I knew what heartburn was, but I really had no idea until the third trimester. TUMS Smoothies and I have become pretty tight. Also my feet itch. Often. Is that a symptom of pregnancy?
Cravings: I've been thinking about fried pickles ever since Anna made them for dinner club last week. So, of course, we made a big batch to serve alongside turkey burgers and sweet corn. Aside from pickles, what's the other stereotypical pregnancy craving? Ice cream. And I was craving that this week, too. My first batch of chocolate peanut butter ice cream was such a huge success that I believe it's soon time to try another recipe from The Perfect Scoop.
What I Miss: My family. Seeing Nick's family made me miss my own. Fortunately, I'll get to see them in a few weeks at our baby shower. And my brother will be back from London in just over a month!
What I Can't Wait For: Our first childbirth class is next week. Things are starting to get real, folks.
Milestones: Peanut has hit the 3lb mark! No wonder my belly has felt especially hard this week — I think he/she is running out of room. The little one has also been very active this week — most notably around 10am, 3pm, and 10pm. I think I've even felt somersaults — most unusual/incredible sensation I have experienced yet. Something else that's equally as incredible? Hearing the heartbeat. I will never get over that strong and steady "lub dub, lub dub." Sister-in-law Kirsten got to hear it at this week's appointment, too. She may have even cried.
HIS PERSPECTIVE
I think Emily covered just about everything this week!