Quick. Name two foods that pregnant women stereotypically crave.
Did you guess ice cream and pickles? Because apparently they're the most popular answers. And I have both covered. More specifically chocolate peanut butter ice cream and oven fried pickles.
Of course, you don't have to be sporting a baby bump to enjoy this simple snack.
Sour, crunchy pickles are dipped into a spicy batter, then coated in panko bread crumbs.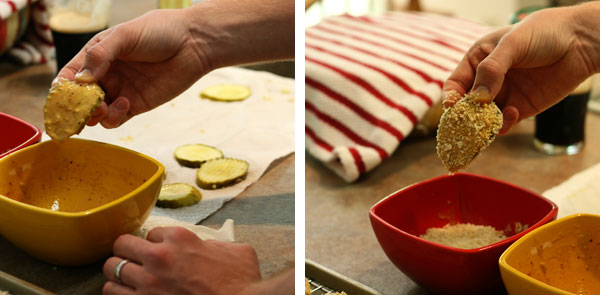 Place on a rack set above a baking sheet, and broil just 3 minutes per side.
Serve with Ranch dressing and a dash of hot sauce.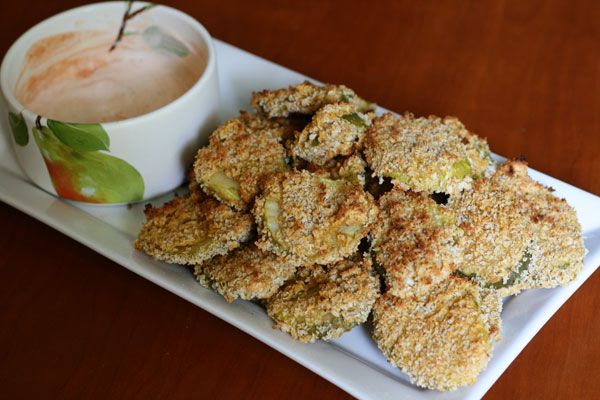 Guaranteed to satisfy your craving — whether you're pregnant or not.
Oven Fried Pickles
Makes 6 servings.
Ingredients
1 jar pickle slices (we like large, thick slices of Claussen dill pickles)
2 eggs
1/3 cup flour
1 Tbsp Worcestershire sauce
1 tsp hot sauce
1 tsp garlic powder
1 tsp Cajun seasoning
1 tsp pepper
1 1/2 cups panko bread crumbs
Ranch dressing + hot sauce for dipping
Directions
Turn oven broiler on high.
In a medium bowl, whisk together eggs and flour. Add Worcestershire sauce, hot sauce, garlic powder, Cajun seasoning, and pepper. Mix well.
Place panko bread crumbs in a shallow dish. Dunk each pickle slice into the egg mixture, than dredge it in the panko bread crumbs.
Place coated pickles on a rack set above a baking sheet and sprayed with non-stick cooking spray. Place pan in the middle rack of the oven. Broil for about 3 minutes on each side.
Serve with Ranch dressing and a dash of hot sauce.
(Adapted from Weekly Bites via Newlywed, Newly Veg)