HER PERSPECTIVE
Best Moment: Unfortunately, it's rare these days that we're able to gather even half of our best friends in one place, which is why we so enjoyed a long weekend in New England and a quick night out in Washington DC. Peanut is lucky to have such wonderful honorary aunties and uncles!
Symptoms: Leg cramps and toe cramps. I feel like I've returned to my days as a ballerina. But this time it's because of a certain little Peanut and not a pair of new pointe shoes.
Cravings/Aversions: Still able (and willing) to eat everything, though due to our busy travel weekends, we have spent little time in the kitchen. On the few nights we have been home, we've resorted to lasagna from the freezer, grilled cheese and tomato soup, and omelettes.
What I Miss: A few weeks ago I missed my jeans, but I've grown to love my maternity wardrobe. So far my favorite pieces of clothing include: full panel sexy boot cut jeans from Gap (totally worth the price tag), super stretch slim leg jeans from Love by Heidi Klum (I have both white and blue jeans), layering tanks and jersey dresses from Old Navy, and black leggings and colorful tunics from Macy's. Also, still loving and wearing LEC cardigans. I think I may actually miss the forgiving waistbands and stretchy shirts after Peanut arrives!
What I Can't Wait For: We're planning to plant our container garden next week. And hopefully the tomatoes, peppers, and fresh herbs will inspire us to get back in the kitchen.
Milestones: Peanut is swallowing amniotic fluid on a regular basis these days, and we learned at last week's ultrasound that the taste of the fluid depends on the food that I eat. Yes, Peanut has already developed taste buds! And so far, he/she is a very healthy and agreeable eater. Since last week, he/she has gained at least another ounce and grown another inch. (Peanut gained an ounce and momma gained a pound. Go figure.)
HIS PERSPECTIVE
Best Moment: Celebrating Mike's 30th birthday in Washington DC! And yes, that is skeeball in the background of the picture below. Guess who was the big winner… that handsome devil on the left.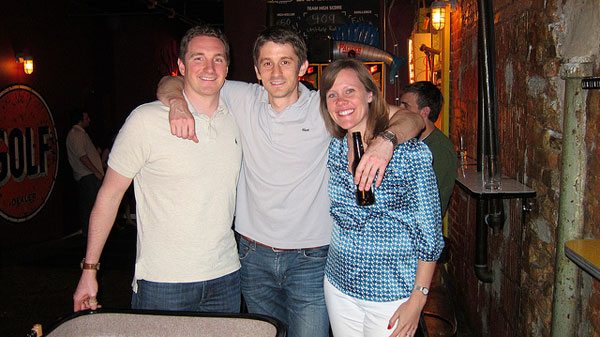 Symptoms: My alcohol tolerance is unusually low these days, in part because I feel guilty enjoying a libation with dinner when Emily can't. Thanks to a bourbon nightcap at 4am with Mike, my symptom this week is a hint of a hangover.
Cravings/Aversions: Not bourbon.
What I Miss: Our kitchen.

Milestones: He/she is about the size of a healthy spaghetti squash. Peanut's senses are developing, and you know what that means … Daddy gets to sing to Peanut on a regular basis now!