We were back on the road by 10:00 on Sunday morning en route to Spyglass Ridge Winery in Sunbury. The sky was not the brilliant blue it was the previous day, but the air was still warm enough for a quick stroll through the vineyards when we arrived.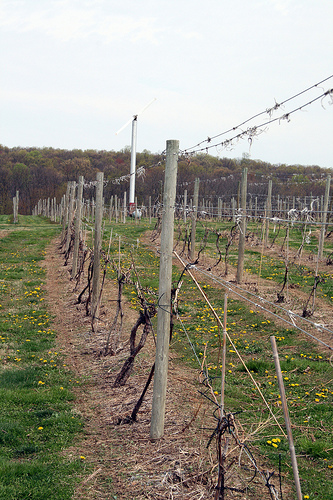 Proprietor Tom Webb explained to us how the turbine that hovers over the vineyards helps to warm the ground during the night. This is especially helpful when spring temperatures arrive weeks earlier than expected, as they had this year.
Before moving indoors to sample Tom's creations, we chatted on the deck of Spyglass Ridge, which overlooks 14 acres of vineyards on land that was owned by his wife's family since the 1800s.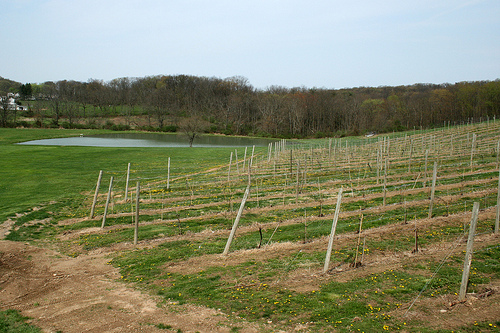 More than 15 years ago, the Webbs purchased the property. They converted the barn into a tasting room with plenty of space for special events and renovated the ground floor into a wine production facility and cellar.
Tom's passion and knowledge for wine runs deep. He first began behind-closet-doors wine experimentations during high school, and his mother discovered his hobby after one particular experiment ended in an explosion.
During college Tom was educated in the process of winemaking by his landlord, and several years later he was hired to work for a vineyard in Lehigh Valley.
Now, at Spyglass Ridge, Tom and Winemaker Dana Walter produce "big European style wines." Their maceration process may last up to 30-35 days versus the typical 5-18 days, which yields fuller, deeper wines.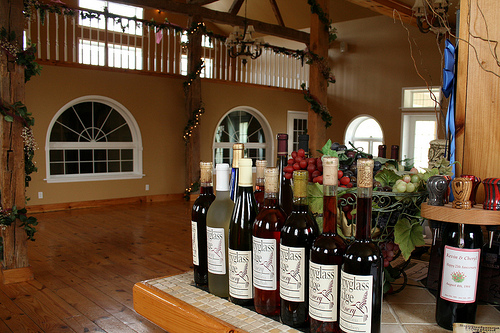 Tom and Dana approach winemaking with a real experimental edge. They regularly attend the global Vinitech conference (in such lovely locales as Bordeaux and Milan) to study market trends and learn new techniques. Their innovative spirit is evident in the variety of wines available at Spyglass.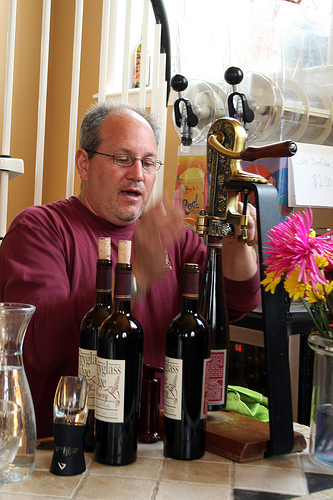 The Cabernet Franc is the perfect example of Spyglass Ridge's attempt to produce deep, full-bodied wines. It's aged for 28 months in French Oak barrels and expresses flavors of red pepper, cherry, and blackberry. An excellent wine to accompany a steak.
The Chardonnay is another popular purchase at the winery. It's a blend of vanilla, butterscotch, and tropical fruit. Great with pork or salmon.
Now I'm not typically a fan of rose wines, but Cassie's Blush is a definite exception. It's made entirely of the Chambourcin grape (which I discovered a taste for at Brookmere Winery) with a berry aroma and a crisp, clean finish.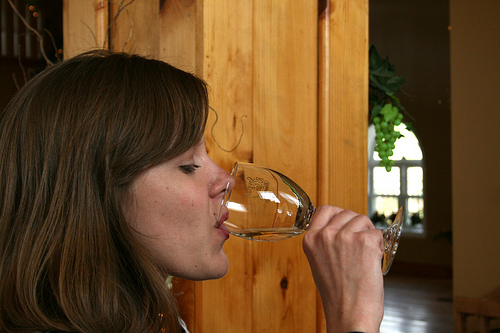 Cassie's Blush comes in a close second to my favorite wine of the day: Tam's Red. Named for Tammy Webb, Tom's wife, it's deep red with cherry notes and is the perfect companion to both Italian pasta and dark decadent chocolate – two of my favorite things. Drink it at room temperature with hearty lasagna or cold with chocolate hazelnut lava cake.
Other notable Spyglass Ridge blends include the White Duck, made from Cayuga grapes, and the Kiwi Ice, made from kiwis collected at a neighboring farm. (Unfortunately the Kiwi Ice was sold out during our visit.)
Tom's enthusiasm for wine is contagious. He swirled and sniffed and tasted right along with us. And he had one of my favorite quotes from the weekend: "It takes beer to make wine." He said he can't brew wine without easy access to cold beers. I couldn't agree more.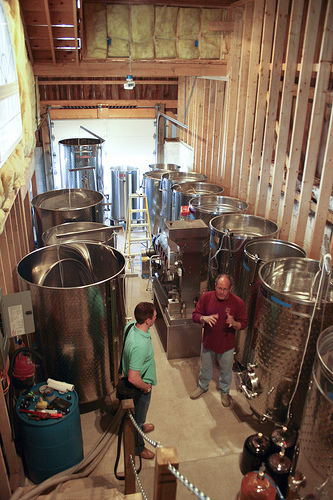 I highly recommend a visit to Spyglass Ridge Winery. Just be sure to make room in your trunk for all of the bottles you're likely to bring home!