We spent (almost) the entire weekend unplugged, save for visits to eBay to bid on an antique orange vase to display on our bookshelf and Etsy to search for an "All You Need is Love" print. So what did we do with all of our technology-free time?
We organized our office space with help from Ikea. We chose prints to fill our staircase photo gallery frames. We purchased sweet accent plates to display on our dining room hutch. We installed a glass shelf above the toilet in our master bathroom and lined it with amberwood candles. We unpacked our final box of cookbooks and found a home for them. We touched up the paint on our headboard and rotated our mattress. We transfered files from our old computers to our new MacBook Pro. We talked to our mothers and our best friends, and we skyped with my brother. We certainly kept busy.
See what can be accomplished when you unplug?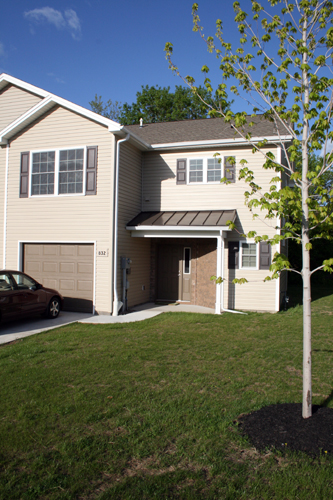 {Photo of our new home. Sunshine, please come back.}