It's a blessing that my professional life is so closely connected to my personal interests. But it's also exhausting.
By day I manage the online presence of a public broadcasting station. I promote local TV and radio programs and community events. I develop and edit content and write scripts. I produce faculty interviews and educational forums. I compress videos and author DVDs. I initiate online chats and implement Flash slideshows.
And how do I spend the remainder of my waking hours?
I blog here about newlywed life, and I share food stories and post recipes on The Culinary Couple. I told our wedding story on EAD, and I contribute to the Harrisburg Examiner.
I track my runs on Nike+, and I keep in touch with my family on Skype. I share videos on both YouTube and Vimeo. I have accounts with StumbleUpon and Digg and Newsvine, and I'm connected on LinkedIn.
On delicious, I bookmark my favorite finds and tag them as crafting, data visualization, ecofriendly, fitness, font, gocco, HTML, jQuery, photography, public media, recipes, travel, typography, usability.
I subscribe to over 200 blogs in categories like cooking, baking, design, technology, photography, and social commentary. My Google Reader has not been clear for months.
There is undeniable overlap. I create media. I consume media. I am always immersed in media.
I have a personal Facebook page, and I administer five group pages. I have a personal Twitter account, and I tweet to one professional account.
I've been uploading photos to Flickr since 2004, and I recently set up a stream for my station.
I manage no less than six public media websites, and there are always new projects on the horizon. On the side, I maintain four websites for freelance clients.
I feel pressure to be plugged in all hours of the day. It's an ever-evolving environment, and — GASP — what if I miss something?
What if I don't check-in on Foursquare or connect via Ning? What if I don't understand the difference between TweetDeck and HootSuite? What if I don't use Tumblr or Posterous? What if I don't share my music preferences on Last.fm or post my restaurant reviews on Yelp? What if I don't track trends on Slashdot or Mashable?
What then? Nothing. That's what.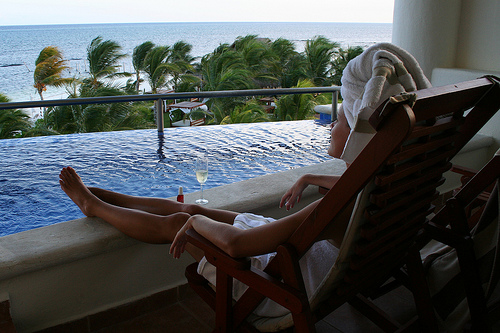 Life will go on. Just as it did when Nick and I both completely unplugged for an entire week last August. No iPhones. No MacBooks. No worries.
I need to make more of an effort to disconnect from technology and reconnect with real life. Do you agree? How do you manage?