My mom informed me last night that she hears from my brother who lives overseas more often than she hears from me. (Sorry, Mom! I'll make it up to you during your visit this weekend.)
So what has been keeping me busy?
Running: Or, more truthfully, walking and stretching and strengthening.
Last night I ran for the first time in almost two weeks. About 10 minutes in to my 20-minute run, I felt that dreaded and familiar pain. So I spent this morning with the foam roller before retreating to my home office. (Thank goodness for Telecom Fridays.) I hope to be healthy in time for the Double Creek Half Marathon on June 19th, which I ran last year. I'd also like to transfer my Rock 'n' Roll registration to a different race. Perhaps Virginia Beach on September 5th, or Philadelphia on September 19th. Because two halfs in one year is almost as good as one full, right?
Cooking: Yes, I miss running. But since I've stopped marathon training, I have a heck of a lot more time to play in the kitchen. Recent successful dinners include:
Shrimp Primavera with Peas and Asparagus and Green Salad with Radishes, Cucumbers, and Shallot Dressing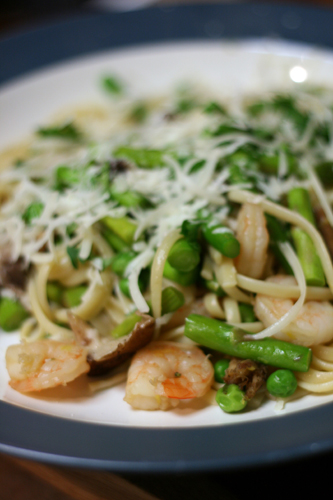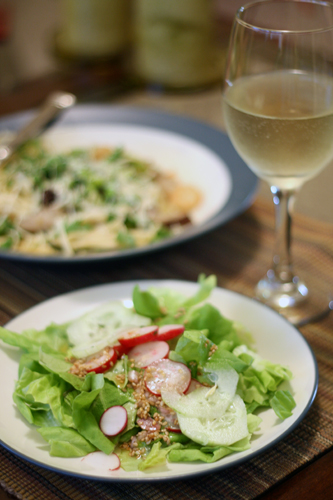 Jamie Oliver's Stir-Fry (If you haven't yet seen Food Revolution, you need to watch now. (New episode airs tonight at 8.)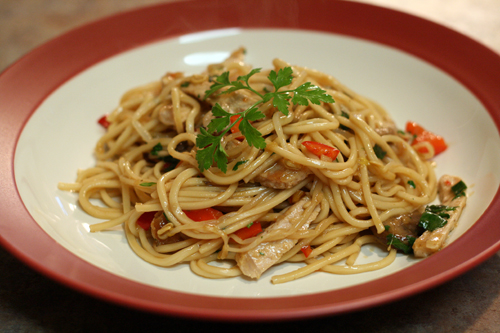 Recipes forthcoming!
Settling: If you follow me on Twitter, you may recall several tweets about the bookshelves we're building for our living room. Oh, but these are not just any old bookshelves. They're geometric and symmetric. There are several sizes of shelves. They're hand stained to match our media console. What were we thinking, right?
We spent an entire weekend two weeks ago cutting pine boards, pre-staining, staining, and varnishing. However, when it was time to assemble, we realized the top and bottom pieces were just slightly short. Oops. We could have attached the boards from the inside, but then the screws would have been exposed. And we're perfectionists. So that was not an option.
And so it sits — 3/4 finished — in our garage. We hope to find time this weekend to finish it, and Nick promises to do a full recap when that time comes. And, trust me, you're going to want to come back for that.
So while we're stalling on the bookshelf front, we're piecing together other odds and ends for our home. I bought new throw pillows for our bed and picture frames for our bathrooms. Nick installed ledges to display souvenirs from our Mexican honeymoon, and he's working on a hanging rack to display our wine glasses. We've also recently treated ourselves to a few new toys: a router and a shop vac for Nick, a Canon Pixma printer for me, and a Macbook Pro for both of us.
What's keeping you busy these days?