Have you every come across a pair of tall boots or a ceramic vase or a black and white print that you just had to own? Or, in Nick's case, a cutting board or a corduroy jacket or a workbench?
Well, most recently, we found a piece of furniture that we just couldn't get off our minds.
We'd been searching for something to store our TV and media equipment in our new living room. My criteria: It had to compliment the red couches and mahogany coffee table we already owned. Nick's criteria: It had to be sturdy. (I'm not kidding. He spent a lot of time analyzing the craftsmanship and knocking the surfaces of every piece we saw.) Well, the Kavari media console from Crate and Barrel fit the bill.
It was at the very top of our list … until we calculated the shipping costs. C and B charges almost half the cost of the piece to ship it further than 50 miles! We couldn't justify it, so we continued to look. But nothing compared to the simple rustic nature of the Kavari collection.
I called C and B to ask if we could pick it up at the store nearest us — 200 miles away. They said, yes, we could pick it up at their warehouse. So the next step was to find a vehicle large enough to transport it.
Remember the trees that fell over in my parents' yard? And totaled my dad's Passat? Well, Dad recently replaced his beloved car with a Ford F-150 pickup truck. It's red, and so it was appropriately named "Lil' Red." Perfect timing! He measured the bed, and it was just the right size for the media console.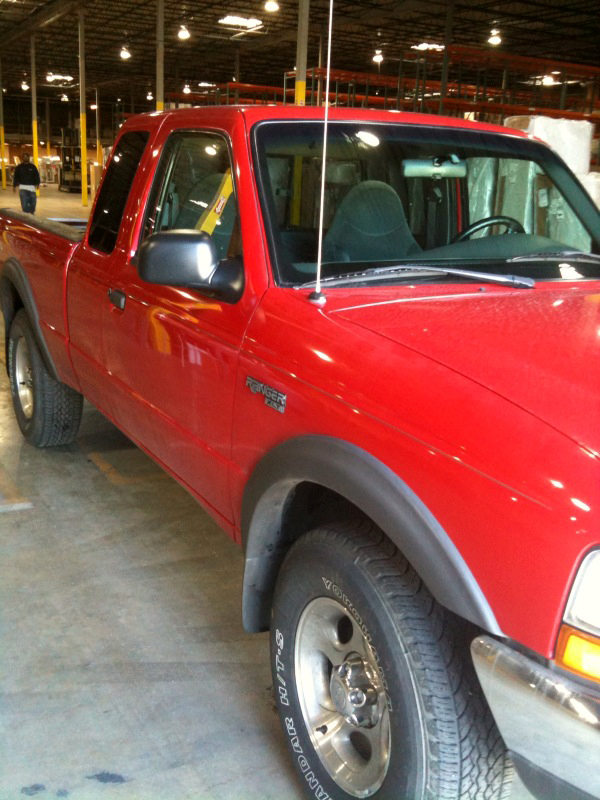 My dear father really loves his daughter and son-in-law because, on Saturday, we drove Lil' Red from Dover to Baltimore (70 miles) to Duncansville (200 miles) and back to Dover (150 miles). All in the name of home decor! (Nick is still training in New York and so missed out on our little road trip.)
Fortunately it was a beautiful day with no threat of rain, and the piece was snug and safe in the truck bed. Dad and I chatted along routes 83, 70, and 76. We stopped for burgers and fries from Five Guys and snacked on Girl Scout cookies. And, when we were about 10 miles from the exit to my house, I realized … I'd forgotten my house keys! Holy crap. My heart dropped.
I called and texted our property management and, luckily, she was able to meet us within 15 minutes of pulling into the driveway. Crisis averted! I really don't know what we would have done otherwise.
We unloaded the piece with help from Nick's cousin, and it's just perfect.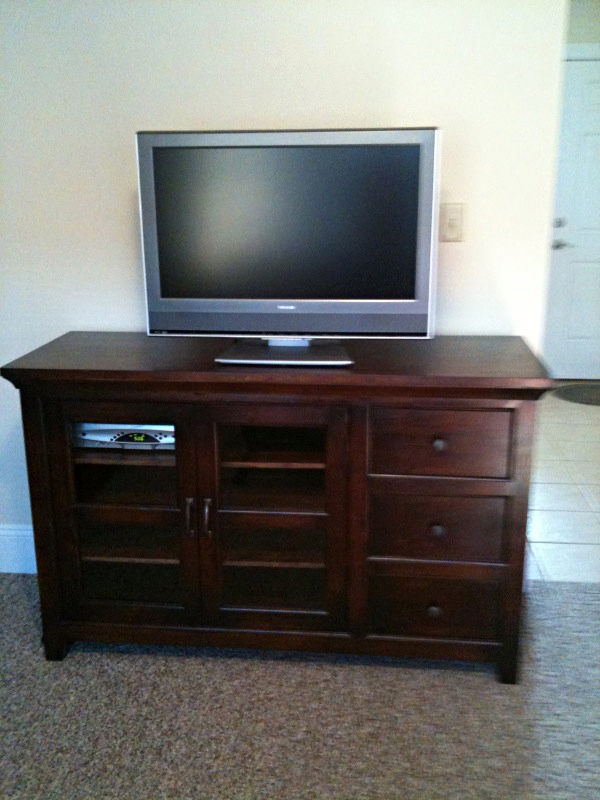 I can't wait for Nick to see it when he gets home on Thursday!