I grew up in the house my dad's dad built. Grampy passed away just one month before my parents were married, so I never had the opportunity to meet him. But I've been told we would have adored one another.
I may never have seen Grampy walk through the front door of our house, but he left behind plenty pieces of himself. He carved the names of his four kids into the cement patio floor. He hand constructed window frames that still keep us warm. And he planted pine trees along the property line.
Unfortunately, three of those trees fell to the ground on Sunday night.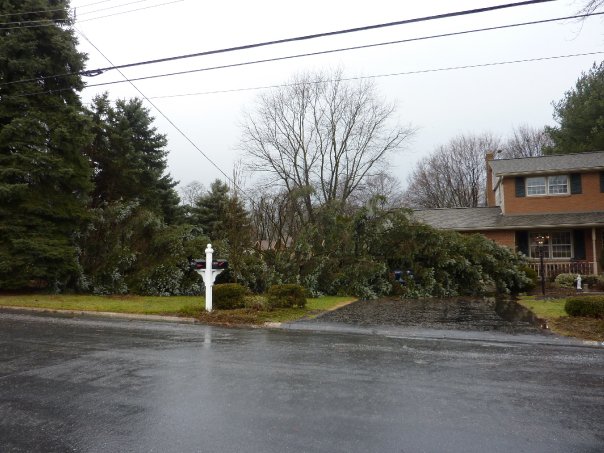 I left the house around 6:30 that night to drive back to my apartment. I had considered spending the night due to approaching storms, but I had a mandatory Monday morning meeting to prepare for. It wasn't until after said meeting that I heard the news.
Apparently nobody inside heard the trees fall outside. It happened in the middle of the night, and the destruction was discovered by my sister when she walked out the front door to climb into her car and drive to school. Had her yellow Beetle been parked just a few feet closer to the house, it would have been buried by branches. Had I decided to spend the night, my red Civic would have buried, as well. As luck would have it — which was very unlucky for one member of the family — only one car was hit, and it was my dad's blue Passat.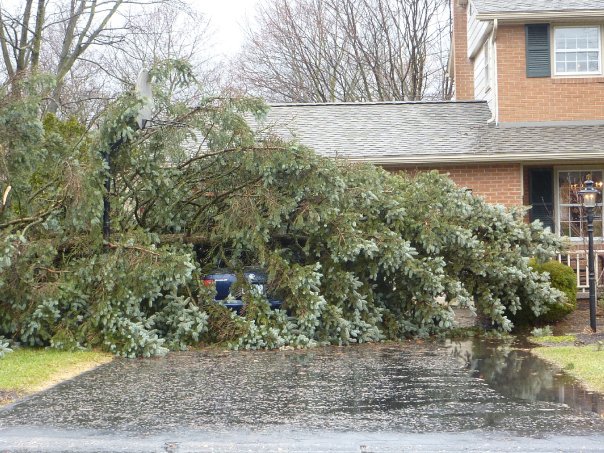 It's sad, really, to say goodbye to trees that were part of both my dad's childhood and my own. Grampy nurtured those trees from seedlings. They provided shade and privacy. The provided a canopy for tree forts and a "base" for games of tag. They were a welcome site as I turned down Andover Drive and approached the place my family has called home for 46 years. They will be missed.