A successful dinner party begins with a well-planned menu. And so on the occasion of our first dinner party in our new home, I spent more time choosing the dishes than I spent preparing them.
For the main course, I turned to a simple favorite: mustard-baked chicken with pretzel crust. But rather than using the chicken breasts we typically use for the recipe, we used tenderloins to yield smaller serving sizes. Grown-up chicken fingers!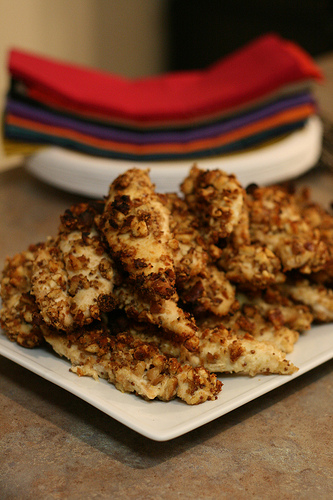 The first side dish utilized fresh produce and could easily be prepared in the afternoon and baked when our guests arrived that evening.
The orzo (rice-shaped pasta) is cooked in chicken broth and becomes mild and creamy. Two types of cheese and mushrooms add decadence. And peas and thyme balance the dish with a subtle spring flavor. Grown-up macaroni and cheese! Thank you, Giada.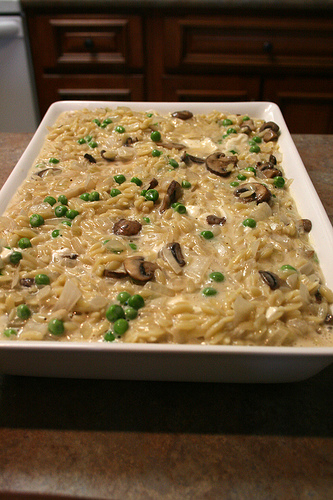 Ingredients
4 cups chicken broth
1 lb orzo pasta
3 Tbsp butter, plus more to grease the baking dish
1 onion, chopped
8 oz mushrooms, sliced
1 cup Marsala wine
1/2 cup heavy cream
4 oz shredded fontina cheese (about 1 cup)
4 oz diced fresh mozzarella cheese (about 1 cup)
1 cup frozen peas, thawed
1/2 tsp salt
1/2 tsp freshly ground black pepper
1/2 cup bread crumbs
1/4 cup grated Parmesan
1 tsp dried thyme
Directions
Preheat the oven to 400°. Butter a 9×13 baking dish.
Bring the chicken broth to a boil over medium-high heat. Add the orzo and cook until almost tender, about 7 minutes. Pour the orzo and the broth into a large bowl and set aside.
Meanwhile, melt the butter in a skillet over medium heat. Add the onions and sauté until tender, about 3 minutes. Add the mushrooms and continue to sauté until the mushrooms turn brown around the edges, about 7 minutes. Add the Marsala. Scrape the brown bits off the bottom of the pan and cook until the Marsala has reduced by half, about 5 minutes.
Add the mushroom mixture to the orzo in the large bowl. Add the cream, fontina, mozzarella, peas, salt, and pepper. Stir to combine. Pour the mixture into the prepared baking dish.
In a small bowl combine the bread crumbs, Parmesan, and dried thyme. Sprinkle the bread crumb mixture on top of the pasta. Bake until golden, about 25 minutes.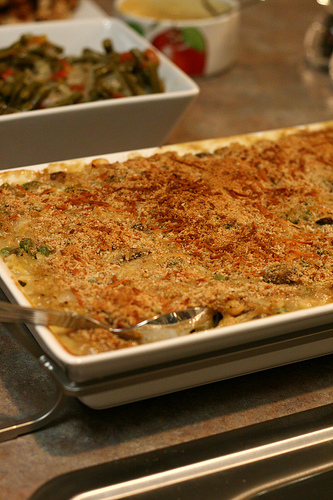 Read more about our spring dinner party on the Examiner.
(adapted from Giada De Laurentiis)