The second side dish for our spring dinner party was a spontaneous one. The previous day I had picked up a bag of fresh green beans, and I was determined to find a simple recipe to boost their natural flavor.
I turned to Mark Bittman for help. His slow-cooked green beans did not disappoint. A great way to get kids (or your husband) to eat greens!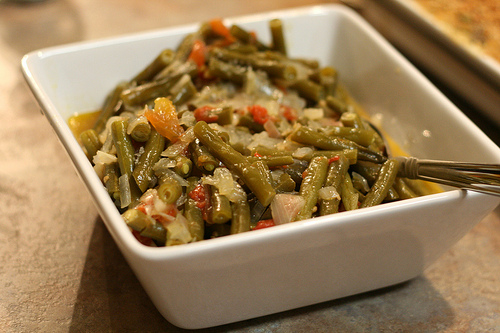 Ingredients
1 1/2 lbs green beans, trimmed
1/2 cup extra virgin olive oil
1 cup onion, chopped
1 cup tomato, chopped (or 1 can, drained)
1/2 cup water
Salt and freshly ground pepper
Freshly squeezed lemon juice
Directions
Combine all ingredients in a large saucepan and bring to a boil. Cover and cook over medium-low heat for about 1 hour. Check every 15 minutes and add more water, if necessary. The beans are ready when all of the liquid has been absorbed. Add more salt and pepper and lemon juice to taste.
Read more about our spring dinner party on the Examiner.
(adapted from Mark Bittman's How to Cook Everything)