Thanks to Maggie for this most delicious recipe recommendation! Hard pretzels and mustards of all types are two of my favorite things, and so this dish is a total winner in my mind. We served it alongside maple and sage roasted turnips and carrots — ideal for a Sunday supper in December.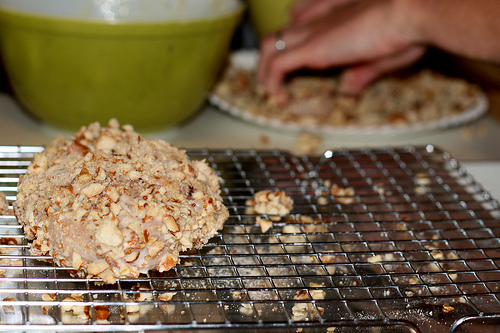 Ingredients
1/2 pound hard pretzels, coarsely crushed (4 cups)
1/2 cup canola oil
1/2 cup whole-grain mustard
2 Tbsp Dijon mustard
1/4 cup water
3 Tbsp red wine vinegar
Salt and freshly ground pepper
6 large skinless, boneless chicken breast halves
Directions
Preheat the oven to 400°.
In a food processor, pulse the pretzels until coarsely ground. Transfer to a large, shallow bowl.
Wipe out the food processor. Add the oil, whole-grain and Dijon mustards, water, and vinegar. Process until smooth. Season with salt and pepper.
Pour half of the dressing into a large shallow bowl, add the chicken breasts, and turn to coat. Dredge the chicken in the pretzel crumbs and transfer to a rack set over a rimmed baking sheet (covered in foil for easy clean up).
Bake in the upper third of the oven for 20 to 25 minutes, or until cooked through. Slice the chicken and serve with the remaining mustard dressing.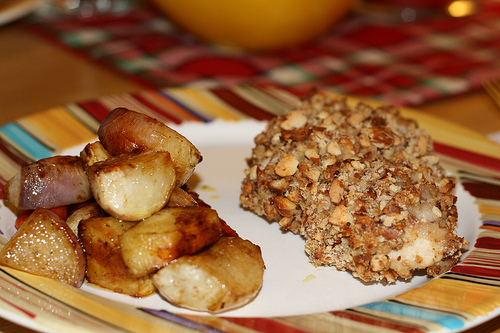 (adapted from Gourmet)