This was a very merry married Christmas, indeed. Nick and I put nearly 1,300 miles on the Civic and spent the holidays with both sides of our family and many of our best friends. It was our third Christmas together, and our first as husband and wife. We enjoyed family traditions and created new ones. And we were reminded on several occasions to be grateful for the small stuff.
Grandma Motz's Sugar Cookies: This recipe has been enjoyed by five generations of Rowlands, and every December my dad and my aunt fight for the few tubs of lard available in the grocery store. (Yes, the recipe calls for 1 cup of lard — you know it has to taste good!) Dad and I have added our own expertise to the annual tradition: chill the dough over night and use lots of parchment paper and Wondra flour to prevent the dough from sticking to your hands and the counter top. One of these years we'll get fancy with royal icing, but until then, red and green sugar sprinkles it is!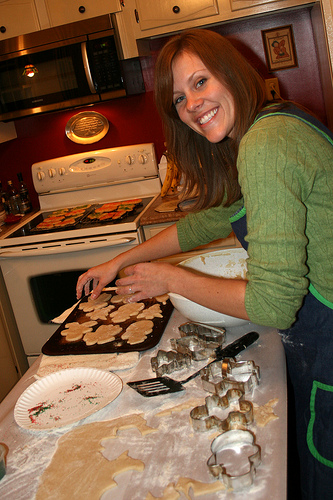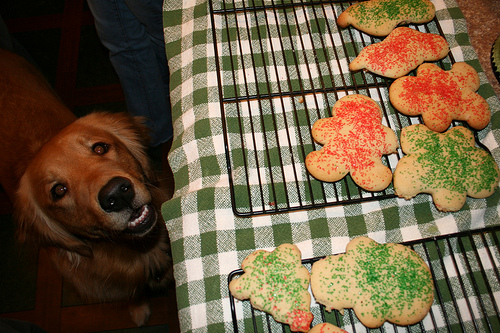 Car Trouble on Christmas Eve: After a few portraits in front of the Christmas tree, we all piled into the car for the drive to Maryland. Dad in the driver's seat with Mom as his co-pilot. Nick and Andrew in the center bucket seats. Laura between me and her boyfriend, Stephen, in the back seat. And lots of presents and casserole dishes and beers in the trunk. We sang carols while Dad pulled off the highway to fill the gas tank. When he climbed back into the car, we noticed some confusion and commotion in the front seat. Dad put the car in reverse and realized he had put diesel in the tank. Oh dear, Dad. Thirty-five years of driving and mistakes can still be made. Dad tried his darndest to get us to Aunt Julie's house on the diesel, much to the dismay of me and my mother. But when the car started bucking, he pulled into the parking lot of a grocery store. Andrew provided the comic relief while we waited for AAA to arrive with the tow truck and my two aunts to arrive with transportation for all of us. Two morals to this story: Don't put diesel into your car, and if you do, don't drive away. And, more importantly, when bad things happen, try to focus on the good. Sure, we were two hours late to the party. And, most definitely, Dad was teased all night by his siblings. And, of course, Mom worried herself sick that thousands of dollars of damage was done to the car. But we were all together that night — safe, healthy, blessed.

(Update: The car is fine! The diesel was siphoned from the tank and replaced by injector cleaner and high octane fuel.)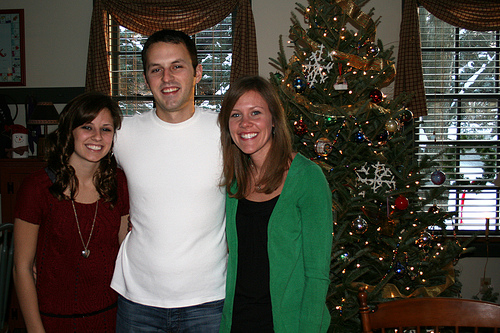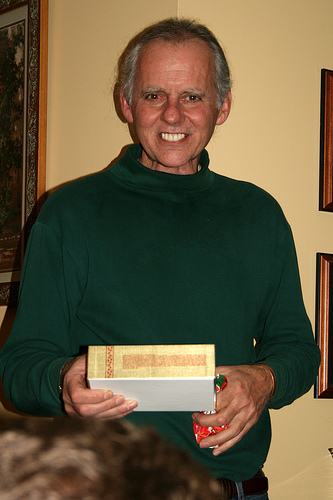 PJs from the Elves: Every Christmas Eve for almost ten years, the elves sneak into our bedrooms and leave beautifully wrapped boxes of new pajamas under our pillows. It's no matter that our ages are 27, 25, and 17, we still look forward to slipping into our soft flannels and fleeces and snuggling in bed until Christmas morning arrives. This year, my sister and her boyfriend wondered if footie PJs are available in adult sizes. Sure enough, Mom (a.k.a. Head Elf) found some in Laura's favorite color: lime green, and Stephen's favorite pattern: camouflage.
Snowmen, Santas, Angels, and Nutcrackers: As kids, the majority of our gifts came from Santa. But there was one special gift each year that was labeled with love from Mom and Dad. And for eleven years they have grown our collections. I have snowmen and snowwomen of all shapes and sizes, some with bows and others with furry hats. Andrew has Santas with baseballs and diplomas and coffee mugs. Laura's angels are delicate and rustic and plush. And Nick has three Nutcrackers in his collection: a skier, a chef, and a soldier.
Puppy Presents: Of course our Goldens get gifts, too. In fact, we let them tear apart their paper first so they have rubber balls and chew toys and ducky distractions while we take turns opening our gifts.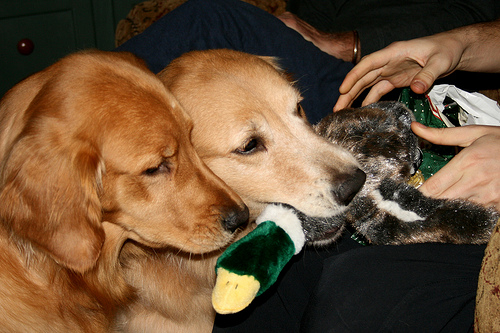 Photo Books and Photo Calendars: If you were married in 2009 (like so many of my blog friends were!), then you are quite familiar with the temptation to gift wedding photos. Nick and I chose our favorite shots from August 28th and created Blurb books for our parents. We also made soft cover books for our grandparents and prints for our siblings. Finally, I designed iPhoto calendars for my mom and dad, my brother, and my sister. I was really quite impressed with the quality of all our gifts, and I'm anxious to design some books for our own coffee table!
Hand Painted Keepsakes: I've told you before about my crafty sister, but she took it to a whole new level this Christmas! In her advanced painting class, she chose to paint gifts for all of us. For Mom: a pineapple; for me and Nick: a photo from our honeymoon in Mexico; and for Dad: an absolutely impressive collage of our three Golden Retrievers. (Andrew's painting of Big Ben wasn't quite ready to wrap.) Laura totally captured the canines' personalities, and I promised to set her up with an Etsy shop in 2010. Let me know if you want to place an order for a painting of your pooch!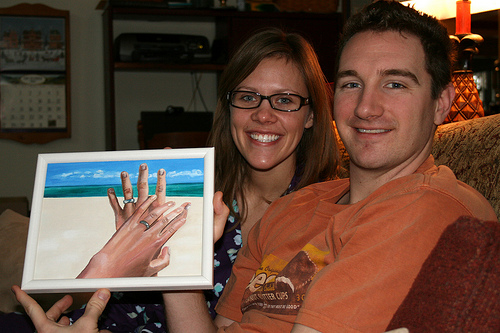 German Goodies: Sweet Anne mailed the most lovely box of goodies from Germany. An original German cookbook (translated into English, of course), herb tags, a glass lemon squeezer from Jena, homemade cherry jam, and lots of chocolates. And my sister-in-law, Robyn (who currently lives in Stuttgart), sent embroidered doilies and a pewter ornament from Käthe Wohlfahrt and Lebkuchen cookies.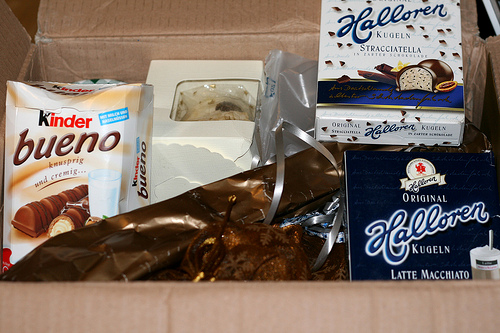 Duck with Orange Hazelnut Stuffing and a Surprising Roaster: Our traditional Christmas dinner consists of ham, turkey, and all the fixins. But we decided to be adventurous this year and add duck to the menu. I started to chop apples for the stuffing while Nick searched for a second roaster — a wedding gift stored in the basement since August. He opened the box and a few minutes later called from the dining room, "Should there be a rack with this roaster?" And "These utensils look like antiques." Sure enough, we found a rusted fork and spoon in place of stainless steel ones, and no rack in sight. We assume a customer must have taken the good stuff out, put the old stuff in, and returned it to the store. Unbelievable. But the duck was scrumptious.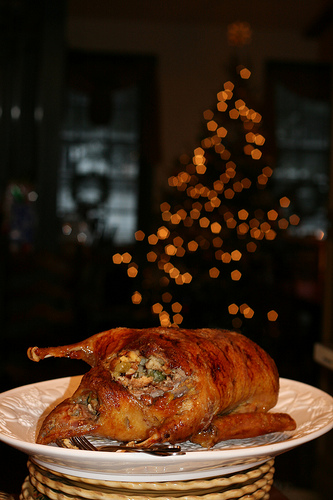 Monster Cookie Ice Cream Sandwiches after Avatar: One afternoon in Ann Arbor, we took a trip to the movie theatre to see the much anticipated Avatar. To be honest, I didn't buy the hype until well-respected critics praised its cinematography. We opted to see it in 3D, and I was mesmerized. Nick, on the other hand, left with a migraine. The cure? Monster cookies and ice cream, of course. Two sandwiches, to be exact.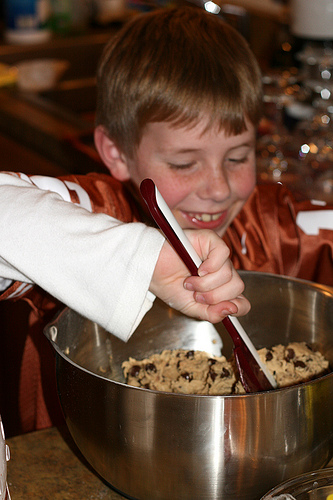 Thomas the Train Birthday Cake: Nephew Jackson turns two in two weeks, and we celebrated early while we were all in Michigan. Sister-in-laws Megan and Kirsten introduced me to the wonderful world of Wilton (which was promptly added to my Amazon wish list). We mixed seven colors of frosting (including two shades of blue and two shades of black) and spent four hours squeezing and lining and transforming the chocolate cake into Thomas the Train. Jackson was one happy kid when we set the finished product in front of him. And he insisted on blowing out the candles three times.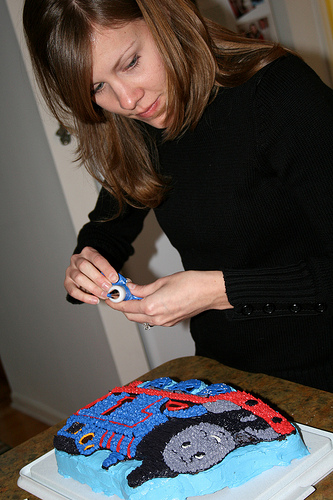 All in all, it was just a wonderful 10 days. Perhaps next year we will invite our families to our home for the holidays. Oh, I wonder what 2010 will bring.