Christmas Eve is reserved for the Rowlands, and Nick has been part of the tradition for three years. We typically celebrate a "progressive" evening at the homes of four family members who live within 20 miles of each other. Each serves one dish — from chipped beef dip to steamed shrimp to burgers in sauce. And the night concludes at my parents' house with a three tier display of sweet desserts and a rowdy game of "Now You Have It, Now You Don't" (or "Give It, Take It" as Nick calls it).
This year, however, we traveled to Aunt Julie's house in Belair, MD. Everyone was asked to bring a dish to share, including us, because we're married now.
We wanted to introduce something new to the crew. And, being the ambitious newlyweds we are, we purchased the ingredients to make pretzel bites from scratch. (Nick may or may not say that I am the ambitious … errrr crazy … half of the culinary couple.)
I'll admit I was slightly intimidated by the number of steps and the specific temperatures listed for the liquids. But, really, once the dough has risen and is rolled, the rest is simple. (In fact, you can prepare and bake the pretzel bites and freeze them for two weeks. Then thaw the bites for 30 minutes and reheat in a 400°F oven for 10 minutes.)
Did I say simple? Well, it was until we ran into car trouble. Fortunately, we arrived in Maryland with our culinary contribution of ham and cheese pretzel bites still in tact. (Though there were far fewer bites than when we began the trek thanks to one hungry brother.)
The pretzels were a hit, and the jalapeño mustard dip was met with much approval by our hot pepper harvesting family.
We look forward to trying these with other fillings and dips: pepperoni + mozzarella + marinara, or broccoli + cheddar + Ranch, or even chocolate chips + vanilla cream. What else do you recommend?
Ingredients
1 1/2 tsp active dry yeast
2 Tbsp plus 1 tsp light brown sugar
1/4 cup warm water (110-115°F)
1 cup warm milk (110-115°F)
3 cups all-purpose flour
1/2 cup finely chopped ham
1/3 cup finely chopped sharp Cheddar
6 cups water
4 tsp baking soda
1/2 cup Dijon mustard
2 Tbsp finely chopped seeded fresh jalapeños
1 Tbsp mild honey
1/2 stick unsalted butter, melted
1 to 2 Tbsp coarse salt
Directions for Pretzel Dough
Stir together yeast, 1 tsp brown sugar, and warm water in a large bowl and let stand until foamy, 5 to 8 minutes. (If mixture doesn't foam, start over with new yeast.)
In a separate bowl, stir remaining 2 Tbsp brown sugar into warm milk until dissolved.
Add 3 cups flour and milk mixture to yeast mixture and stir with a wooden spoon until a soft dough forms.
Place dough onto a lightly floured surface and gently knead a few times to form a smooth ball.
Transfer to a clean bowl. Cover with plastic wrap and let rise at room temperature until doubled and bubbles appear on surface, about 2 hours.
Directions for Pretzel Bites
Preheat oven to 400°F. Line sheet pans with parchment paper.
Place dough onto a lightly floured surface and cut into 4 equal pieces. Lightly dust your hands with flour, then gently roll and stretch 1 piece of dough to form a 12-inch-long rope. Flatten dough and arrange so a long side is nearest you, then roll out to a roughly 12- by 4-inch rectangle with a lightly floured rolling pin.
Gently press 1/4 of ham and cheese into lower third of rectangle, leaving a 1/2-inch border along bottom edge. Stretch bottom edge of dough up over filling and press tightly to seal, then roll up as tightly as possible to form a rope. Cut rope into 12 pieces and transfer to a sheet pan. Make 3 more ropes with remaining dough, ham, and cheese and cut into pieces, transferring to sheet pans.
Let pretzel bites rest at room temperature, uncovered for 30 minutes (dough will rise slightly).
Bring 6 cups of water to a boil. Reduce heat and stir in baking soda.
Cook pretzel bites in batches in gently simmering water, turning once, until slightly puffed, about 20 seconds. Transfer with a slotted spoon to sheet pans.
Bake until puffed and golden-brown, about 15 minutes (cheese may ooze slightly).
Meanwhile, stir together mustard, jalapeños, and honey.
Brush warm pretzel bites with butter and sprinkle with coarse salt. Serve warm or at room temperature with jalapeño mustard for dipping.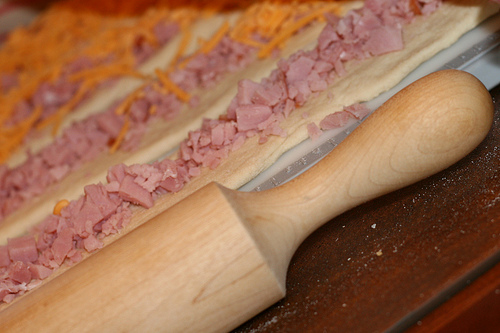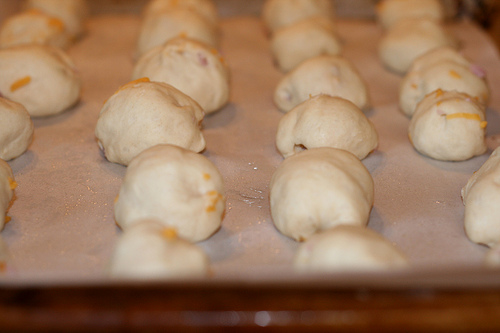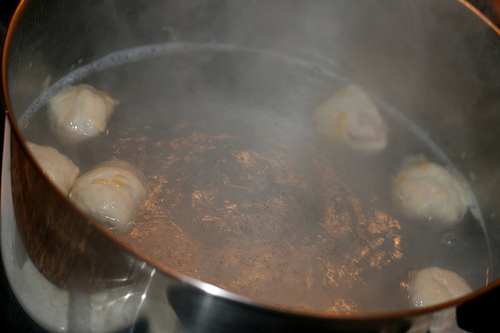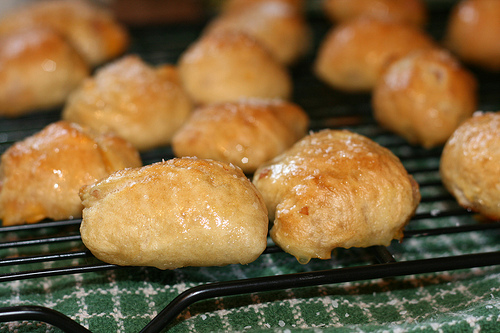 We were in such a rush to finish and package the bites before leaving for the party that we didn't get any photos of the ooey gooey centers or the jalapeño mustard. Trust us when we say they look just as good as they taste.
(adapted from epicurious)