You may have noticed that I have not posted a recipe in … almost three months. Wait, is that right? Yes. Yes, it is. While the Peanut Butter Cup Brownies were amazing and unforgettable and worthy of the most recent recipe spot, it is unacceptable.
It's not that we haven't been cooking. We just haven't made anything new. We've stuck to our favorites: Lasagna, Turkey Burgers, Thai Chicken Pizza. Also, burritos and grilled cheese and omelettes. Recipes I know by heart and meals that are easy to prepare.
I was just too tired during the first trimester to make anything that required more than five minutes of prep work. And now, honestly, we have our hands in about a dozen different home projects (i.e. painting the garage, converting the loft into a playroom, and considering paint colors for the nursery) that we just don't have time to stand over the stove.
Which is why I'm on the lookout for low maintenance dinner ideas. For now. And for when Nick goes back to school. And for when baby #2 arrives. And, oh boy, have I found a good one.
In my opinion, there is nothing better than a one-pot meal. Chop and drop and simmer, and dinner is ready. Also, we love pasta. And so this dish is perfect.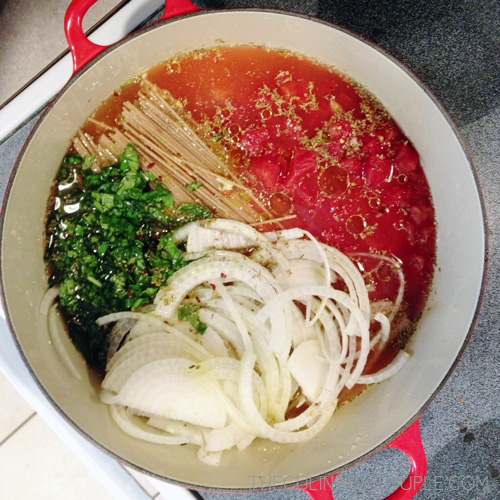 Simply choose your pasta (we like whole wheat spaghetti). Slice an onion and a few cloves of garlic. Open a can of diced tomatoes. Add a big bunch of basil (preferably from your backyard garden). Top with dried herbs and vegetable broth and a bit of olive oil. And let it do its thing!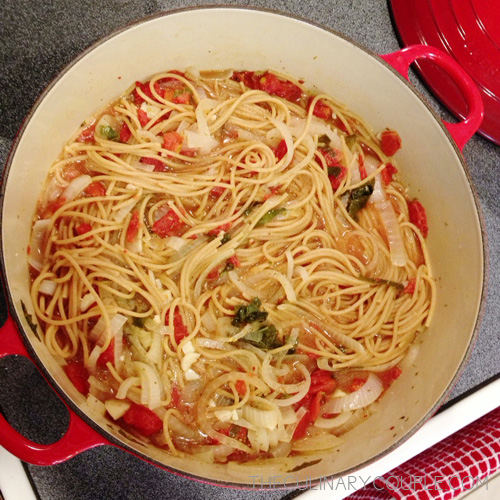 Seriously YUM. It's even better the next day.
What's your favorite one-pot meal?
One-Pot Tomato Basil Pasta
Serves 6.
Ingredients
1 lb spaghetti or linguine
1 can (28 oz) diced tomatoes with liquid
1 large onion, sliced
4 cloves garlic, sliced
4 1/2 cups vegetable broth
1/2 teaspoon red pepper flakes
2 teaspoons dried oregano leaves
1 big bunch basil, chopped
2 tablespoons extra-virgin olive oil
salt and pepper to taste
Parmesan cheese for garnish
Directions
Place pasta, tomatoes, onion, garlic, and basil in a large stock pot. Add vegetable broth, red pepper flakes, and oregano. Drizzle with oil.
Cover the pot and bring to a boil. Reduce to a simmer and cook, covered, for about 10 minutes, stirring every 2 minutes or so. Cook until almost all of the liquid has evaporated.
Season to taste with salt and pepper, and stir to evenly distribute the sauce. Top with Parmesan cheese and serve.
(Inspired by Apron Strings)