It's May. And you have at least a month until swimsuit season. Which means you have plenty of time to bake this insane dessert.
Fudgy brownies + peanut butter cups + salty peanuts + a little snap, crackle, and pop. I promise you won't be able to eat just one.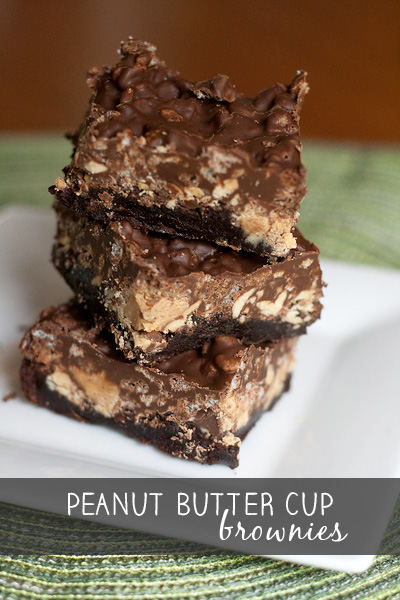 You're welcome.
Peanut Butter Cup Brownies
Makes 25 brownies.
Ingredients
1 box brownie mix (not family sized), plus ingredients listed on the package
1/2 cup roasted peanuts, chopped
1 bag mini peanut butter cups, chopped
2 cups semi-sweet chocolate chips
1 Tbsp butter
1 heaping cup creamy peanut butter
1 3/4 cups Rice Krispies cereal
1 tsp vanilla
1 tsp kosher salt
Directions
Line a 9×9 pan with foil, and bake the brownies according to package directions.
During the last 5 minutes of baking, remove the brownies from the oven and sprinkle chopped peanut butter cups and chopped peanuts on top. Return to the oven for remaining 5 minutes to melt the chocolate.
As soon as you pull the brownies out of the oven, smooth the melted peanut butter cups and peanuts on top. Let them cool.
In a microwave safe bowl, combine chocolate chips, peanut butter, and butter. Heat in the microwave for 1 minute; stir when done. If needed, continue heating in 20 second increments until chocolate is melted.
Stir in vanilla and cereal until evenly combined.
Pour the mixture over the brownies and smooth. Chill until set, about 2 hours.
Cut into squares and serve.
(Adapted from Cookies and Cups)