Meet our new favorite pizza.
Swap tomato sauce for spicy chili sauce. Replace pepperoni and mushrooms with chicken, carrots, and bean sprouts. Sprinkle with cilantro and basil. And finish with a handful of crushed peanuts.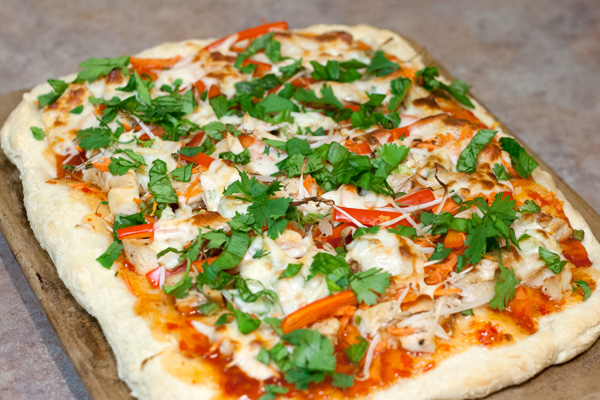 Bright, fresh, flavorful. Just in time for Spring.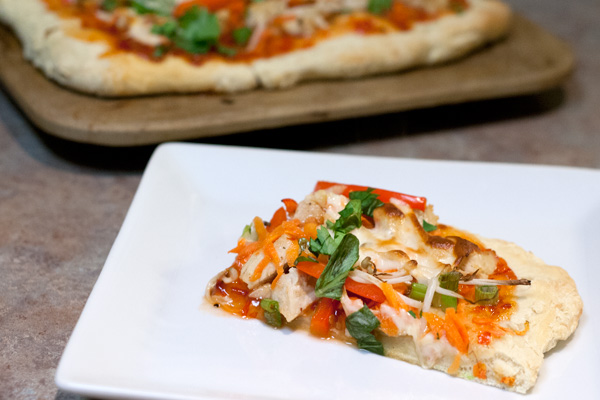 Thai Chicken Pizza
Makes 1 rectangular pizza or 2 round pizzas..
For Pizza Dough
2 teaspoons active dry yeast
1 cup lukewarm water
2 tablespoons extra-virgin olive oil
3 cups all-purpose flour
1 1/4 teaspoons salt
For Spicy Chili Sauce
1 tablespoon chili-garlic sauce (found in the Asian aisle of your supermarket)
1/4 cup water
2 tablespoons rice wine vinegar
2 tablespoons sugar
1 teaspoon salt
1 tablespoons cornstarch
2 tablespoons water
For Pizza
1 cup cooked chicken, cut bite-sized pieces
1/2 red bell pepper, sliced thin
1 carrot, shredded
1 handful bean sprouts
2 green onions, sliced
1 cup mozzarella cheese, shredded
1 handful roasted peanuts, chopped
1 handful basil, chopped
1 handful cilantro, chopped
Directions
For pizza dough: Dissolve the active dry yeast + a pinch of sugar in 2 tablespoons of the lukewarm water. Let it sit at room temperature for 15 minutes, until the mixture has bubbled and expanded. Combine dissolved yeast with the remaining ingredients in the bowl of a stand mixer. Mix at low speed for 4 to 5 minutes. Place the dough in a lightly greased bowl, cover, and allow it to rise until it's puffy, about 90 minutes. Drizzle olive oil into the bottom of the pan you plan to use for the pizza. Place the dough in the prepared pan, pressing it over the bottom and stretching it towards the edges. Cover the dough, and let it sit for 15 minutes.
Preheat the oven to 450°F.
For spicy chili sauce: Bring chili-garlic sauce, 1/4 cup water, vinegar, sugar, and salt to a boil; simmer for about 3 minutes. In a separate bowl, mix the cornstarch into 2 tablespoons of water. Add cornstarch to the sauce on the stovetop; simmer until it thickens, about 3 minutes.
For pizza: Spread the spicy chili sauce over the pizza dough. Add the chicken, peppers, carrots, bean sprouts, green onions, and cheese. Bake in a preheated oven until golden brown on top, about 6-10 minutes. Sprinkle the peanuts, basil, and cilantro on top of hot pizza. Serve.
(Inspired by Closet Cooking)