When I baked my first peach pie over the summer, I declared that it was one of the best things to ever emerge from our oven.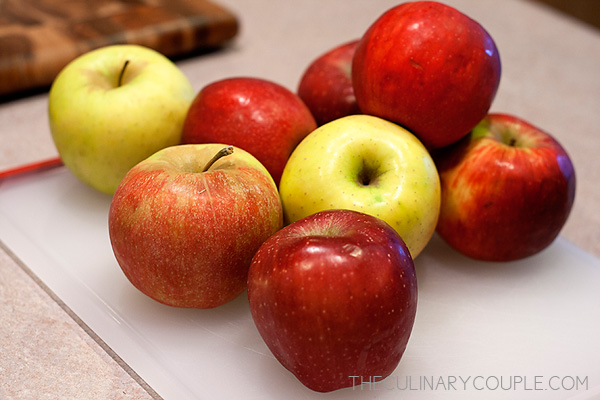 Well, that peach pie now has some serious competition.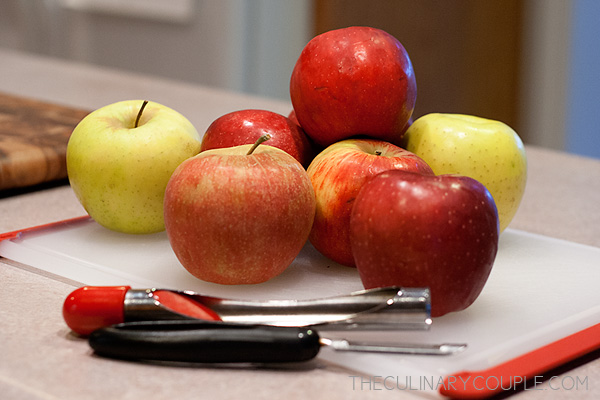 I turned once again to my trusty The New Best Recipe to feature a variety of apples harvested from the heart of Pennsylvania Apple Country,
The pie crust is similar to the one that carried the peaches in August, but with less flour and more butter.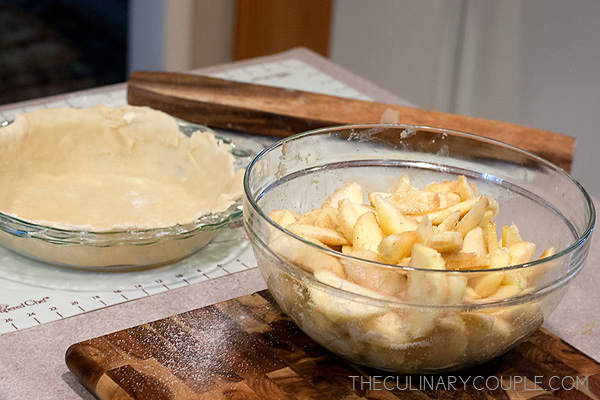 And for the apples, I kept it simple with lemon juice and lemon zest, sugar, and just a bit of nutmeg, cinnamon, and allspice.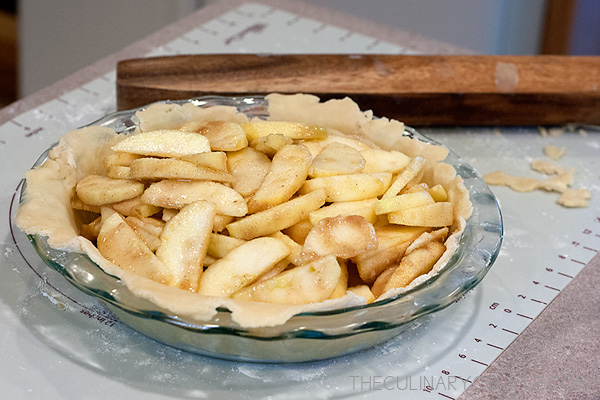 I don't believe I rolled the dough as thin as it should have been because I had barely enough to seal in the apples.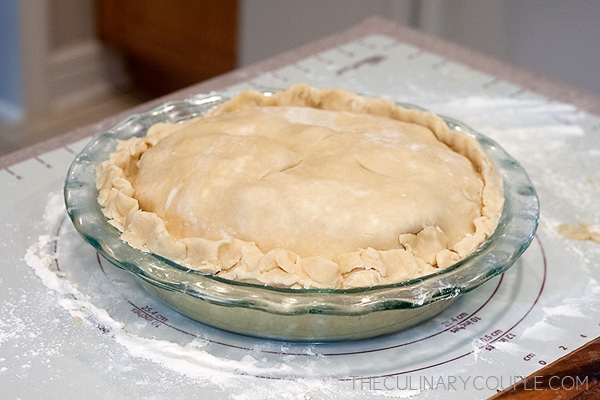 But no worries. Because when I pulled it out of the oven, it was perfectly flaky and golden.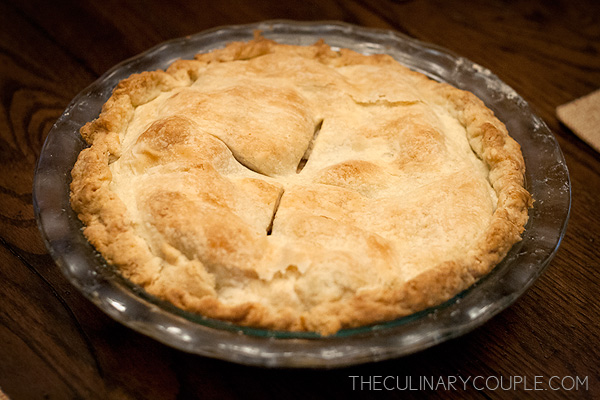 And, yes, of course I had to serve it with a scoop of homemade vanilla bean ice cream.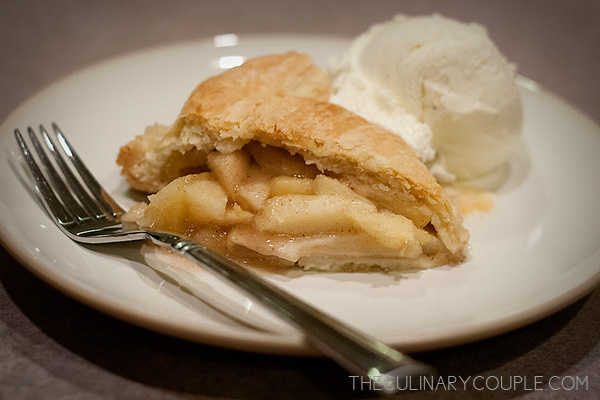 What do you think? Team Peach or Team Apple?
Apple Pie
Makes one 9-inch pie.
Ingredients for Crust

2 1/2 cups (12 1/2 oz) all-purpose flour
1 tsp salt
2 Tbsp sugar
1/2 cup vegetable shortening, chilled
12 Tbsp (1 1/2 sticks) cold unsalted butter, cut into 1/4-inch pieces
6-8 Tbsp ice water
Directions for Crust
Process flour, salt, and sugar in a food processor until combined. Add shortening and process until it reaches the consistency of coarse sand, about 10 seconds. Scatter butter pieces over flour mixture and process until it is pale yellow and crumbly, about ten 1-second pulses. Turn mixture into a medium bowl.
Slowly add 6 tablespoons of ice water. With a rubber spatula, fold water into flour mixture. Press down the dough until it sticks together, adding up to 2 more tablespoons of ice water if it doesn't come together.
Divide dough into 2 balls, and flatten each into a 4-inch disk. Wrap separately in plastic and refrigerate for at least 1 hour, or up to 2 days.
Ingredients for Pie
7 large apples (variety of Granny Smith, McIntosh, Gala, or Cortland)
2 Tbsp all-purpose flour
1 Tbsp juice + 1 tsp grated zest from 1 lemon
3/4 cup + 1 Tbsp sugar
1/4 tsp ground nutmeg
1/4 tsp ground cinnamon
1/8 tsp ground allspice
1/4 tsp salt
1 large egg white, beaten lightly
Directions for Pie
Adjust an oven rack to the lowest position, and place a rimmed baking sheet on top of it. Heat oven to 500°F. Remove dough from refrigerator, and let it come to room temperature.
Roll one piece of dough onto lightly floured surface to a 12-inch circle. Transfer to 9-inch pie plate by rolling it around the rolling pin and unrolling it over the plate. Gently press dough into plate, and leave leftover dough hanging over the edge. Place dough-lined pie plate in the refrigerator.
Peel, core, and quarter the apples, then cut them into 1/4-inch slices. Toss with lemon juice and lemon zest. In a separate bowl, combine 3/4 cup sugar, flour, spices, and salt. Add dry ingredients to apples and toss. Turn apple mixture, including juices, into chilled pie dough and mound slightly in the center.
Roll out second piece of dough to a 12-inch circle, then place it over the filling. Trim edges of top and bottom layers to 1/2 inch beyond the plate. Tuck the dough under itself, and flute the edges to seal it. Cut four slits into the top. (If the dough is very soft, place it in the freezer for 10 minutes.) Brush egg white on top and sprinkle with remaining 1 Tbsp sugar.
Place pie on the baking sheet, and lower oven temperature to 425°. Bake until the top crust is golden, about 25 minutes. Rotate pie from front to back, and reduce oven temperature to 375°. Continue baking until juices bubble and crust is deep golden brown, about 30 minutes longer.
Transfer pie to wire rack, and cool to room temperature, at least 4 hours. Serve with vanilla ice cream.
(Adapted from The New Best Recipe)