When I was nine years old, I spent an afternoon with my Aunt Jane learning to bake pies. I was rewarded with bites of warm apples and buttery crust, as well as a badge for my Girl Scouts sash. I haven't baked a pie since.
Until last week.
I had a bag of ripe white peaches on the counter and two cars of guests on their way. So I pulled one of my favorite cookbooks off the shelf and got to work.
I love that the authors of Cooks Illustrated do more than print a recipe on a page; they explain the purpose of the ingredients and include illustrations and tips. Why white sugar instead of brown sugar? What is the best thickening agent? How do you weave a lattice top? It was all right there at my fingertips, and so I followed the instructions like an obedient little baker.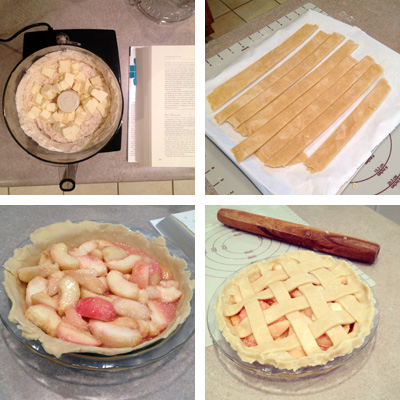 And, oh boy, was the outcome worth every meticulous step!
The pie crust — made with both butter and shortening — was flaky and flavorful. The lattice top was perfectly browned and slightly crispy. And the peaches were sweet and syrupy. I do believe that it was one of the best things to ever come out of my oven.
And topped with homemade vanilla bean ice cream? Well, let's just say that our guests were licking their lips and asking for seconds.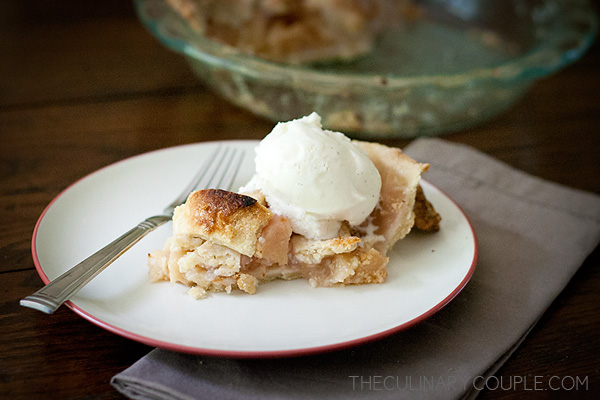 Peach Pie
Makes one 9-inch pie.
Ingredients for Crust
3 cups all-purpose flour (15 oz)
1 tsp salt
2 Tbsp sugar
7 Tbsp vegetable shortening, chilled
10 Tbsp unsalted cold butter, cut into 1/4-inch pieces
6-8 Tbsp ice water
Directions for Crust
Process flour, salt, and sugar in a food processor until combined. Add shortening and process until it reaches the consistency of coarse sand, about 10 seconds. Scatter butter pieces over flour mixture and process until it is pale yellow and crumbly, about ten 1-second pulses. Turn mixture into a medium bowl.
Slowly add 6 tablespoons of ice water. With a rubber spatula, fold water into flour mixture. Press down the dough until it sticks together, adding up to 2 more tablespoons of ice water if it doesn't come together.
Divide dough into 2 pieces (roughly 16 ounces and 14 ounces). Flatten the larger piece into a 5-inch square and the smaller piece into a 4-inch disk. Wrap separately in plastic and refrigerate for at least 1 hour, or up to 2 days.
Ingredients for Pie
1 recipe for pie crust (above)
5-7 ripe peaches, depending on their size
1 Tbsp fresh lemon juice
1 cup (7 oz) + 1 Tbsp sugar
pinch of cinnamon
pinch of nutmeg
pinch of salt
4 Tbsp Minute tapioca, ground for about 1 minute in a food processor (or 4 Tbsp potato starch)
Directions for Pie
Remove dough from the refrigerator and let stand at room temperature until malleable. On a lightly floured work surface, roll the larger piece into a 15 x 11-inch rectangle, about 1/8 inch thick. Transfer to a baking sheet lined with parchment paper. Use a pizza wheel or pastry wheel to trim the edges, then cut lengthwise into 8 strips, about 1 1/4 inches wide. Refrigerate the strips on the baking sheet, about 30 minutes.
Re-flour the work surface, and roll the smaller piece into a 12-inch circle. Using the rolling pin, transfer dough to a 9-inch (preferably glass) pie plate. Leave any overhanging dough in place, and refrigerate for about 15 minutes.
Adjust an oven rack to the lowest position, place a rimmed baking sheet on it, and heat the oven to 500°F. Meanwhile, bring 3 quarts of water to a boil and fill a large bowl with 2 quarts of cold water + 2 trays of ice cubes. With a pairing knife, score a small X at the base of each peach. Then blanch the peaches by placing them in boiling water for about 1 minute, then ice water for about 1 minute. Starting at the X, peel the skin from each peach. Halve and pit each one and cut into 1/2-inch slices.
Toss together peach slices, lemon juice, 1 cup sugar, cinnamon, nutmeg, salt, and ground Minute tapioca in a medium bowl.
Remove dough strips and pie plate from the refrigerator. Fill dough-lined pie plate with peach mixture. To form the lattice top: First arrange 4 dough strips on top. Fold back the first and third strip, then place another strip slightly to the right of center. Unfold the first and third strips, and fold back the second and fourth strips. Add another strip. Repeat with remaining 2 strips. Trim off excess lattice, and pinch together rim of crust. Lightly brush the lattice top with 1 tablespoon water and sprinkle with remaining 1 tablespoon sugar.
Lower the oven temperature to 425°F. Place pie on baking sheet and bake until crust is set and just begins to brown, 25 to 30 minutes. Rotate the pie and reduce the oven temperature to 375°F; continue baking until crust is golden brown and juices bubble, 25 to 30 minutes. Cool pie on a wire rack for at least 2 hours before serving.
(Adapted from The New Best Recipe)