Believe it or not, Sam does actually enjoy playing with things other than plastic straws, Tupperware lids, and paper towel rolls.
Here's a roundup of some of our current favorite toys.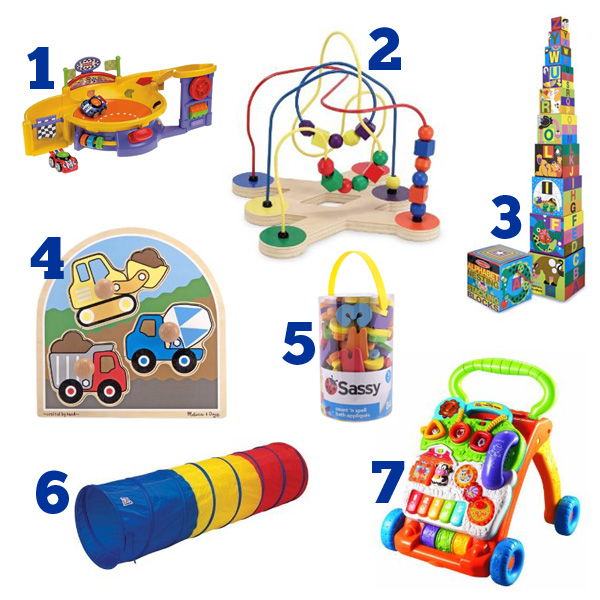 1. Lil' Zoomers Spinnin' Sounds Speedway: Sam got this as a gift from his Nana and Poppy when he was just six months old. But now that he can actually push the cars down the track, the toy has taken on a whole new life. Actually, he tries to push everything down the track — a plush train, puzzle pieces, a mini basketball — and watch it spin and spin and spin. Then he tries to climb onto the track — hoping he'll spin in circles, too.
2. Bead Maze: A classic! Sam weaves his pudgy little hands between the wires and maneuvers the beads through the maze. He sometimes tries to eat the beads, too, but that's to be expected.
3. Nesting and Stacking Blocks: These colorful cardboard blocks are lightweight and easy to stack. They're even easier to knock over, of course. Sam flutters his eyes as he reaches out to push over the tower and we yell "crash!" They're pretty sturdy, although the smallest letter Z block did not survive a weekend with my parents' Golden Retriever.
4. Jumbo Puzzle: These puzzle pieces are the ideal size for little hands to grab. And then drag around the house. We're still working on the "put the puzzle back together" part.
5. Bath Letters: There is no such thing as too many foam bath letters! Sam loves them. And we love that every night at bathtime we can practice our ABCs and 123s.
6. Play Tunnel: Yes, this tunnel is recommended for ages 3+, but our little guy can't get enough of it. (Thanks, Nana and Poppy!) We set it up in our living room, and Sam drags his toys in and out of it. Sometimes Daddy even tries to follow him through. It collapses for easy storage, and I think we'll eventually have to buy the tent to attach to one end.
7. Sit-to-Stand Learning Walker: Sam is able to cruise all over the house, thanks to this toy. After just a few days, he figured out how to turn it and roll it over the edge of the carpet and across the tile floor. He also loves to spin the rollers, push the keys, and turn the cranks.
Now it's your turn. Tell me what your kiddos are loving these days. We're always looking for new ideas!