Saturday mornings are for multiple cups of coffee and leisurely breakfasts: fluffy pancakes or a frittata, or — most often — a batch of waffles. During the fall, we prefer our waffles with pumpkin puree, pecans, and a variety of aromatic spices. And during the summer, they're topped simply with local berries, maple syrup, and a shake of powdered sugar.
But sometimes our Saturdays get a little fancy.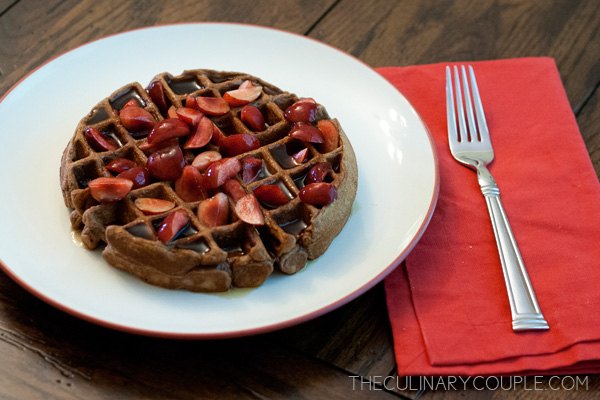 These waffles are slightly sweet with just a hint of chocolate, and hearty, thanks to the combination of rye flour and Greek yogurt. Top them with red cherries or golden raspberries, and say "hello" to a happy weekend!
Cocoa Pumpernickel Waffles
Makes 4 large waffles.
Ingredients
1 cup rye flour
3/4 cup all-purpose flour
1/4 cup granulated sugar
1/4 cup cocoa powder
1 teaspoon baking powder
1/2 teaspoon baking soda
1 cup plain Greek yogurt
1 cup milk
1/2 cup (1 stick) unsalted butter, melted
2 eggs
1 teaspoon pure vanilla extract
Directions
Preheat the waffle iron to medium heat.
Meanwhile, whisk together rye flour, all-purpose flour, sugar, cocoa powder, baking powder, and baking soda in a medium bowl.
In a separate bowl, whisk together yogurt, milk, melted butter, eggs, and vanilla extract. Pour the wet ingredients into the dry mixture. Fold together with a spatula until the dry ingredients are just incorporated. (The batter will be a bit lumpy. Do not over mix.)
Pour the batter into the waffle iron and cook until slightly crispy. Top with cherries or berries and maple syrup.
(Adapted from My Kitchen Addiction)