What can I say. We're a bit obsessed with Thai inspired dishes: pizza, quinoa, wraps. And this salad ranks right up there with the others. It's simple and healthy and drenched in a delicious dressing of chili garlic sauce, sesame oil, rice wine vinegar, soy sauce, peanut butter, ginger, garlic, and lime juice.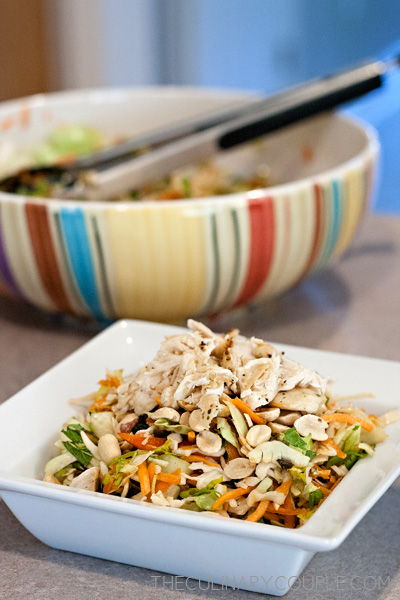 Also? I will never again shred chicken without help from my Kitchen Aid stand mixer. Try it. Then make this salad. You're welcome.
Thai Chicken Salad
Serves 4.
Ingredients for Salad
1 pound chicken breasts
1 teaspoon olive oil
 1 bag coleslaw mix
1 cup chopped cucumbers
2 cups chopped carrots
6 green onions, sliced
1/2 cup fresh cilantro, torn
1/2 cup fresh mint, torn
salt and pepper to taste
Ingredients for Dressing
1 tablespoon chili garlic sauce
1 tablespoon sesame oil
3 tablespoons rice wine vinegar
1 tablespoon soy sauce
1 tablespoon creamy peanut butter
1 tablespoon ginger, grated
3 garlic cloves, pressed or finely minced
2 limes, juiced
Directions
Add oil to a large skillet set over medium heat. Season chicken with salt and pepper. Cook chicken, about 7 minutes on each side. Let cool for 5 minutes. Shred with a stand mixer (or by hand).
Toss together salad ingredients in a large bowl.
In a small bowl, whisk together ingredients for the dressing. Drizzle on top, toss, and serve immediately.
(Adapted from How Sweet It Is and A Cambridge Story)