We're all about healthifying takeout food. Our most successful attempts to date are General Tso's Chicken and Thai Peanut Noodles. But I do believe that we have another to add to the list. Tonight we not only made a favorite fried dish more healthy, we also made it vegan.
We turned to Mama Pea for assistance because, well, she's a superstar when it comes to tasty vegan dishes.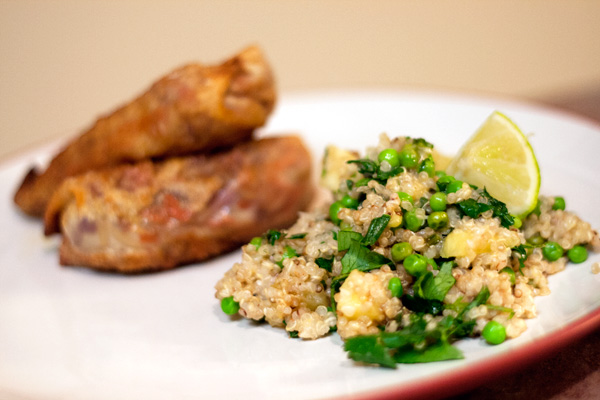 Quinoa (a recent obsession of ours) replaces the traditional rice and is cooked with equal parts vegetable broth and coconut milk. It's then combined with garlic, ginger, green onions, peas, and pineapple. Finish with a handful of cilantro, a couple shakes of soy sauce, and a wedge of lime, and devour!
Seriously, this is so flavorful. And it makes a complete meal when served alongside a pair of egg rolls. (To make the egg rolls: Saute shredded cabbage, shredded carrots, and bean sprouts with Schezwan sauce. Place in egg roll wrappers, roll, seal, and fry in peanut oil until golden brown.)
What's your favorite quinoa dish? As I said, we're hooked.
Thai Fried Quinoa
Makes 4 servings.
Ingredients
1 cup quinoa
1 cup coconut milk
1 cup vegetable broth
1/3 cup chopped green onions
1 Tbsp minced ginger
2 tsp minced garlic
1 cup frozen peas
1 cup pineapple
1/4 cup cilantro, chopped
1 Tbsp lime juice
2 Tbsp soy sauce
Directions
Set a saucepan over medium-high heat and add quinoa. Cook until toasted, about 4 minutes.
Combine coconut milk and vegetable broth and add to quinoa. Bring to a boil, then lower heat to a simmer, cover, and cook 15-20 minutes, or until liquid is absorbed.
Meanwhile, add a small of amount of olive oil to a skillet and place it over medium heat. Add green onions, ginger, and garlic; sauté for 2 minutes.
Add peas, pineapple, and cilantro; sauté for an additional 2 minutes.
Add quinoa to the skillet and cook until slightly brown and crisp, about 2 minutes.
Finish with lime juice and soy sauce.
(Adapted from Peas and Thank You)