I'm finally satisfied with the organization of our new kitchen. The wooden spoons and spatulas and tongs are within grabbing distance of the stove top. The cutting boards and cooling racks are neatly stacked in the cupboard below canned goods and confections. There is a drawer dedicated to baking supplies — muffin tins, measuring spoons, and frosting tips — and another dedicated to baking stones. Labeled canisters contain bread flour, whole wheat flour, and rye flour. And I've finally unpacked our cookbooks! Life is good.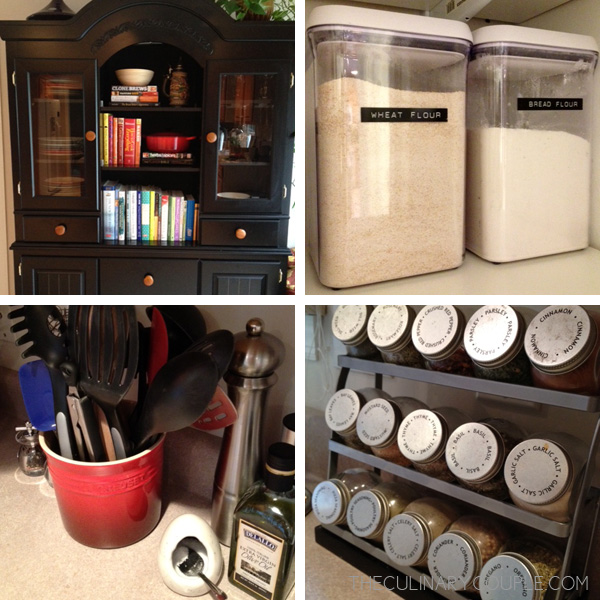 But I'm still rocking simple dinners so we can spend more time working on other rooms in the house. Salmon with pecan rice and steamed broccoli. Mushroom ravioli with stewed tomato sauce. Turkey burgers and sweet potato fries. And balsamic chicken tortellini salad.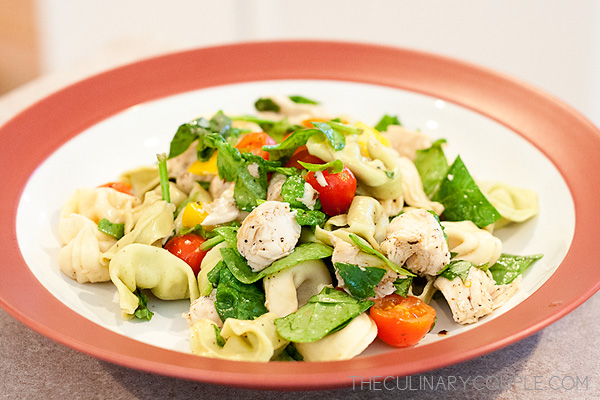 This pasta dish comes together in less than 30 minutes. And it makes a complete dinner when paired with a side of local berries. Also, there were plenty of leftovers for me and Sam to enjoy for lunch the next two days.
More house updates coming soon!
Balsamic Chicken Tortellini Salad
Serves 6.
Ingredients
1 (20 oz) package cheese tortellini
1 lb skinless, boneless chicken tenders
1/2 cup balsamic vinaigrette (we like Newman's Own)
1 tsp Dijon mustard
Salt and freshly ground pepper to taste
1/2 Tbsp olive oil
2 cups spinach, chopped
1/2 fresh basil, chopped
1 1/2 cups cherry tomatoes, halved
1 yellow bell pepper, diced
Directions
Grill chicken tenders on the stove top, about 5 to 6 minutes on each side until cooked through. Once cooled, dice chicken into bite-size pieces.
Whisk together balsamic vinaigrette and mustard in a small bowl.
Cook tortellini according to package directions; drain. Transfer to a large bowl and drizzle with olive oil. Let cool 10 minutes.
Toss together chicken, tortellini, balsamic mixture, spinach, basil, tomatoes, and yellow bell pepper in a large bowl. Serve warm or cold.
(Adapted from Multiply Delicious)