Meatballs are easy to make and easy to freeze (after preparing and before baking). We especially like this version with ground turkey, ginger, garlic, and cilantro. Serve over a bed of fried rice or quinoa with a drizzle of lime sesame sauce for a simple weeknight meal.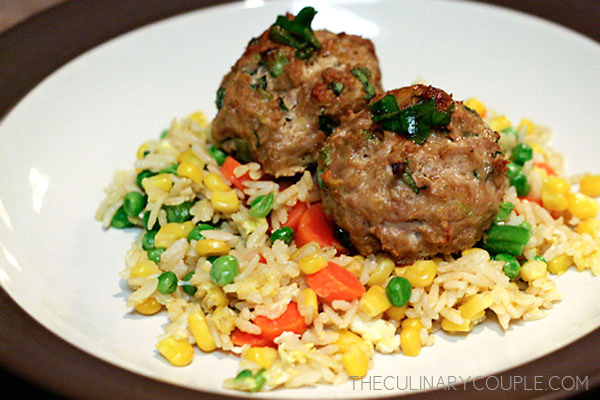 Asian Turkey Meatballs
Makes 12 meatballs.
Ingredients for Meatballs
1/4 cup panko crumbs
1 1/4 lbs lean ground turkey
1 egg
1 Tbsp ginger, minced
1 clove garlic, minced
1/2 tsp salt
1/4 cup chopped fresh cilantro
3 scallions, chopped
1 Tbsp low sodium soy sauce
2 tsp sesame oil
Ingredients for Sauce
4 Tbsp low sodium soy sauce
2 tsp sesame oil
2 Tbsp fresh lime juice
2 Tbsp water
1 Tbsp chopped fresh scallion
Directions
Preheat oven to 500°F.
For Meatballs: Combine ground turkey, panko, egg, salt, scallions, ginger, cilantro, 1 tablespoon soy sauce, and 2 teaspoons sesame oil; mix well with your hands. Shape about 1/4 cup meat mixture into a ball, and transfer to a baking dish. Repeat with remaining mixture. (If you want to freeze them, now is the time to do it.) Bake until cooked through, about 15 minutes.
For Dipping Sauce: Mix together lime juice, water, soy sauce, and remaining 2 teaspoons sesame oil in a bowl. Add scallions.
Serve meatballs over fried rice with a drizzle of lime sesame sauce on top.
(Adapted from Skinnytaste)