1. I'm craving routine in this new year. When I worked full time, I had a very predictable routine. From my morning cup of hazelnut coffee to a book in bed before turning out the light. Now I operate on Sammy time. But we're through the "fourth trimester," and I do believe we're both ready to establish a (flexible) routine. Caring for this sweet boy will always be my number one priority, but I'd feel more satisfied if I could tackle a few more tasks throughout the day.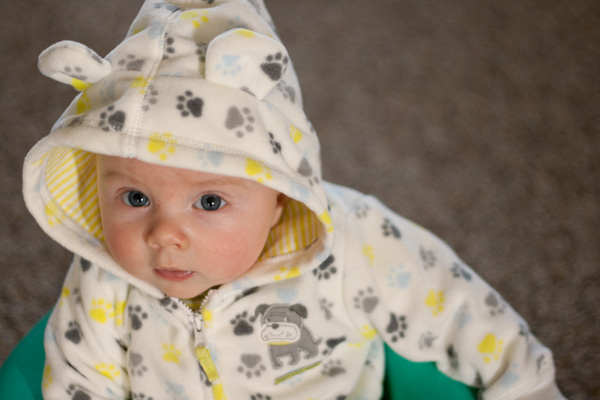 2. Sam has been an agreeable sleeper since the day he was born. It didn't take long for him to decipher day from night, and he has been sleeping consistently for 7-9 hours for the past three months. Naps, however, have recently become a struggle. Why? Because instead of cuddling him during those long daytime naps, we're trying to transition him into the crib. It's been a challenge, to say the least. He has no trouble putting himself to sleep; it's the staying asleep part that he hasn't yet mastered. After 30-45 minutes, like clockwork, he wakes up screaming. (The 45-minute intruder, perhaps?) So I swaddle and re-swaddle and re-insert the pacifier and rub his belly and stroke his cheeks and try as hard as my heart can manage to not pick him up and hug him tight. Moms On Call says that it takes 3-5 days for a baby to form a new habit, so I'm hoping this gets easier.
3. Maybe the reason why Sam is having trouble napping is because he has so many wonderful new toys to stimulate him during the day. Thank you, Santa! (And grandparents, aunts, uncles, and friends.) His big gift this year was a jumperoo. And, although his feet can't quite reach the floor, he's still so mesmerized by the lights and sounds.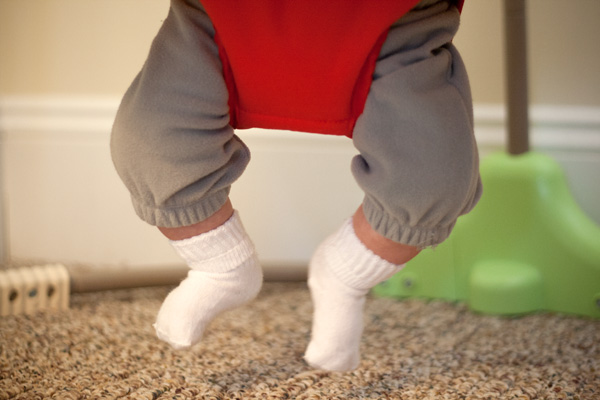 4. Remember the Vitamix that we bought just before Christmas? Well, we're using it on a daily basis now. I'm sort of addicted to the following green smoothie: 1/2 cup vanilla Greek yogurt; 1 cup almond milk; 1 tablespoon peanut butter; 1 frozen banana; 4 cups spinach.
5. And to make that green smoothie even more enjoyable to drink, I bought our first pair of Tervis Tumblers — with colorful straws, of course.
6. I've been losing hair at an alarming rate. I know it's a normal postpartum symptom, but it sort of freaks me out.
7. Speaking of postpartum, I'm now just 2 lbs over my pre-pregnancy weight. Woohoo!
8. That weight loss, though, has little to do with exercise. I'd like to say that I'm running every other day, but I'm just not there yet (see thing #1). I do, however, want to run another half marathon this summer. I know I just need to choose a race and sign up so I feel motivated to train.
9. Nick emailed this article to me yesterday. It's why we quit cable.
10. And now I leave you with a photo that makes me laugh out loud. Do you think he'll grow into it before spring?