Yesterday AP from ILYMTC hosted "Oh What Fun It Is To … Make Memories." And I'm linking up today with some of my favorite holiday traditions!
Christmas Eve Progressive Dinner
We have celebrated many, many Christmas Eves with my dad's family. And we are fortunate that most of the family (excluding us and a few other young cousins) lives within 30 minutes of each another. This sets up the perfect scenario for a progressive dinner! For several years, we visited as many as five houses on Christmas Eve for hors d'oeuvres (shrimp cocktail), drinks (White Russians and egg nog), the main course (my grammy's beef burgers in sauce), and dessert (always including an assortment of cookies like one that dates back several generations).
Theme Gifts from Mom and Dad
In addition to our "Santa" gifts, we get a special collectible gift from my parents each year. My theme is snowmen, and Nick gets nutcrackers. You can guess what the others are by looking at our stockings! And you bet Sammy is joining in on the fun this year with … trains!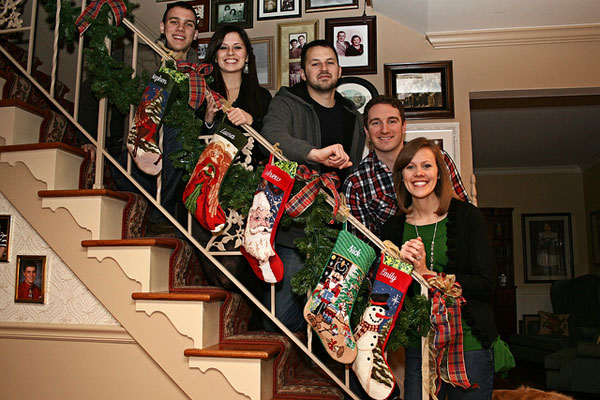 New Pajamas from the Elves
My parents started this tradition when my sister was young. Each of us receives new jammies from "the elves" on Christmas Eve. And, of course, we all pose in our gifts on Christmas morning.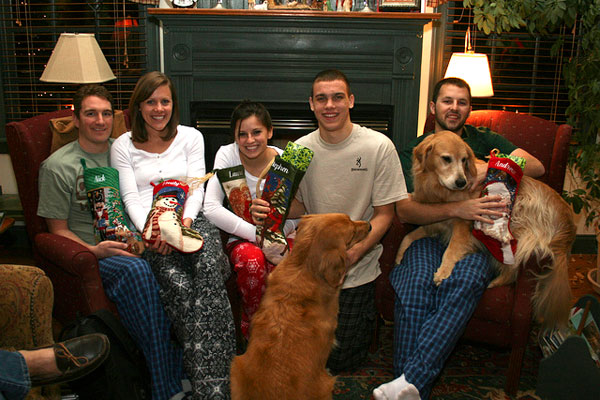 Christmas Morning Brunch
After the gifts have been opened, but before the wrapping paper has been picked up off of the floor, we enjoy my mom's sausage and egg casserole and apple nut ring. Festive mugs of coffee, too.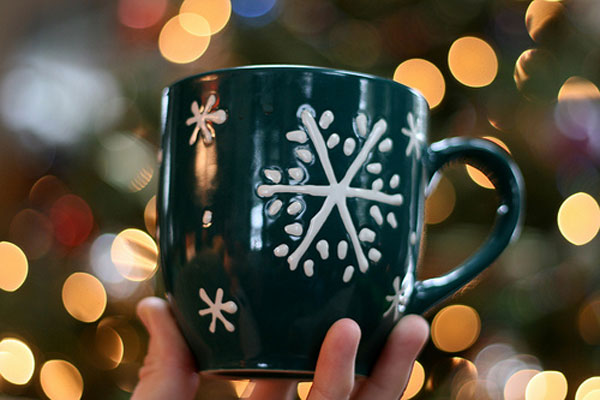 We look forward to continuing many of these traditions with Sam and starting a few of our own in the years to come!