While Julia Child's bouef bourguinon was simmering on Saturday afternoon, we rolled up our sleeves and pulled Grandma Motz's sugar cookie dough out of the refrigerator. Grandma Motz may not have been fancy or French like Julia Child, but the woman knew how to make a sugar cookie.
This recipe has been passed down through five generations of Rowlands, and it's the one cookie that really represents Christmas to me. Every December my dad mixes a double batch of the dough, and the next day we spend hours rolling, cutting, baking, decorating, and eating.
We each have a job on baking day. I'm the one with the sticky hands and flour on my face.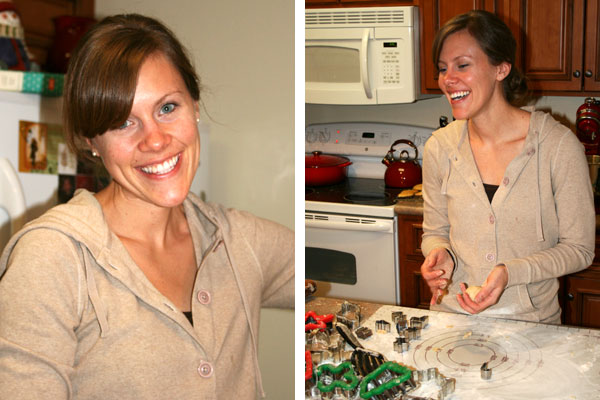 It's a messy job, but someone has to do it.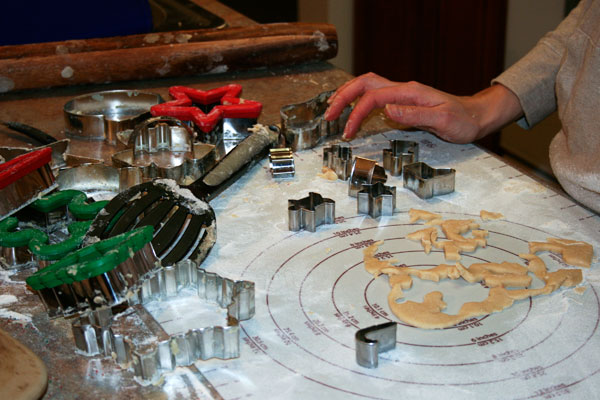 Laura helps to cut the cookies, then adds red and green sugar.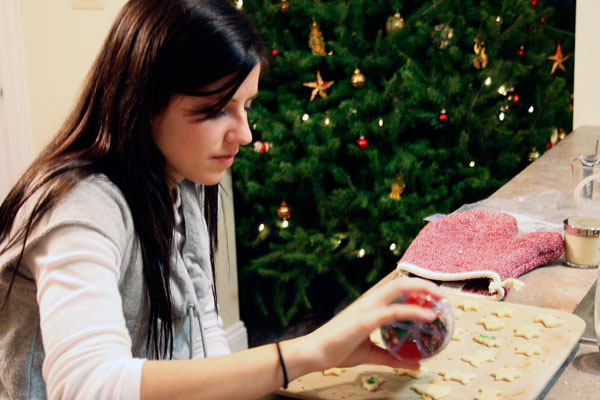 And Dad mans the oven.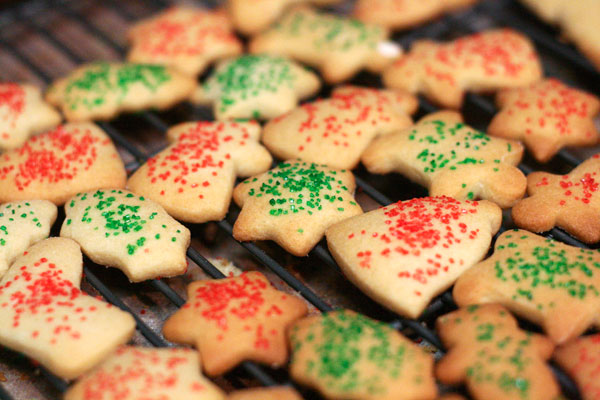 This year Stephen helped Mom ice the cookies and added some decorations of his own.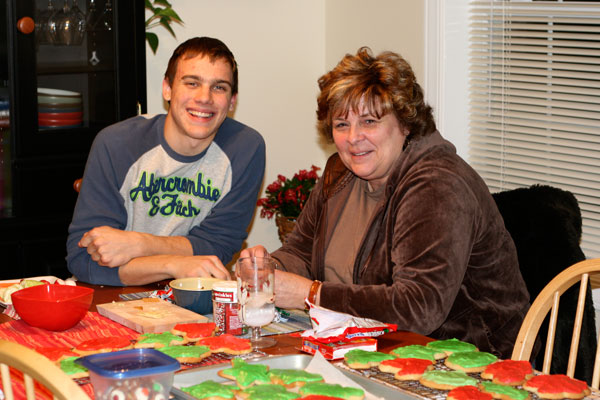 And Nick played photographer and taste tester — the role that Andrew typically fills. (We missed you, brother!)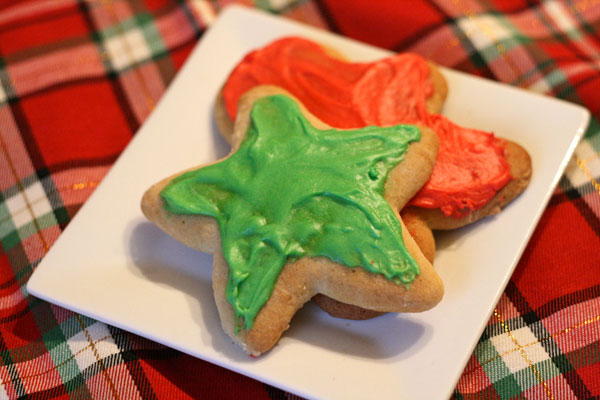 Bakers like my great-great-great grandmother didn't mind using lard in their cookies, and neither do we. It is only once a year, after all. You may substitute butter or shortening, but you may also sacrifice what makes these cookies my favorite Christmastime indulgence: they are light and slightly sweet and melt in your mouth. They're perfect with a tall glass of milk or a mug of coffee. And I hear Santa is a big fan.
Do you have a cookie tradition in your family? Stay tuned — two of Nick's favorites are coming up next.
Sugar Cookies
Makes about 2 dozen cookies.
Ingredients for Cookies

2 cups sugar
1 cup lard
4 cups Wondra flour plus more for rolling (Wondra flour is finely ground and produces a lighter cookie; you may substitute cake flour)
1 tsp baking powder
pinch of salt
2 eggs
1 cup buttermilk
1 tsp baking soda
1 cap full of vanilla
sugar for sprinkling
Ingredients for Icing
3 3/4 cups confectioners sugar
1/2 cup butter, softened
2 Tbsp milk
2 Tbsp coffee (to cut the sweetness)
1 tsp vanilla
Directions
Knead together sugar, lard, flour, baking powder, and salt.
Make a hole in the center of the dough, and pour eggs, buttermilk, baking soda, and vanilla into it. Stir to combine.
Chill dough overnight.
Flour a work surface, your hands, and a rolling pin with Wondra flour. Roll dough until it's about 1/4-inch thick.
Use cookie cutters to make festive shapes, then place dough onto a baking sheet (preferably a baking stone). Sprinkle some with sugar, and leave others for icing.
Bake at 400°F for about 8 minutes.
Beat together ingredients for icing and add food coloring, if you like. Spread onto cookies, or use a piping bag to decorate them.
Store cookies in an airtight container.