This weekend I channeled my inner Julia Child and tackled a dish from my must make list.
Mastering the Art of French Cooking has been sitting pretty on our shelf for almost a year, and while I have thumbed through it, this is the first recipe I've made from the classic cookbook.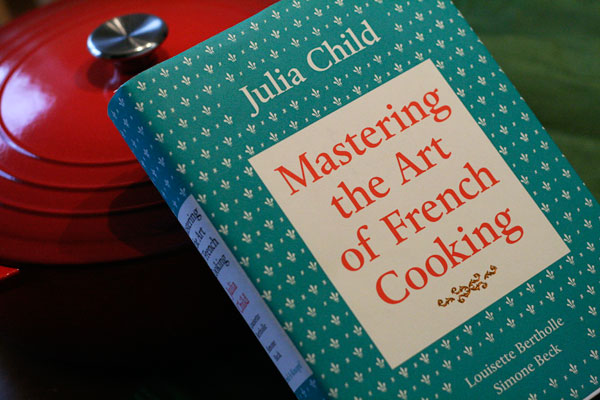 Why? Because Julia Child is a legend. And I feared I could not replicate her recipes.
But my family was visiting, and Julia's Boeuf Bourguignon seemed like the perfect dish to kick off Christmas week. It was also a good excuse to let our French oven do what it was designed to do: braise beef in red wine and slowly simmer it in the oven with onions and mushrooms.
But before we get to the beef, you have to first sauté some bacon. (Note: The original recipe calls for blanched bacon rind, too, which I did not have. Sorry, Julia!)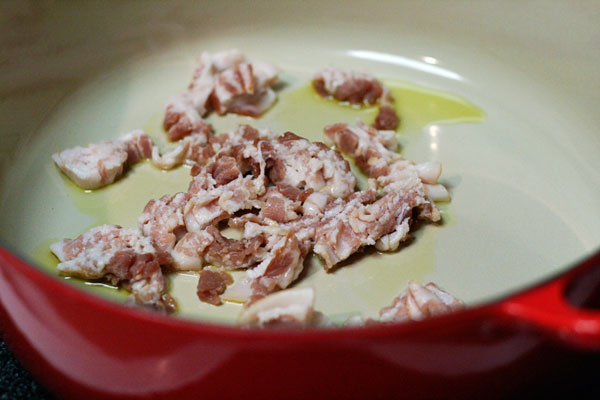 Next — and this is very important — dry the cubed beef with a paper towel. It will not brown properly if it is damp.
Then let it do its thing. In the bacon fat, of course.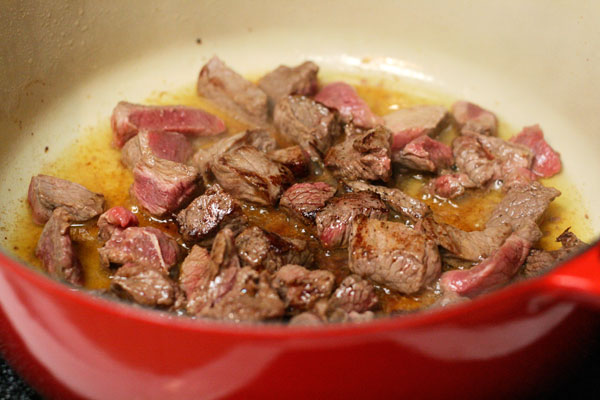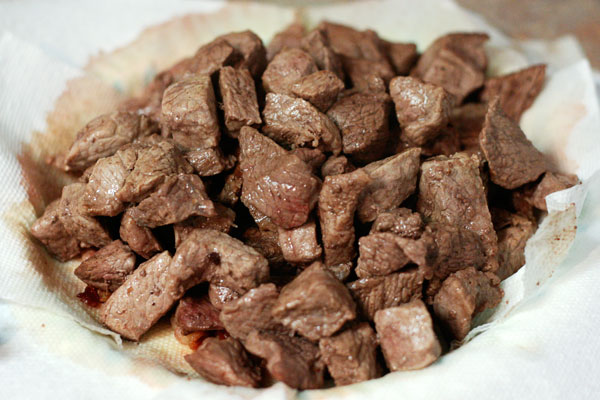 Add the carrots and onions to the same pot. Your kitchen is guaranteed to smell savory at this point.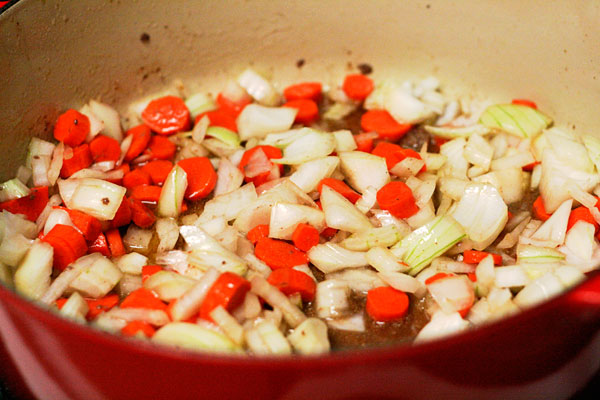 Drain the vegetables and discard the oil. Then add everything back into the pot, along with flour, salt, and pepper. Put it in the oven and allow it develop a nice light crust.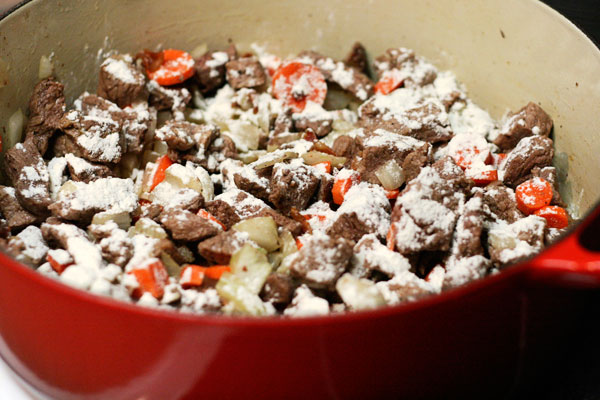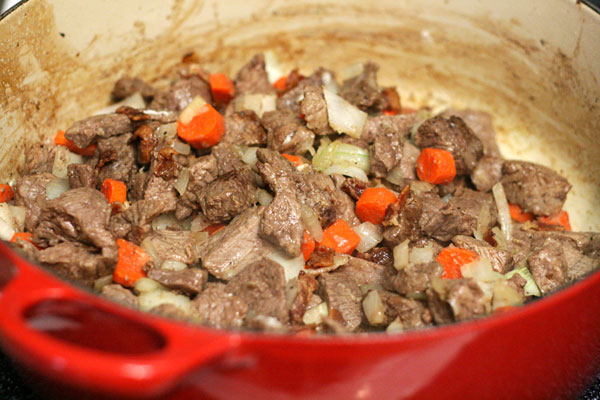 Now it's time for the liquids: 3 cups of red wine (we used Chianti) and 2 cups of beef stock. You're also going to add tomato paste, garlic, and herbs.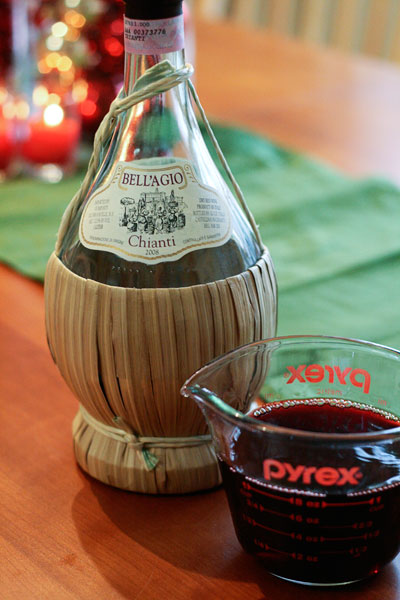 Bring the meat and liquid to a simmer, cover the pot, and put it in the oven for 2 1/2 to 3 hours.
Meanwhile, prepare the onions and mushrooms.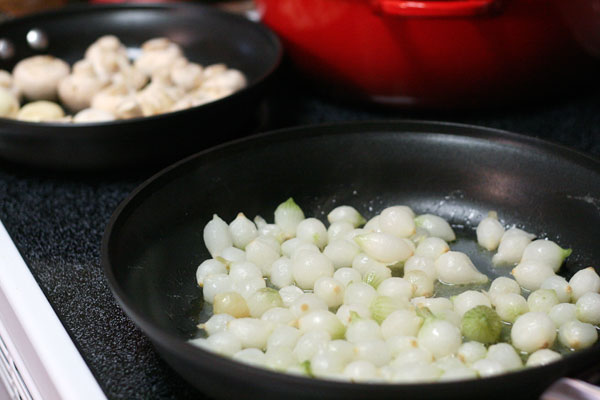 We used frozen pearl onions, which we first thawed in the microwave, then braised in beef stock and herbs for about 45 minutes.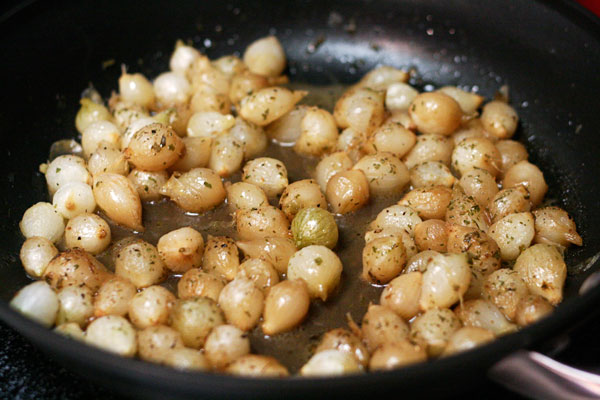 The mushrooms also get a nice slow cook.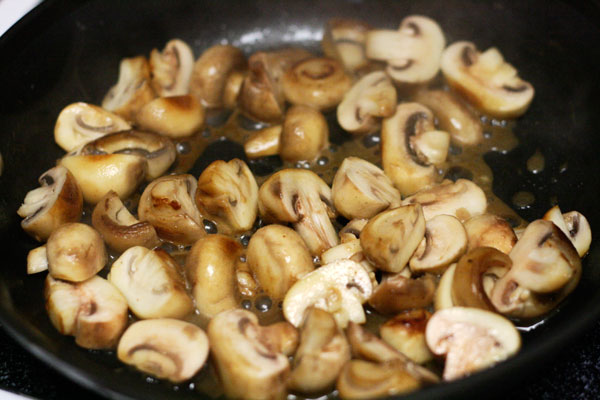 You can remove the pot from the oven when the meat is fork tender. And then it's time to make the sauce.
Pour everything through a sieve set over a saucepan. (Note: This may require two sets of hands. Thanks, Nick and Dad!) Return meat and vegetables to the pot, and bring the sauce to a simmer. It's ready when it's thick enough to lightly coat a spoon. Ours seemed too thin, though, so I brought it to a boil and added just a bit of flour. When it's ready, pour it over the meat and vegetables.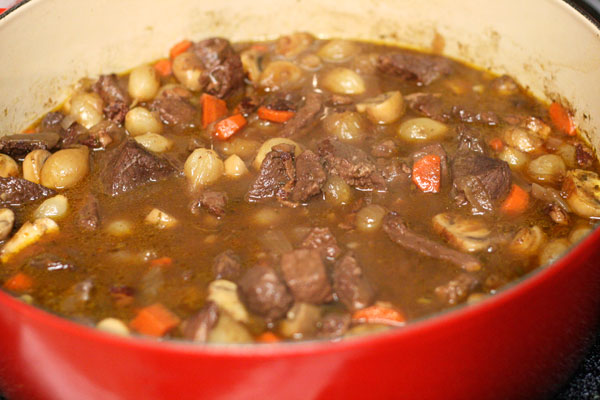 It's ready to serve at this point, or you can cool it, cover it, and refrigerate it until later. We actually kept ours warm on the stove top while we baked a few dozen cookies. (I told you we were kicking off Christmas week!) Then about 1/2 hour before we were ready to eat, my sister peeled, cubed, and boiled eight potatoes to serve with the beef. You can also serve it with egg noodles or rice.
It was a hit! Really. We all cleaned our plates. My sister had two helpings, and my dad had three. And it kept us full and warm while we enjoyed our local holiday lights festival.
This is definitely a dish worth making. But keep in mind that it requires about 4 hours from start to finish. I know there are shortcuts and alterations out there, but if you want to be true to one of Julia Child's signature dishes, you're going to have to put in the time. It's worth it. I promise. Bon Appétit!
Have you tried bouef bourguigonon? What's on your must make list?
Bouef Bourguignon
Serves 8.
Ingredients
6 oz bacon, chopped into 1/4-inch pieces
1 Tbsp olive oil
3 lbs lean stewing beef , cut into 2-inch cubes
1 sliced carrot
1 sliced onion
1 tsp salt
1/4 tsp pepper
2 Tbsp flour
3 cups full-bodied, young red wine like Chianti
2 to 3 cups beef stock
1 Tbsp tomato paste
2 cloves crushed garlic
1/2 tsp thyme
2 bay leaves
18 to 24 frozen pearl onions, thawed and braised (in butter and oil with beef stock, parsley, bay leaf, and thyme)
1 lb quartered fresh mushrooms, sautéed in butter and oil
parsley for garnish
Directions
In an oven-safe French oven, sauté chopped bacon in oil over moderate heat until browned, about 4 minutes. Remove with a slotted spoon and set aside. Heat bacon fat until it is almost smoking.
Preheat oven to 450°F.
Dry beef with paper towels; it will not brown if it is damp. Sauté beef, a few pieces at a time, in hot oil and bacon fat until browned on all sides, about 4 minutes. Add to bacon.
In the same fat, brown sliced carrots and onions, about 4 minutes. Drain vegetables and discard sautéing fat.
Return beef, bacon, and vegetables to French oven and toss with salt and pepper. Then add the flour and toss again to coat lightly. Set French oven uncovered in middle of preheated oven for 4 minutes. Toss meat and return to oven for 4 minutes more. (This browns the flour and covers the meat with a light crust.) Remove from oven and turn temperature down to 325°F.
Stir in the wine and enough stock to barely cover the meat. Add tomato paste, garlic, and herbs. Bring to simmer on top of the stove. Then cover and set in lower third of preheated oven. Regulate heat so liquid continues to simmer slowly for 2 1/2 to 3 hours. The meat is done when a fork pierces it easily.
While the beef is cooking, prepare the onions and mushrooms. For the onions: Sauté pearl onions in 1 1/2 Tbsp butter and 1 1/2 Tbsp oil for about 5 minutes.. Add 1/2 cup beef stock, salt and pepper, parsley, bay leaf, and thyme, and simmer slowly for about 45 minutes.  For the mushrooms: Sauté mushrooms in 2 Tbsp butter and 1 Tbsp oil for about 5 minutes.
When the meat is done, pour contents into a sieve set over a saucepan. Return beef, bacon, and vegetable mixture to French oven. Add cooked onions and mushrooms.
Skim fat off the sauce. Simmer 2 minutes, skimming off additional fat as it rises until sauce is thick enough to coat a spoon lightly. If too thin, boil it down rapidly. If too thick, add a few tablespoons of stock. Taste carefully for seasoning. Pour sauce over meat and vegetables.
For immediate serving: Cover French oven and simmer for 2 to 3 minutes, basting meat and vegetables with the sauce. Serve with boiled potatoes, egg noodles, or rice, and decorate with parsley.
For later serving: After dish has cooled to room temperature, cover and refrigerate. About 15 to 20 minutes before serving, bring to a simmer, cover, and simmer very slowly for 10 minutes, occasionally basting meat and vegetables with sauce.
(adapted from Julia Child)