Allow me to introduce you to our cookbook collection. Well, a small part of our cookbook collection.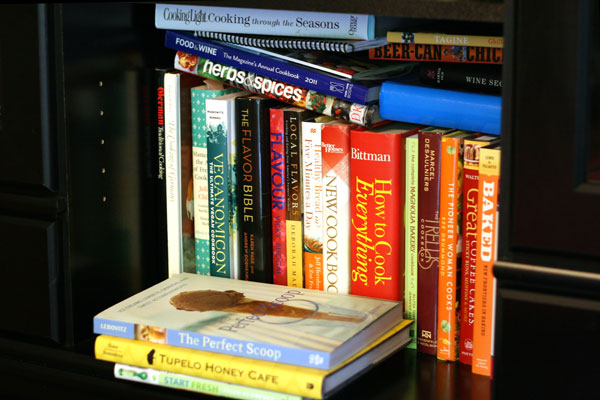 This doesn't include two more hidden shelves and a box in the garage. Not to mention stacks of Bon Appetit and Food & Wine. And, oh, yes, the dozens of food blogs that I subscribe to.
And, yet, sometimes it feels most convenient to Google an ingredient or an idea and arrive at inspiration for dinner. But we've been making more of an effort recently to prepare dishes that we've bookmarked and dog-eared. This is one such recipe.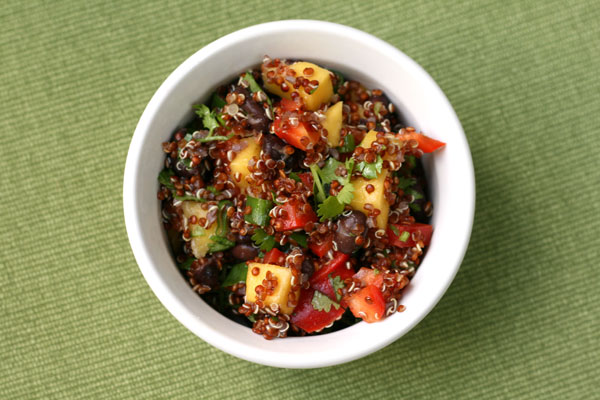 It comes from Veganomicon: The Ultimate Vegan Cookbook that we purchased after we previewed Forks Over Knives earlier this year.
The simple side salad includes quinoa, mangoes, red bell peppers, scallions, black beans, and cilantro in a simple oil and vinegar dressing. Though you can substitute any grains, beans, and fruits. And you certainly don't have to be vegan to enjoy it.
What's your go-to cookbook?
Quinoa Salad with Black Beans and Mango
Serves 4 to 6.
Ingredients
1 mango, peeled and diced
1 red bell pepper, seeded and diced
1 cup chopped scallions
1 cup chopped fresh cilantro
2 Tbsp red wine vinegar
2 Tbsp grapeseed oil
1/4 tsp salt
2 cups cooked quinoa, cooled
1 (15 oz) can black beans, drained and rinsed
Directions
Combine mango, red bell pepper, scallions, and cilantro in a mixing bowl. Add red wine vinegar, grapeseed oil, and salt; stir to combine. Add quinoa and stir until incorporated. Fold in black beans. Serve chilled or at room temperature.
(Adapted from Veganomicon)