What's your favorite summer fruit? Strawberries are at the top of my list, though peaches come in a close second. Especially this year. Peanut must be a big fan.
Do you know what pairs perfectly with ripe peaches? Cinnamon. And brown sugar. And oats. And vanilla bean ice cream. This recipe combines all of these ingredients (and a few more) into a simple bar. You must make it while peaches are at their peak. In other words, now!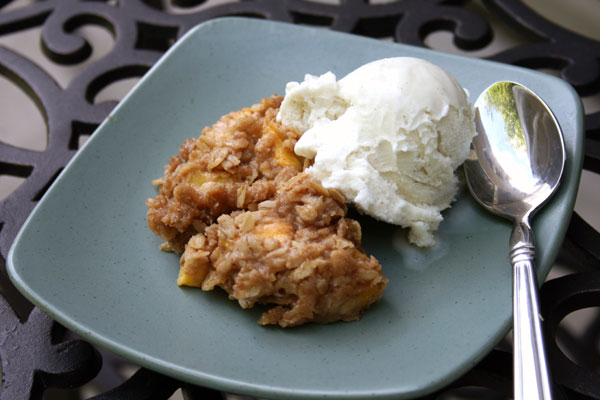 Brown Butter Peach Crumble
Makes 12 bars.
Ingredients
1 1/2 cups old-fashioned oats
3/4 cup flour
3/4 cup brown sugar
1/4 tsp salt
1 tsp cinnamon
1 tsp vanilla extract
1/2 cup butter
4 ripe, medium peaches, chopped (about 2 cups)
Directions
Preheat oven to 350°F.
In a large bowl, combine flour, sugar, oats, cinnamon, and salt. Mix until combined. Set aside.
Heat a small saucepan over medium heat. Add butter and stir continuously until it melts. It may bubble a little. As soon as you see small brown specks in the butter, remove it from heat. This should take about 3 minutes. Add butter, along with vanilla, to oat mixture. Stir until moistened. Fold in the peaches.
Butter and flour an 8×8 baking pan. Press batter into pan. Bake for 25-30 minutes, then let coo for at least 20 minutes. Cut and serve with vanilla bean ice cream. (Keep leftover bars in a sealed container in the refrigerator or at room temperature.)
(Adapted from How Sweet Eats)