Due to a last minute trip last weekend to see my brother before he leaves again for London, we kept our Super Bowl festivities to a minimum.
While a big pot of tortellini soup simmered on the stove top, we sipped Guinness and snacked on hummus. Just the two of us. In our sweatpants. It was quite cozy, actually.
This is our go to hummus — it's thick and savory and is a perfect condiment for warm pita bread and crunchy carrots. (Thanks, Uncle Steve, for sharing the recipe years ago!)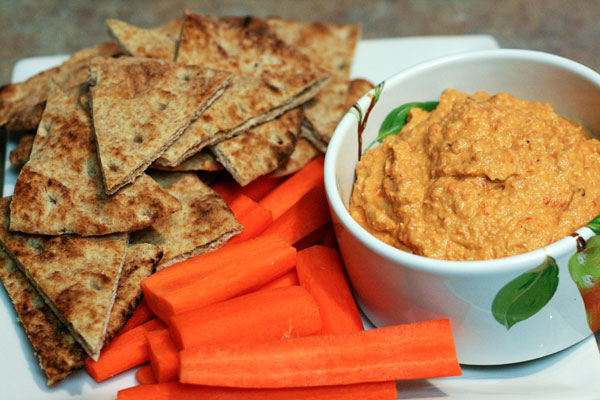 The game was a good one — if you're a Packers fan, that is. Nick is not. But he was a good sport.
Note: This make a lot of hummus. We suggest halving it for two. And you will still have plenty of leftovers.
What's your favorite hummus recipe?
Roasted Red Pepper Hummus
Ingredients
30 oz can chickpeas (garbanzo beans)
1/3 cup tahini
1/3 cup extra-virgin olive oil
1/3 cup warm water
juice of 3 lemons
2 tsp cumin
5 cloves garlic
1/2 cup (4 oz) roasted red peppers (diced, skinned, and seeds removed)
1/2 cup (4 oz) sun-dried tomatoes
salt and pepper to taste
Directions
In a food processor, combine chickpeas, tahini, olive oil, water, lemon juice, and cumin. Process until smooth.
Add garlic, roasted red pepper, and sun-dried tomatoes. Process until pepper and tomatoes are finely chopped. Season with salt and pepper.
Serve with pita bread and carrots.
(from Uncle Steve)