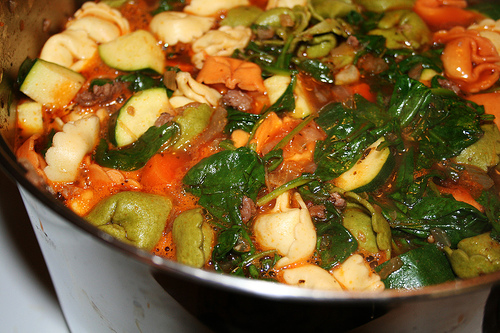 Made for 2007 holiday gathering in State College. A hearty favorite!

Ingredients
1/2 lb. sweet Italian sausage
1 cup onion, chopped
2 cloves garlic, minced
5 cups beef broth
1/3 cup water
1/2 cup red wine
4 tomatoes, chopped, or 1 can whole tomatoes
1 cup carrots
1/2 teaspoon basil
1/2 teaspoon oregano
1 cup tomato sauce
1 zucchini, chopped
8 oz. cheese tortellini
1 package or 1 bag fresh spinach
1 tablespoon parsley
Parmesan cheese
Directions
In large pot, cook sausage ~5 minutes. Remove meat and set aside.
Add onion and garlic. Saute.
Add broth, herbs, vegetables (except zucchini and spinach), and sausage. Bring to boil. Reduce heat and simmer uncovered ~30 minutes.
Add zucchini, spinach, and tortellini. Simmer ~25 minutes.
Ladle into bowls, sprinkle with Parmesan, and serve with crusty bread.
*culmination of several recipes