Simple. Festive. Tasty. First made for a 2007 holiday gathering in State College.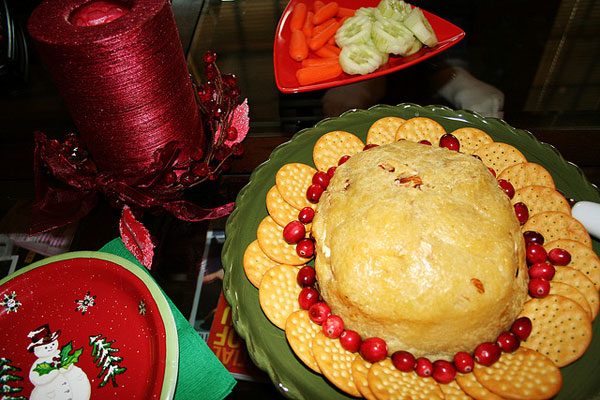 Baked Brie
Makes 12 servings.
Ingredients
1 10 oz wheel brie
1/2 cup brown sugar
1/2 cup sliced almonds
1 sheet frozen puff pastry, thawed
1 egg, beaten, with 1 tsp water (egg wash)
Directions
Preheat oven to 375°F and grease baking sheet.
Lay puff pastry on baking sheet. Spread half of brown sugar to size of brie wheel. Sprinkle half of almonds over brown sugar. Place brie on almonds. Spread remaining brown sugar, and sprinkle remaining almonds. Fold puff pastry over cheese.
Bake 15-20 minutes until golden brown.
Serve hot with crackers.
(adapted from Kristen Wilson)