This recipe comes from Cooking Light, and it's so simple you're going to wonder why you didn't think of it yourself.
Simply roast butternut squash with balsamic vinegar, then toss it with fettuccine, pine nuts, chopped fresh sage, arugula, and Parmesan cheese.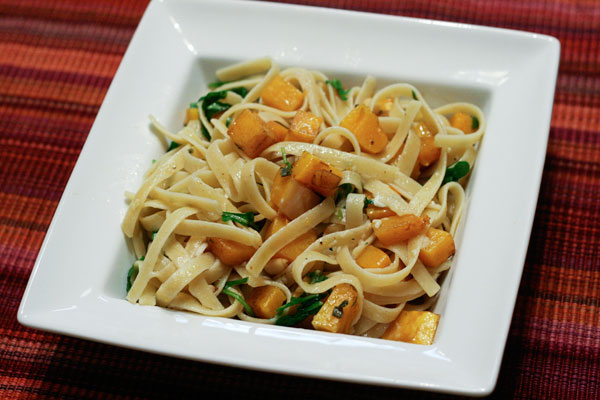 Without really trying to, we've been eating a lot of vegetarian meals lately, like pear ravioli and Moroccan vegetable stew. But we still eat meat. We're young, we're active, we're healthy, and we believe in eating everything in moderation — from braised beef and roasted pork to peanut butter ice cream and Cheddar cheese to spinach and blueberries. Which is why we were very interested to see the local premier of Forks Over Knives on Wednesday night.
The documentary is based on the book, The China Study, and it discusses the potential of a plant-based diet (a.k.a. vegan) to control and even cure diseases like cancer and diabetes. Here's the trailer:
The experts in the film say that cancer cells are "turned on" by animal proteins (including milk and eggs), and that we should eliminate them from our diets. They had quite a bit of evidence to back up their claims, and the real-life stories were pretty remarkable, though we're still skeptical.
I'm working on a story for WPSU-FM, so I'll share more details when my piece airs. But I'm curious. Have you heard of the book or the film? What do you think?
Fettuccine with Squash, Arugula, and Pine Nuts
servings: 6
Ingredients
1 butternut squash, peeled and cubed
2 Tbsp balsamic vinegar
2 tsp olive oil
1/2 tsp salt, divided
8 oz fettuccine
1 Tbsp butter
2 Tbsp pine nuts
1 Tbsp chopped fresh sage
2 cloves garlic, minced
2 cups trimmed arugula
1/2 cup Parmesan cheese
1/2 tsp ground black pepper
Directions
Preheat oven to 475°.
Combine squash, vinegar, oil, and 1/4 tsp salt in a large bowl; toss to coat. Arrange in single layer on rimmed baking sheet coated with cooking spray. Bake for 25 minutes until tender, stirring occasionally.
Meanwhile, cook pasta according to package directions (but without salt or oil). Drain and reserve 1 Tbsp cooking liquid.
Melt butter in large skillet over medium heat. Add pine nuts, sage, and garlic. Cook for 3 minutes until pine nuts begin to brown.
In a large bowl, combine pasta with reserved cooking liquid, pine nuts mixture, and squash; toss gently. Add remaining 1/4 tsp salt, arugula, cheese, and black pepper; toss again. Serve immediately.
(adapted from Cooking Light)