Do you still have rows of canned pumpkin stacked in your pantry? Or is that just us?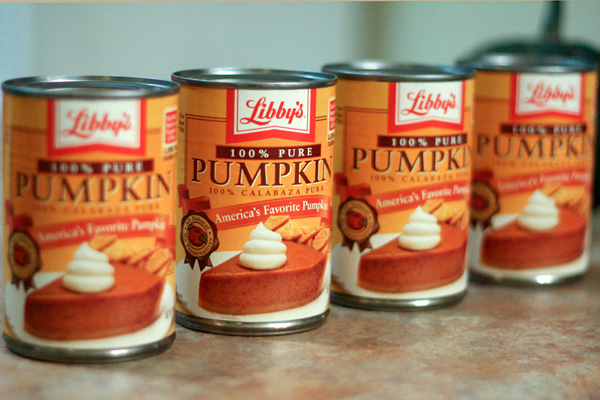 Well, if you have a surplus like we do, and you'd prefer to use them up before the flowers bloom this spring, then we have a recipe for you. It's cheesy. It's creamy. It's pumpkiny. It's a new take on a classic comfort dish.
Start by simmering 1 can of pumpkin with 1 cup of chicken broth.
Meanwhile, process 1 piece of bread into fine bread crumbs.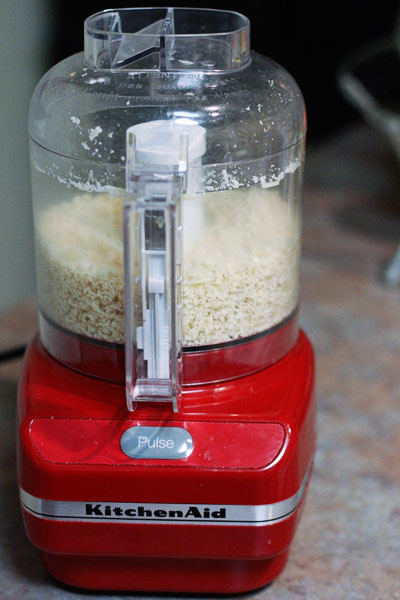 And grate 2 cups of sweet, buttery Gouda cheese.
Saute 1/2 of an onion in butter, then add flour and milk to create a roux. Then add 1/2 of the cheese, a handful of Parmesan, nutmeg, and cayenne.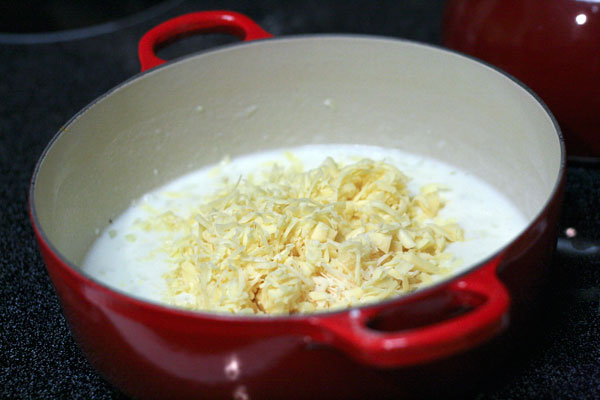 Finally, add the pumpkin to complete the sauce.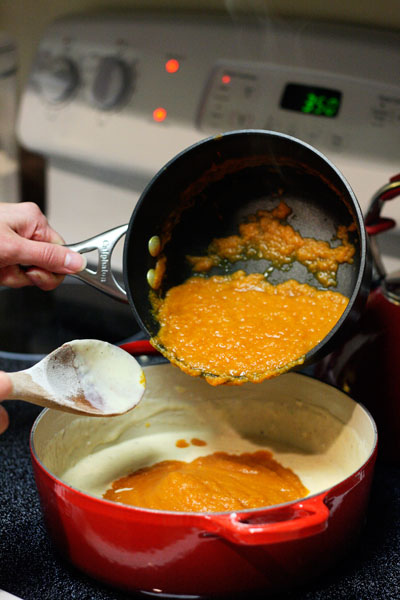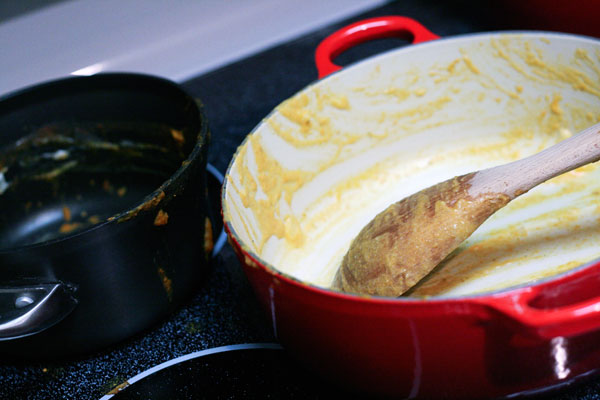 Pour the pumpkin-cheese sauce over 1 lb of cooked whole wheat pasta. Sprinkle with the breadcrumbs and the remaining cheese, and bake for 20 minutes until the top is crunchy and golden.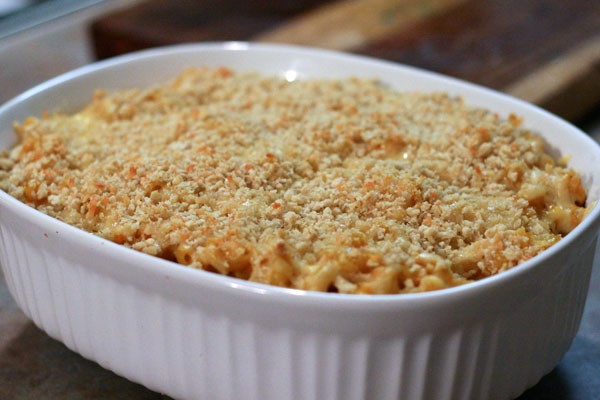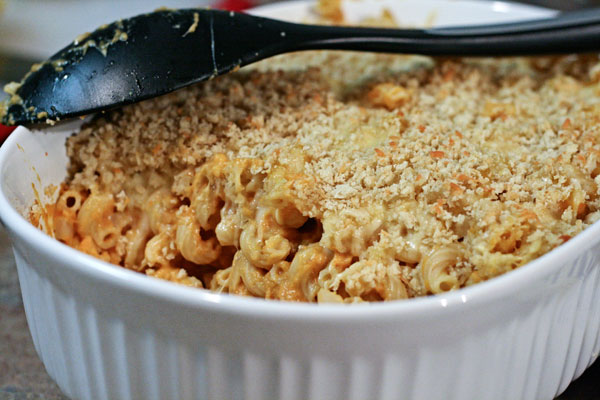 We quickly sauteed a bunch of beautiful kale with garlic and olive oil to serve as a side dish. Because you need some greens to balance out all of that cheese.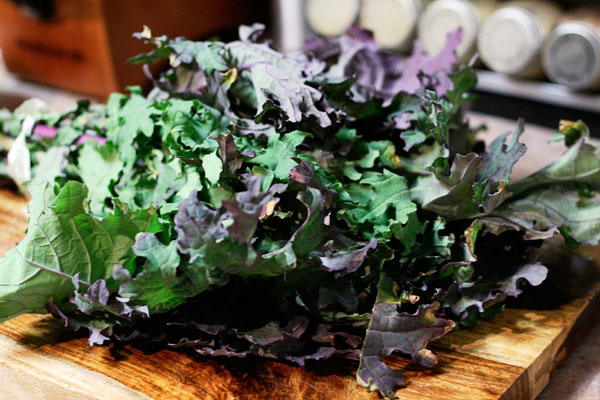 Perfection!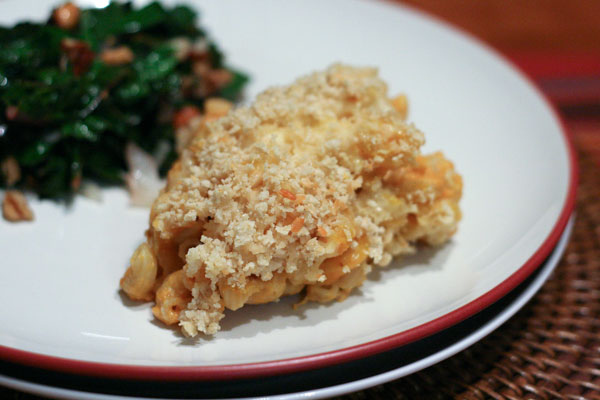 What do you suggest we do with the rest of our canned pumpkin?
Pumpkin Macaroni and Cheese
servings: 6
Ingredients
1 thick slice whole wheat bread, crust removed
1/2 cup grated Parmesan cheese, divided
1 can (15 oz) pumpkin puree
1 cup chicken broth
12 oz dried whole wheat pasta
1 1/2 Tbsp butter
1/2 onion, minced
1 1/2 Tbsp all-purpose flour
1 cup milk
2 cups shredded Gouda cheese, divided
1/2 tsp salt
1/8 tsp ground nutmeg
1/8 tsp cayenne pepper
Directions
Preheat oven to 350°F. Tear bread into chunks and process in blender or food processor until fine crumbs form. Mix with half of the Parmesan cheese and set aside.
In a small saucepan, over medium heat, stir pumpkin and broth together. Bring to a simmer, stirring occasionally. Cover and keep warm.
Bring a large pot of lightly salted water to a boil. Add pasta and cook until al dente, 8 to 10 minutes. Drain well and pour into a 2-quart baking dish.
Melt butter in a large pot or Dutch oven over medium heat. Add onions and cook, stirring frequently, until softened, about 5 minutes. Stir in flour and cook for another minute. Slowly whisk in milk and bring mixture to a simmer. Cook, whisking frequently, until sauce thickens, about 3 minutes. Remove from heat.
Stir in half of the Gouda, the remaining Parmesan, and the salt, nutmeg, and cayenne; whisk vigorously until melted and smooth. Slowly add pumpkin mixture, whisking until well blended.
Pour pumpkin-cheese sauce over pasta and stir gently to coat. Sprinkle with the remaining Gouda and then the breadcrumb mixture. Bake until crumbs are golden, about 20 minutes.