This weekend we celebrated a very special occasion: Nick's grandmother's 80th birthday. A little birdie told me about her fondness for coconut, so I baked the very best coconut cupcakes I could.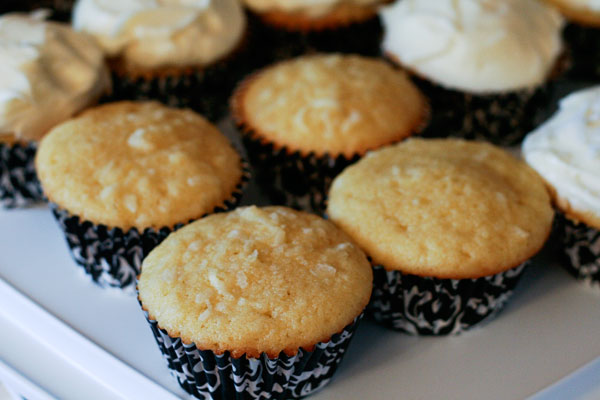 And they were pretty darn good. I know because I sampled one on Saturday morning before we left for Lancaster.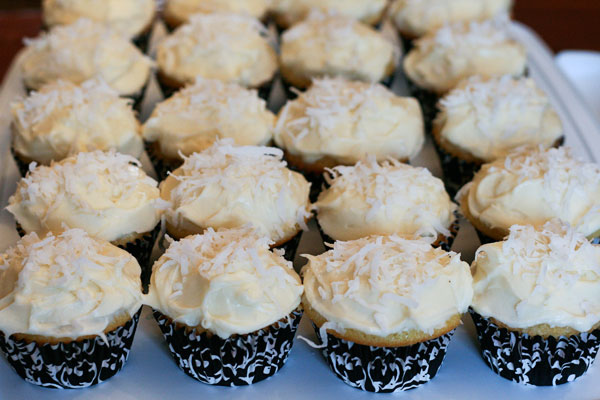 We gathered with aunts, uncles, cousins, siblings, and, of course, the matriarch of the Bomgardner clan. The thirteen of us enjoyed dinner at Loxley's where, yes, it felt as though we were eating inside Sherwood Forest. In addition to singing "happy birthday" to Grandma and snacking on crunchy sweet potato fries, the highlight of the night was learning that 5% of our total bill is donated to a charity of our choice. In the spirit of Robin Hood, you know?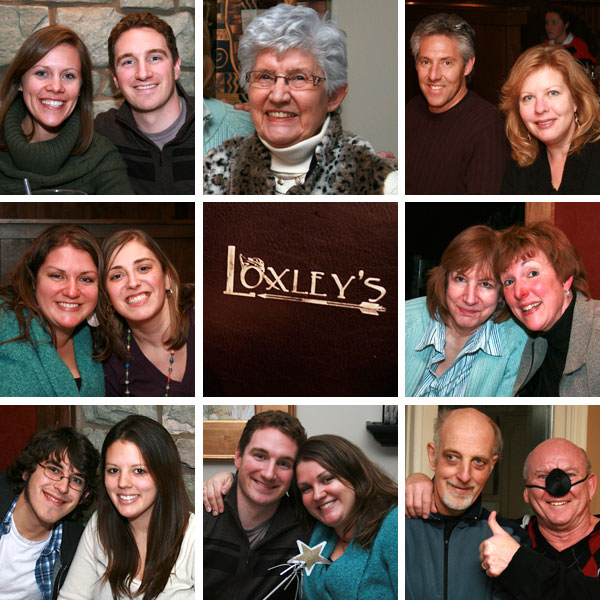 When we got back to the Nagle's house, we lit the candles and sang again.
(Her badge says "Aged to Perfection." She certainly is.)
And the cupcakes were a hit! Grandma even said she prefers a dense cupcake — I really couldn't have selected a better recipe. These goodies contain a lot of butter, a lot of eggs, and a lot of buttermilk. (Which is why they should be reserved for special occasions only.) But the secret ingredient is almond extract. It pairs perfectly with the coconut and vanilla flavors.
Here's a shot of everyone who was able to make the trip. We certainly missed the rest of you!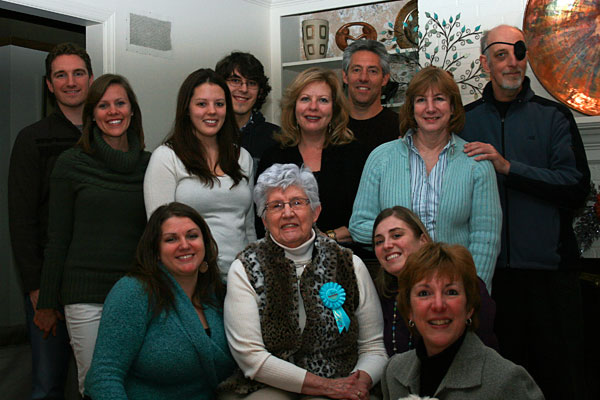 Happy birthday to you, Grandma!
Coconut Cupcakes
servings: 36 cupcakes
Ingredients for Cupcakes
3/4 lb (3 sticks) unsalted butter, room temperature
2 cups sugar
5 eggs, room temperature
1 1/2 tsp vanilla extract
1 1/2 tsp pure almond extract
3 cups flour
1 tsp baking powder
1/2 tsp baking soda
1/2 tsp kosher salt
1 cup buttermilk
14 oz sweetened, shredded coconut
Ingredients for Frosting
1 lb cream cheese, room temperature
3/4 lb (3 sticks) unsalted butter, room temperature
1 tsp vanilla extract
1/2 tsp almond extract
1 1/2 lbs confectioners' sugar, sifted
Directions
Preheat oven to 325°F.
Cream butter and sugar with electric mixer on high speed until light and fluffy, about 5 minutes. With mixer on low speed, add eggs, 1 at a time, scraping down the bowl after each addition. Add vanilla and almond extracts and mix well.
In a separate bowl, sift together flour, baking powder, baking soda, and salt. In 3 parts, alternately add dry ingredients and buttermilk to batter, beginning and ending with the dry. Mix until just combined. Fold in 7 oz of coconut.
Line a muffin tin with paper liners. Fill each liner 3/4 full with batter. Bake for 25 to 35 minutes, until tops are brown and a toothpick comes out clean. Allow to cool in the pan for 15 minutes. Remove to a baking rack and cool completely.
Meanwhile, make the frosting. Cream together cream cheese, butter, and vanilla and almond extracts with electric mixer on low speed. Add confectioners' sugar and mix until smooth.
Frost cupcakes and sprinkle with remaining coconut. Refrigerate if not serving immediately.
(adapted from Ina Garten)