We don't mind the quaintness of our hometown's hills, railroads, cow pastures, and corn fields. But it is nice to spend an occasional Saturday in a city with more than three stoplights and more than one decent restaurant.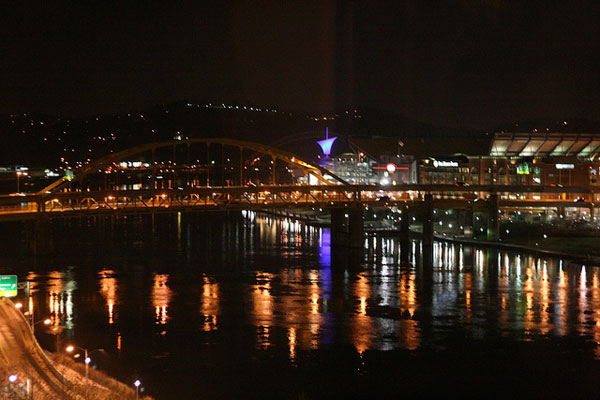 Late Friday night, following Nick's district holiday party in western Pennsylvania, we drove across three rivers and into Pittsburgh.
Thanks to Priceline and our 11:30pm check-in, we were upgraded to a corner suite at The Renaissance for a fraction of its regular cost. The Renaissance, previously a nightclub, is now a chic hotel located in the historic Fulton Building. From our room, we had an awesome view of the Allegheny River, PNC Park (home of the Pirates), and Heinz Field (home of the Steelers).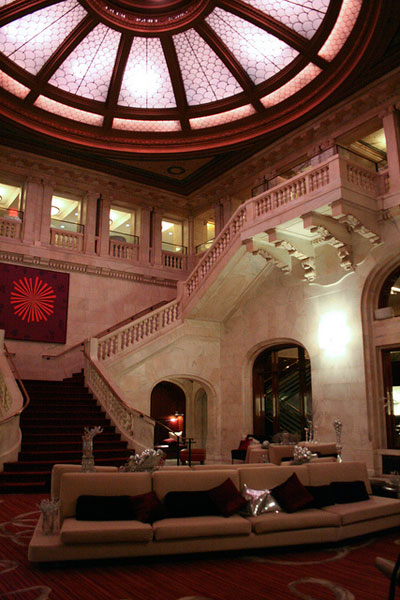 We were out the door early on Saturday and off to explore the Steel City. (Thanks to Mary and the Brown Eyed Baker for lots of great recommendations!)
First stop: a deserted Market Square and PPG Place — at least the tree was all lit up! (Nick had a traumatic childhood experience that involved skates and his two front teeth, and so I think he was relieved to see the empty rink.)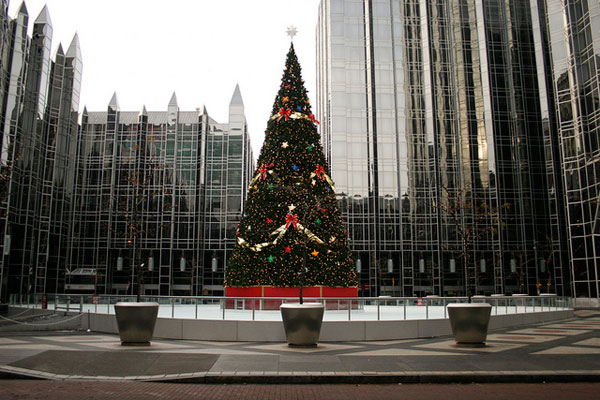 From there we walked across Smithfield Bridge to the South Side and Station Square. The Grand Concourse, located in the old Pittsburgh and Lake Erie Railroad station, sits right on the Monongahela River.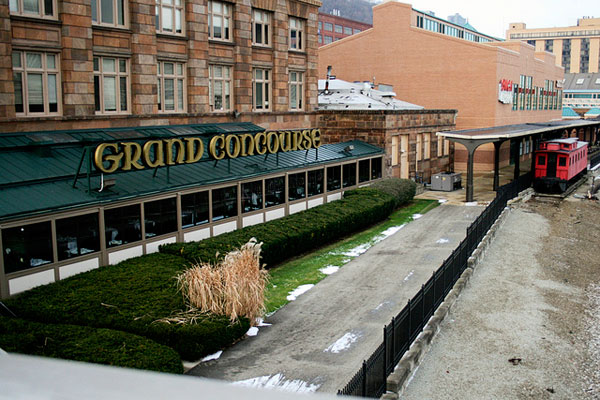 The interior is authentic and romantic, and I bet the food is pretty good, too.
But we were on a mission. And so, with cheap coffees in hand (not from the Grand Concourse), we climbed one of Pittsburgh's most famous landmarks: the Monongahela Incline — the oldest continuously operating funicular in the country.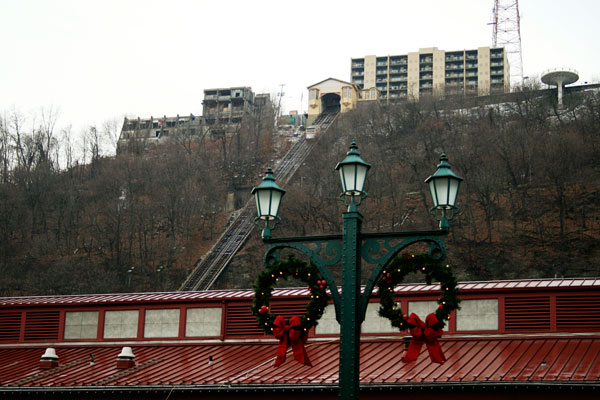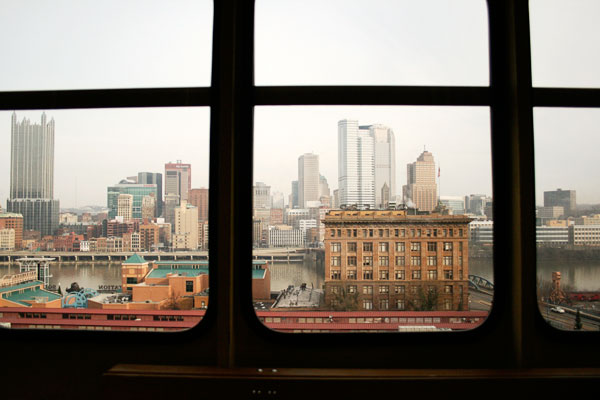 In the mid-1800s, German immigrants took the incline from the industrial buildings of downtown Pittsburgh to their cheap houses on "Coal Hill" — now Mt. Washington. I suspect real estate there is a bit more pricey these days.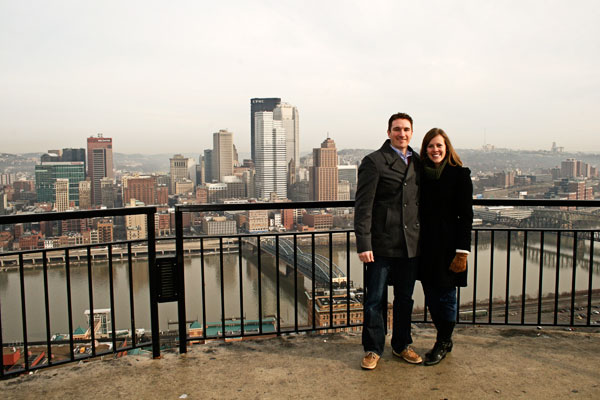 We would have liked to explore the neighborhood, but we had lunch to eat and a show to catch. And so back down the incline and across the bridge we went.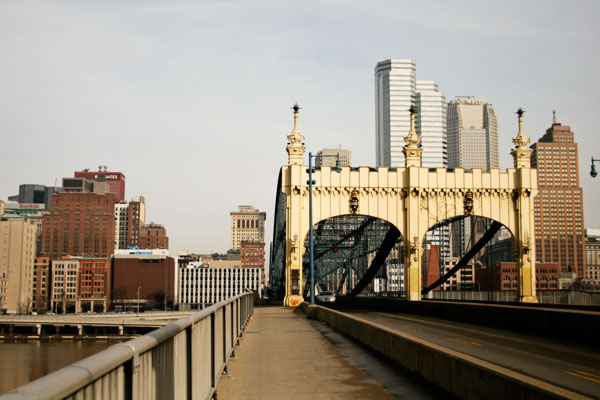 We had lunch at Kaya, a Caribbean restaurant in the Strip District, where the bold dishes match the colorful decor. I had a paella of chicken, chorizo, mussels, shrimp, and scallops. And Nick had a slow cooked pork and banana sandwich with conch chowder and sweet fries.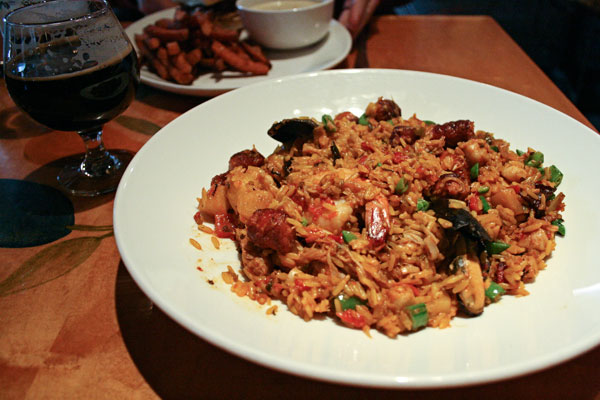 Again, we would have liked more time to explore the old iron mills and glass factories turned produce markets and ethnic stores. Perhaps next time.
The final destination of the day: The Benedum Center to see The Nutcracker! It's been years since I've been to the ballet, and I'm so thankful Nick was willing to come along. In fact, I think he had just as much fun as I did!
I felt like a little girl again despite leaving my red pea coat, white tights, and patent leather Mary Janes at home. But I clapped just as loudly when the Sugar Plum Fairy finished her solo. There's something so magical about the ballet, isn't there?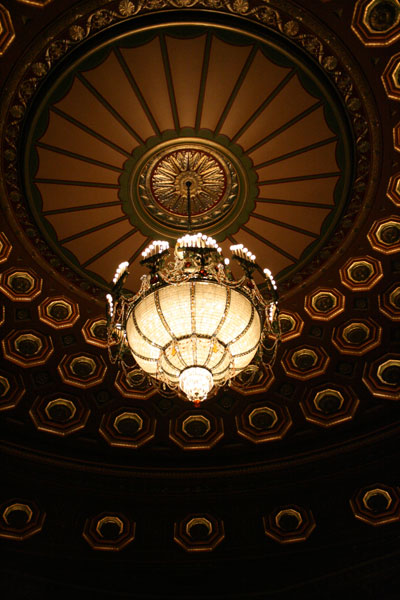 On our way out of the city that night, Nick and I decided that Pittsburgh is a city we could call home. The people are friendly and humble and hardworking. The streets are clean and navigable. And I think there is a lot of culture to uncover.
What's your favorite city?