Think truffles are all fancy and complicated? Well, I'm here to prove otherwise.
All you need is a bag of Oreos and a block of cream cheese.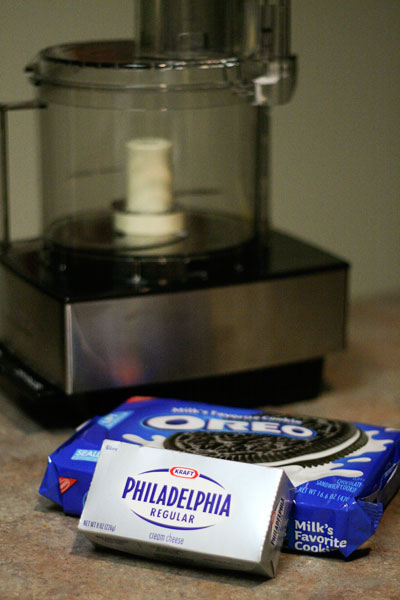 Oh, you'll need a food processor, too.
Add the Oreos and room temperature cream cheese to the food processor, and pulse until the mixture is sticky and shiny. It should take 2-3 minutes.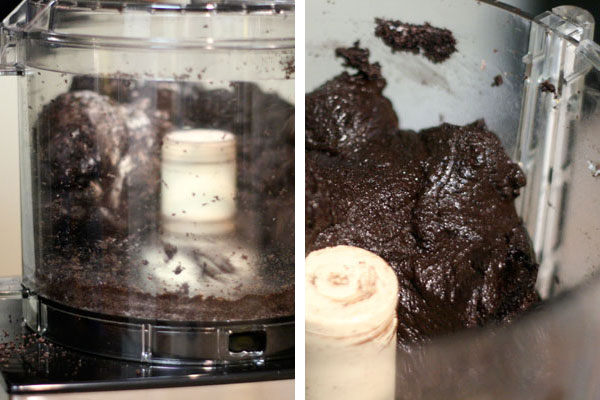 Cover the Oreo dough and put it in the refrigerator for at least one hour. Then roll the dough into ~1-inch balls, and place them on a sheet pan covered with parchment paper.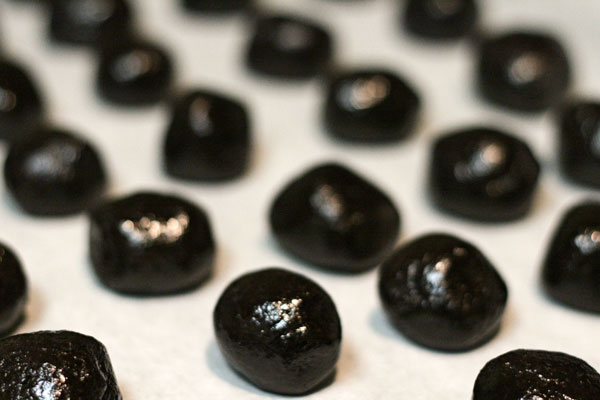 While they may be perfectly tasty at this point. Resist the temptation. They're only going to get better.
Melt semi-sweet chocolate chips (and a bit of shortening to thin it out, if necessary) over a double boiler. Stir constantly until smooth. Then coat each Oreo ball completely.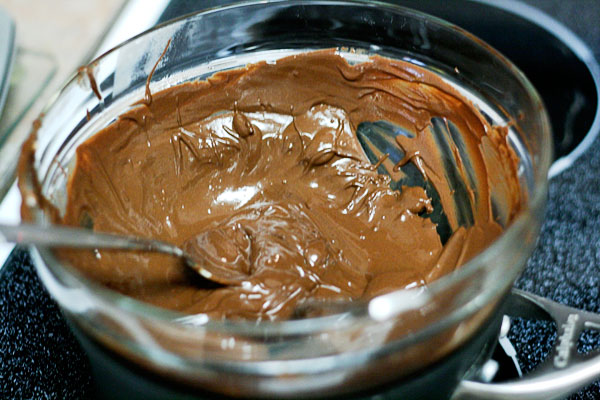 I'm sure there's a more efficient way to coat the balls, but I don't mind the two-spoon-method.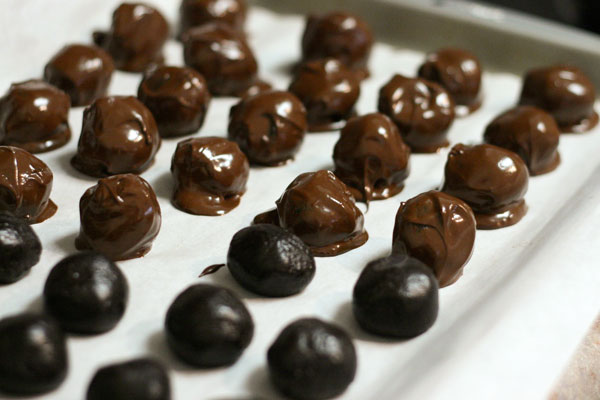 You could also coat the balls in white chocolate, though I prefer to drizzle just a bit on top. You could even add some food coloring to the white chocolate — red and green, perhaps?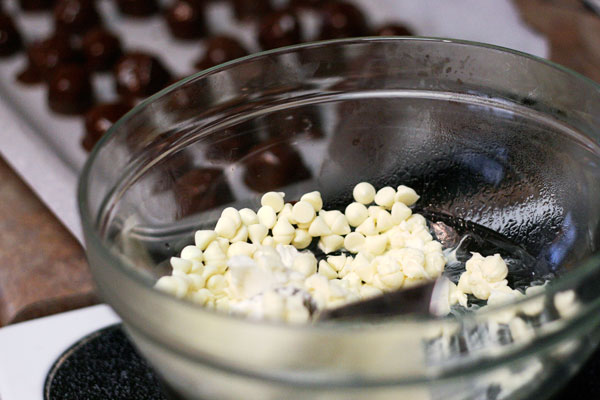 Put them back into the refrigerator for at least another hour before serving.
And there you have it. Easy Oreo truffles!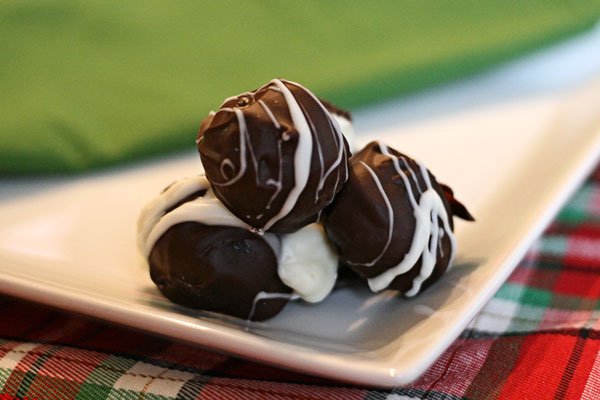 Just look at this decadent treat.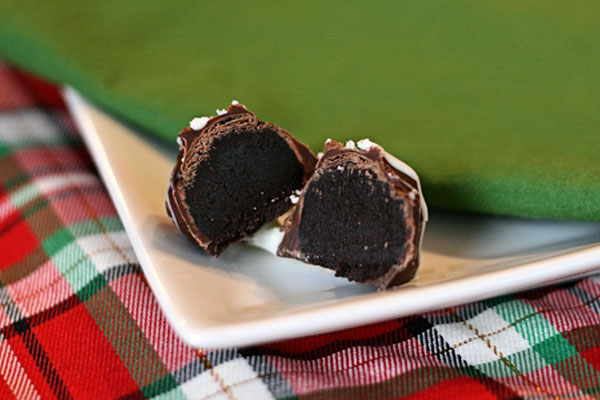 And they make great holiday gifts.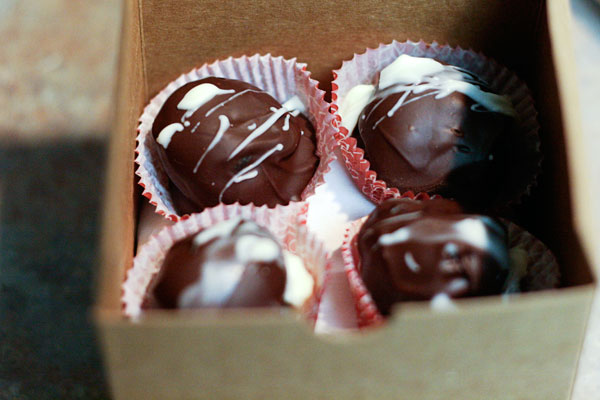 We boxed up a few truffles, along with some pumpkin oatmeal cookies, and distributed them to Nick's colleagues on Friday night.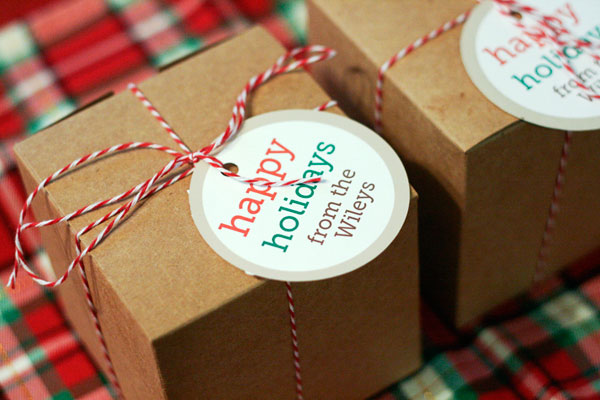 I suspect they were a hit. And I plan to make at least two more batches next week for our family Christmas parties. I think I'm also going to attempt a peanut butter variety, too: Nutter Butters plus cream cheese. Sounds good, right?
Oreo Truffles
Ingredients
1 package Oreos
8 oz cream cheese
2 bags chocolate chips (semi-sweet or white or both)
~2 Tbsp vegetable shortening
Directions
Add Oreos and cream cheese to food processor. Pulse 2-3 minutes until sticky and shiny.
Refrigerate for 1 hour to harden.
Roll into ~1-inch balls.
Melt chocolate chips over double boiler, stirring constantly until smooth. Add vegetable shortening if chocolate is too thick (2 Tbsp of shortening  / 12 oz of chips).
Coat Oreo balls in chocolate, place on baking sheet lined with parchment paper, and refrigerate until ready to serve. (For additional decoration, drizzle white chocolate over top.)
Edited: Thanks to sister Kirsten for first sharing this recipe way back in 2007! And another festive idea from
Nina
: Sprinkle crushed candy canes on top!