Since seeing Food, Inc. and reading The Omnivore's Dilemma and Animal, Vegetable, Miracle, we've become more conscious of the food we eat — especially the meat we eat.
We do not support factory farms that follow inhumane practices, which unfortunately are the source of most supermarket meats.
And so we buy our meat — often chicken or pork or lean ground beef — direct from local farmers and butchers we know and trust.
Both Gearhart's Meats and Holland Bros. Meats are within a 15-minute drive from our house. Gearhart's has great bourbon marinated chicken breasts, and Holland Bros. does specialty smoked meats and sausages. Also, when I have time after work to stop at the Boalsburg Farmers Market, I buy pork chops from Bill from Cow-A-Hen Farms in Mifflinsburg.
While the aforementioned film and books convinced us to change the type of meat we eat, they convinced some to stop eating it altogether, like my new friend Anna. She writes the blog Newlywed Newly Veg.
Anna and I met a few weeks ago through our connection to a new State College café, The Enchanted Kitchen. We met for lunch and hit it off immediately. And then we both went on vacation. We were finally able to reconnect last night over dinner — and this time with our husbands.
I happily accepted the challenge of preparing a vegetarian meal for our guests. I'm still not sure how Nick and I managed to clean the house and prep the food in just an hour-and-a-half. But we did. The meal was tasty, and the company was perfect.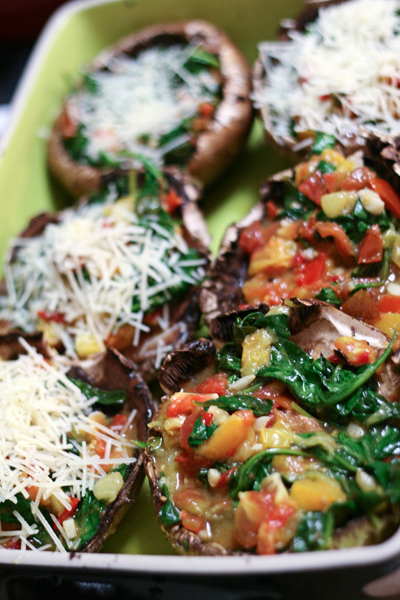 Appetizer: Roasted Red Pepper Hummus with Naan and Veggies
Cocktails: Homebrews and Mojitos
Main Dish: Portobello Mushrooms stuffed with Heirloom Tomatoes, Spinach, Parmesan
Side Dish: Orzo with Roasted Eggplant and Cinnamon-Cumin Dressing
Dessert: Blueberry Crumble Cake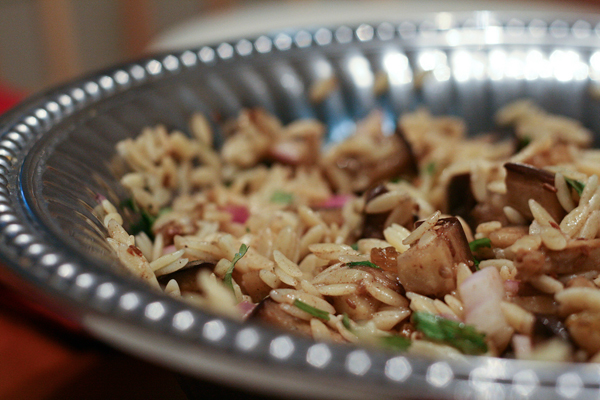 The orzo side dish was an exceptionally exciting one for me. I've never cooked with Moroccan flavors, and the cinnamon-cumin combination was surprisingly good. The eggplant gave it substance, and the golden raisin gave it sweetness. I highly recommend it, whether you're vegetarian or not.
Orzo with Roasted Eggplant and Cinnamon-Cumin Dressing
Ingredients
2 – 3/4 lb unpeeled eggplants, cut into 1/2-inch cubes (8 to 9 cups)
5 tablespoons extra-virgin olive oil, divided
1 cup orzo
1 teaspoon cumin seeds
2 tablespoons white balsamic vinegar
3/4 teaspoon ground cinnamon
1/4 cup finely chopped red onion
1/3 cup golden raisins
1/3 cup coarsely chopped fresh cilantro
Directions
Preheat oven to 450°F. Coat rimmed baking sheet with nonstick spray. Place eggplant cubes on sheet; drizzle with 3 tablespoons oil and sprinkle with salt and pepper; toss to coat. Roast until tender, turning occasionally, about 40 minutes.
Meanwhile, cook orzo in boiling salted water until just tender, about 8 minutes. Drain. Place in large bowl.
Toast cumin seeds in small skillet over medium-high heat until slightly darkened, about 4 minutes. Grind seeds in spice mill; place in small bowl. Add vinegar, cinnamon, and 2 tablespoons oil. Whisk to blend; season with salt and pepper. Add onion.
Add raisins, cilantro, eggplant cubes, and dressing to couscous. Toss to coat.
(Adapted from Bon Appétit via Love and Olive Oil)
We're so thrilled to have connected with another young couple (with culinary interests, too!). You can read Anna's dinner recap here.