I'm not ashamed to admit that we've developed an obsession with blueberries. We add them to smoothies and salads and waffles, and we eat them plain by the handful. (Thank goodness their season is longer than strawberry season.)
Most nights we top vanilla Greek yogurt with blueberries and granola, but some nights we crave a more deliberate dessert. Enter the cobbler and the crumble. Both are incredibly simple to make and really showcase the sweet summer berries.
I suggest you get yourself to the nearest farm stand and pick up a pint (or two) of blueberries to make one (or both) of these perfect seasonal desserts.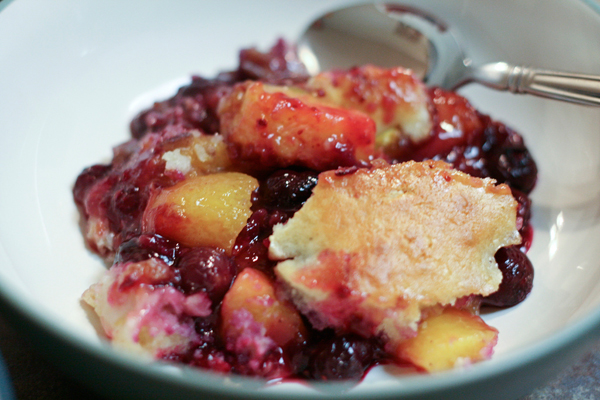 Blueberry Peach Cobbler
Ingredients
1/2 cup packed brown sugar
3 tablespoons cornstarch
1/4 teaspoon ground nutmeg
1/4 cup sherry (which we didn't have, so we used red wine)
5 cups sliced peeled peaches
1 cup blueberries
1/2 cup chopped pecans
1 tablespoon butter
1 tablespoon lemon juice
Ingredients for Topping
1 cup all-purpose flour
1/3 cup sugar
1 1/2 teaspoons baking powder
Dash of salt
1/4 cup cold butter
1/4 cup milk
1 egg, lightly beaten
Directions
In a large saucepan, combine brown sugar, cornstarch, and nutmeg. Stir in sherry or wine until blended. Bring to a boil; cook and stir for 1-2 minutes or until thickened. Add peaches, blueberries, pecans, butter, and lemon juice. Pour into a greased shallow 2-quart baking dish.
For topping, in a small bowl, combine flour, sugar, baking powder, and salt. Cut in butter until coarse crumbs form. Stir in milk and egg. Spoon over fruit mixture.
Bake at 400°F for 25-30 minutes or until bubbly and a toothpick inserted in the topping comes out clean. Serve warm (with ice cream).
(Adapted from allrecipes.com)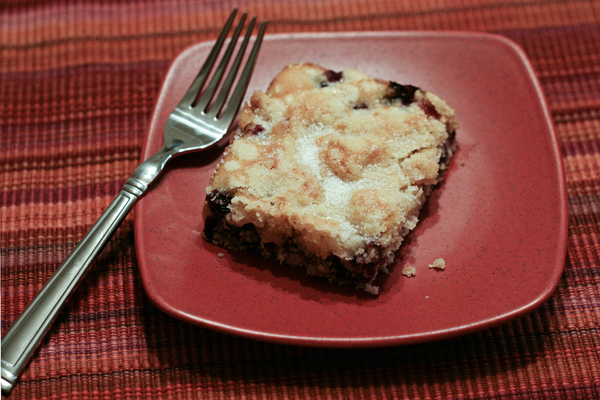 Blueberry Crumble Cake
Ingredients for Cake
1/2 stick + 1 tablespoon butter
3/4 cups sugar
1/2 teaspoons cinnamon
1 egg
1/2 teaspoon vanilla extract
2 cups all-purpose flour
2 1/4 teaspoons baking powder
1/2 teaspoon salt
3/4 cups milk
2 cups blueberries
Ingredients for Topping
3/4 stick butter
1/2 cup sugar
1/2 cup flour
1/4 teaspoon salt
Directions
Preheat oven to 350°F.
Combine flour, baking powder, and salt. Stir and set aside.
Cream 1/2 stick plus 1 tablespoon butter with cinnamon and sugar. Add egg and mix until combined. Add vanilla and mix. Add flour mixture and milk alternately until totally incorporated. Do not overbeat. Stir in blueberries until evenly distributed.
Grease a 9 x 13 inch baking pan. Pour in batter.
In a separate bowl, combine topping ingredients and cut together. Sprinkle over top of the cake.
Bake cake for 40 to 45 minutes, or until golden brown. Sprinkle with 2 tablespoons sugar for additional sweetness and crunch. Cut into squares and serve warm.
(Adapted from The Pioneer Woman)