On Tuesday we decided it was time to work off some of the calories we'd consumed, and so we joined another couple for a morning of kayaking and snorkeling off the coast of the resort. We paddled into the open sea, docked, and jumped in to explore. It was my first sight of a coral reef, and I was completely mesmerized.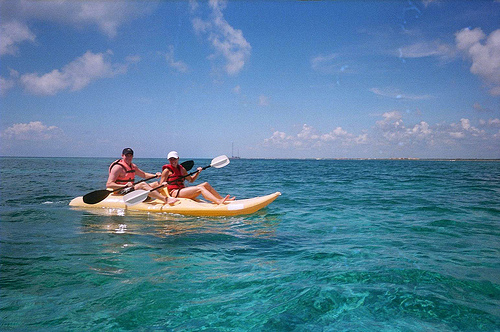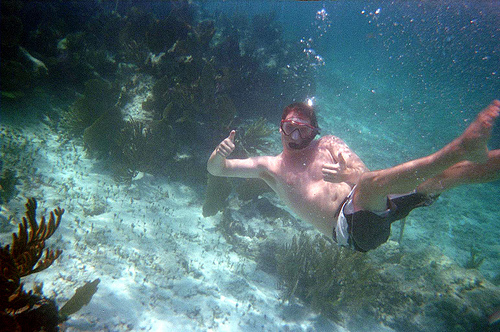 After lunch we explored the beach and discovered "the cube," which became our favorite secluded spot. We played in the jungle and in the sand and walked through the water until lunchtime.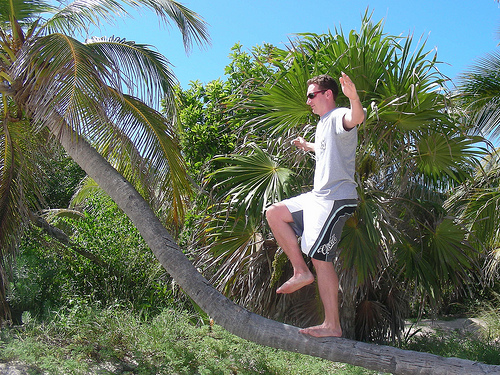 We worked up quite an appetite and couldn't wait to enter the pavilion on the beach for the Potato Festival. We were skeptical of the gourmet potential of a potato, but the chefs at El Dorado Maroma turned us into believers. We chose from a variety of toppings – shrimp, pork, pineapples, scallions, shredded cheese – that were piled onto a golden baked potato and served atop a fried onion ring. Washed down with cold Tecates, of course.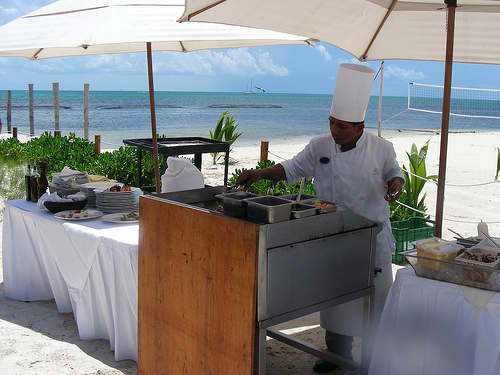 Tuesday night was a very special one. We cleaned up after our outdoor adventures and headed back to the beach in more formal attire.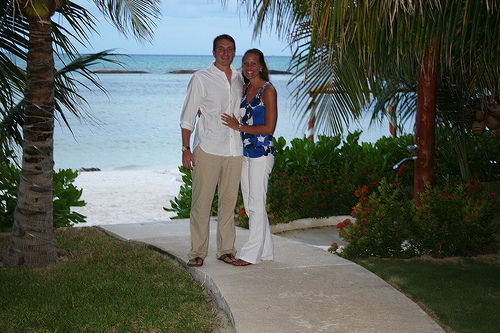 A waiter escorted us to our table – the largest and most private one on the beach! The table was covered with an elegant white cloth and set with refined flatware.
A saxophonist played '80s love songs while we sipped coconut martinis and watched the sun set. Cheesy, yes. But incredibly enjoyable. We felt like we were on the set of a romantic movie.
And dinner was divine.
First Course: Duck Ravioli with Brown Butter Sauce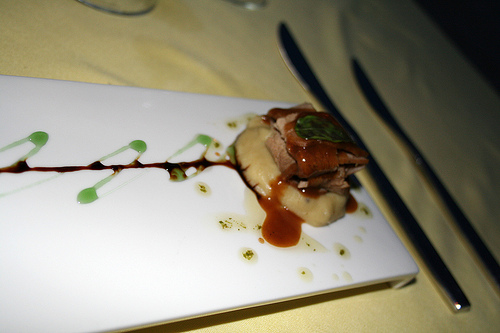 Second Course: Spinach Cream Soup served in Cappuccino Cups
Nick's Main Course: Rack of Lamb with Mashed Potatoes
Emily's Main Course: Mahi Mahi over Risotto
And dessert that was almost too pretty to eat … But we did.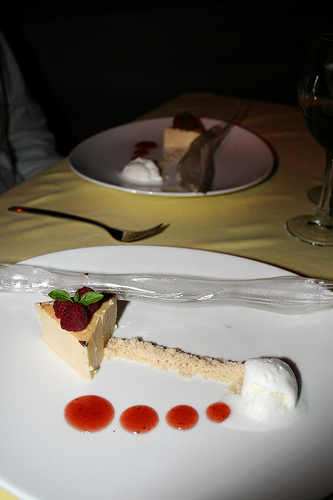 Following our romantic, gourmet dinner on the beach, we were led to our very own beach bed. (Thanks to my brother for making the reservation!) There we found chocolate covered strawberries, a bottle of champagne, swan-shaped towel animals, and a pile of rose petals.
The pampering continued back in our room where we discovered more rose petals floating in the Jacuzzi tub, surrounded by aromatherapy candles. Yes, we were spoiled!
Next: We visit Mayan ruins and explore cenotes.