We eventually tired of preparing simple favorites in our new kitchen and were ready to test our new Calphalon cookware with an unfamiliar recipe. Enter The Pioneer Woman!
This pasta dish is spicy and satisfying. We didn't have Cajun spice in our cupboard so Nick combined cayenne pepper, paprika, white pepper, and garlic powder. (He welcomes any excuse to use our William Bounds white pepper mill!)
Ingredients
3 whole boneless, skinless chicken breasts, cubed
3 tsp Cajun spice (or a combination of cayenne pepper, paprika, white pepper, and garlic powder)
1 lb fettuccine
2 Tbsp olive oil
2 Tbsp butter
1 green pepper, sliced
1 red pepper, sliced
1/2 red onion, sliced
3 cloves garlic, minced
4 Roma tomatoes, diced
2 cups low sodium chicken broth
1/2 cups white wine
1 cup heavy cream
cayenne pepper to taste
fresh ground black pepper, to taste
salt to taste
chopped fresh parsley, to taste
Directions
Cook pasta al dente according to package directions and drain.
Sprinkle 1 1/2 tsp Cajun spice over chicken pieces. Toss to coat.
Heat 1 Tbsp oil and 1 Tbsp butter in a heavy skillet over high heat. (We'll use a wok next time.) Add half the chicken in a single layer; do not stir. Allow chicken to brown on one side, about 1 minute. Flip to the other side and cook an additional minute. Remove with a slotted spoon and place on a clean plate. Repeat with remaining chicken. Remove chicken, leaving pan on high heat.
Add remaining olive oil and butter. Add peppers, onions, and garlic. Sprinkle on remaining Cajun spice, and add salt, if desired. Cook over very high heat for 1 minute, stirring gently. Add tomatoes and cook for an additional 30 seconds. Remove all vegetables from the pan.
With the pan still over high heat, pour in the wine and chicken broth. Cook on high for 3 to 5 minutes, scraping the bottom of the pan to deglaze. Reduce heat to medium-low and pour in cream, whisking constantly. Cook sauce over medium-low heat for a few minutes, until cream starts to thicken the mixture. Taste and add freshly ground black pepper, cayenne pepper, and/or salt to taste. Sauce should be spicy!
Add chicken and vegetables to sauce. Stir and cook for 1 to 2 minutes, until mixture is bubbly and hot. Add drained fettuccine and toss to combine.
Top with chopped fresh parsley and enjoy!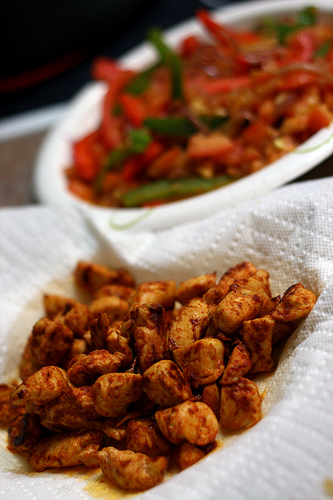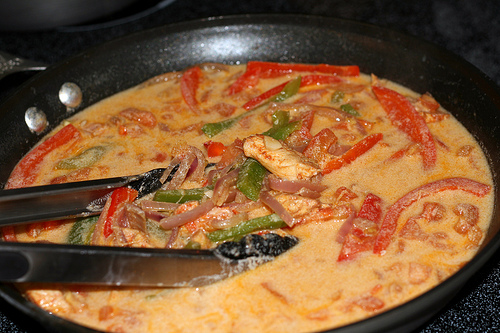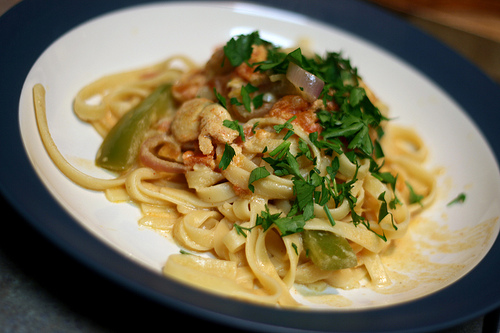 We served our Cajun chicken pasta with cheddar biscuits. I had planned to make cheddar black pepper biscuits from Joy the Baker, but I just didn't have enough time. Instead I simply sprinkled shredded cheddar cheese and fresh ground pepper onto Pillsbury biscuits and baked them for 10 minutes. Simple and tasty!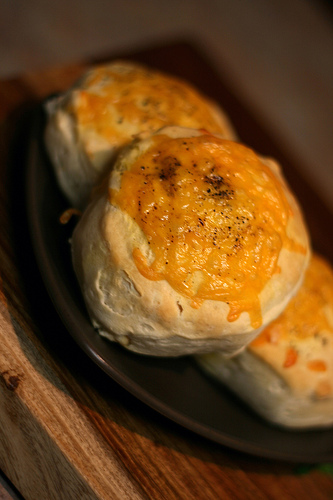 (adapted from The Pioneer Woman Cooks)